Ryan Cabrera Answers Our Rapid Fire Questions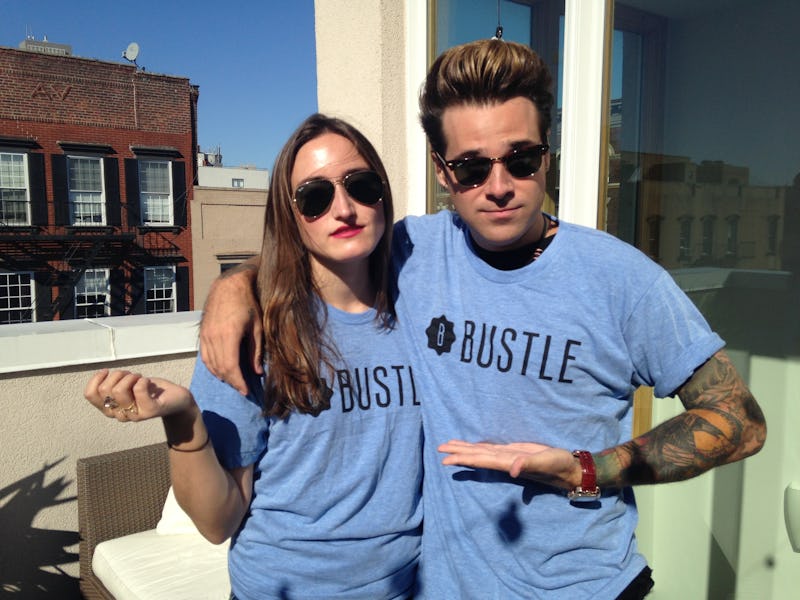 Surprisingly enough, no one has ever asked Ryan Cabrera who he saw "on the way down." I know, that's extremely hard to believe, considering "On The Way Down" is all about said person he saw. But, the 32-year-old singer assures me with a laugh (after I ask the question), he's never gotten that question before — not once in his 10-year career. This month, Ryan Cabrera released "House On Fire," the first single off of his upcoming, untitled fifth album. And, after chatting with Bustle about how he's grown as an artist and the early days of reality TV, which he says, "That's when they were real. You were watching something that was really taking place that had creative aspects to it. We weren't just acting like The Hills." Oh, and of course whether or not he's as obsessed with Taylor Swift's 1989 as we are.
"I've done what I've always set out to do, which is remain who I am as a writer," Cabrera says about what he's learned about himself since his early days on The Ashlee Simpson Show. "My goal from the very beginning: Always write the record that you want to do." And that's exactly what he's done with his upcoming, yet-to-be-titled fifth release that's been years in the making. "We worked countless, countless days reworking things until we eventually feel like we got a sound," the singer says about the songs on his new album, including "House On Fire."
The 32-year-old reality TV veteran can't say the same, however, with his time on MTV. "The first show we ever did was me and Ashlee's show and they followed us and that was it. That was us, that was how we lived, and that was it," Cabrera says before laughing about how MTV just let him hang out and "be an idiot" for the show. But, that was the glory days of MTV reality TV, before Cabrera joined the drama machine that was MTV's The Hills. Which was, as I'm sure you know, as far from how its stars actually lived as it could get.
So, with years of experience under his belt — both in life, in music, and in reality TV — I asked Cabrera to sit through a rapid-fire question round about his reality TV history, his new album, and, of course, his favorite cheesy food.
The Hills or The Ashlee Simpson Show?
Ryan: The Ashlee Simpson Show.
Who was most annoying to film with on The Hills?
Ryan: (Cabrera passed on this question.) I don't feel like listening to the fan wrath. I can't remember any of their names — I know Brody, obviously.
How long does it take to do your hair?
Ryan: 10 minutes. It's so easy — back in the day, about an hour. 2004, 1 hour — 2014, 10 mins. I learned a lot.
What's your favorite album of all time?
Ryan: O by Damien Rice.
Did you get invited to Ashlee's wedding?
Ryan: I did.
Jessica's?
Ryan: I did.
*NSYNC or Backstreet Boys?
Ryan: *NSYNC.
98 degrees or Fahrenheit 9/11?
Ryan: Fahrenheit 9/11.
Give us three words that describe your future
Ryan: Fun, work, party.
Which artist would you love to collaborate with?
Ryan: Paul McCartney.
Taylor Swift's '1989' or 89 cats on your doorstep?
Ryan: Taylor Swift 1989.
TV Show you can't miss?
Ryan: Big Brother — I only watched the new season, but I will say Big Brother. I was obsessed. My whole week was ruined because I had to be there to watch every single show.
Last time you talked to Justin Bobby?
Ryan: I've never said a word to him.
Who would you rather be your manager: Spencer or Audrina?
Ryan: Audrina.
Favorite sound?
Ryan: My dog.
Favorite food with cheese on it?
Ryan: All food with cheese on it is good. Cheese Blintzes from Carnegie Deli.
How often are you asked who you saw "On The Way Down?"
Ryan: I've never been asked that.
Favorite song right now?
Ryan: "Not The Only One" by Sam Smith.
Twitter or Instagram?
Ryan: Instagram.
Favorite filter?
Ryan: Amaro.
Best thing about touring?
Ryan: The stuff fans bring. They always bring you cookies and stuff. Actually — you know what we did? So, fans always used to bring all these stuffed animals and all of this stuff that, by the end of the tour, like, we can't do anything with it. And then they would give me like, boxers or all kinds of stuff that I would or wouldn't use, so I would throw out. So I was like, "OK, they're going to spend the money anyway," so I talked to my mom and was like, "Hey mom, get on the message boards and be like, 'OMG Ryan really loves everything you give him, you know what he really likes is Best Buy,'" and then all of them started coming with Best Buy gift cards. So I'd get like $50 gift cards to Best Buy — why do you think I have so many DVDs at my house? I have over 2,000 DVDs because of all of these Best Buy gift cards. So I stopped getting stuffed animals and started getting Best Buy cards and Blockbuster cards. It worked and I didn't say it, my mom did.
Worst thing about reality TV?
Ryan: Depending on the show, the worst thing would be fake drama. The worst thing about reality TV is people on the streets thinking that they know something about your real life because they watch you on a reality show.
What would your last meal on earth be?
Ryan: Sushi.
Coffee or Tea? Cream, sugar, or black?
Ryan: Tea, plain tea. Black tea, honey, and lemon.
Image: Christine DiStasio/Bustle; Getty