Your Family Is Just Like These 10 TV Characters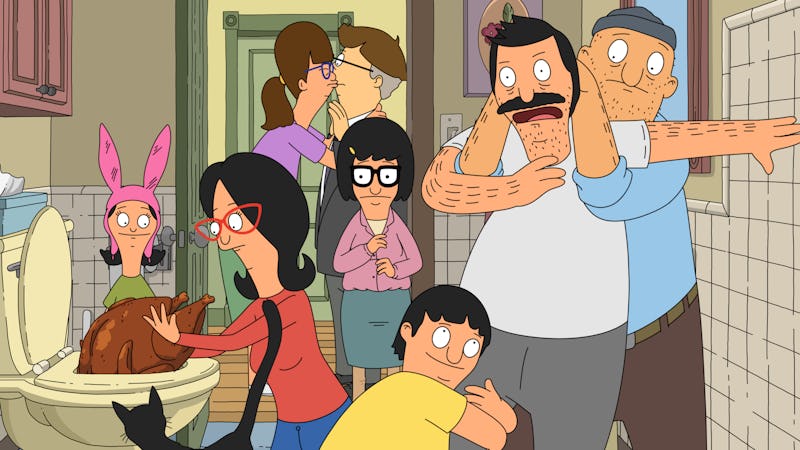 When it comes to Thanksgiving, the only three words that can put a damper on the most beautifully gluttonous day of the year are, "Awkward family gathering." Leave it to your grumpy grandmother asking you about your love life and why you're still single to put a damper on your mashed potato coma. We all deserve to smother our food in an ungodly amount of gravy in peace. Leggings and giant sweaters were invented for a reason, y'all. I asked for a side of stuffing, not side eye. However, no matter how insufferable some members of your family might be, just remember: at least you're not a Stark at a Lannister meal.
And if you are struggling to find reasons to be thankful at dinner, remember, you always have television. Your trusty small screen is there for you in the good times and the bad. Through break ups and sick days. Through the bitter cold of winter and the sweltering heat of summer. Be especially thankful this year, for television can also bring you this: protection and survival from awkward family gatherings. If you're anything like me, then you've probably watched episodes of The Simpsons in shock and awe wondering, "How did the writers plug into my life like that?" For television already has your twisted family captured on film and its ready to be studied.
Grab the remote, hunker down, and observe your relatives to prepare for any crazy political opinion or uncomfortable question they throw your way. Get ready, Thanksgiving is coming.
Your Drunk Uncle is Drunk Uncle
Get ready for the uncomfortable racist remarks and laugh about it...while you still can.
Your Over-Sharing Cousin is Hannah Horvath
Not only do you get to hear way too much about her sex life, you'll also probably hear all about fair trade coffee and why living anywhere else but New York is a waste of your "potential."
Your Disapproving Grandmother is Emily Gilmore
She probably hates what you're wearing, but at least she can make a mean martini.
Your Even More Disapproving Grandmother is the Dowager Countess
She says very few words but says plenty with her scowls.
Your Cousin Going Through Puberty is Tina Belcher
She's just coming into her woman self, be kind. Lead her the way.
Your Over-Achieving Little Sister is Lisa Simpson
I know, I know. She just HAD to request tofurkey. Try not to have a complex, she's wrought with insecurity too.
Your Questionably Rich Grandfather is George Bluth Sr.
Whatever you do, don't dring up the lawsuit.
Your Under-achieving Older Brother is Daniel Desario
He's a good dude, your parents just wonder when he's ever going to ever have some direction and you wonder when he's ever going to stop smoking pot. At least there's someone else who will receive equal levels of grilling from the relatives.
Your Always-Right Mother is Tami Taylor
There's just no arguing with her. And you better damn well help in the kitchen today and have a glass of wine ready for her at all times.
Your Sweet but Intimidating Dad Is Terry Jeffords
He is a big, gummy papa bear who woke up early to go for a run and help baste the turkey. And he definitely wants to watch the game. He will also scare the crap out of any date you dare bring to dinner.
Images: Fox; stuffanonssay; whatshouldglotzbachcallme; gif-able; passive-insomniac; runforheart; a-place-to-organize-my-gifs; temporarynostalgiaa; inthedarkgloom; fatserpico/Tumblr