'The Voice' Voters Let Her Go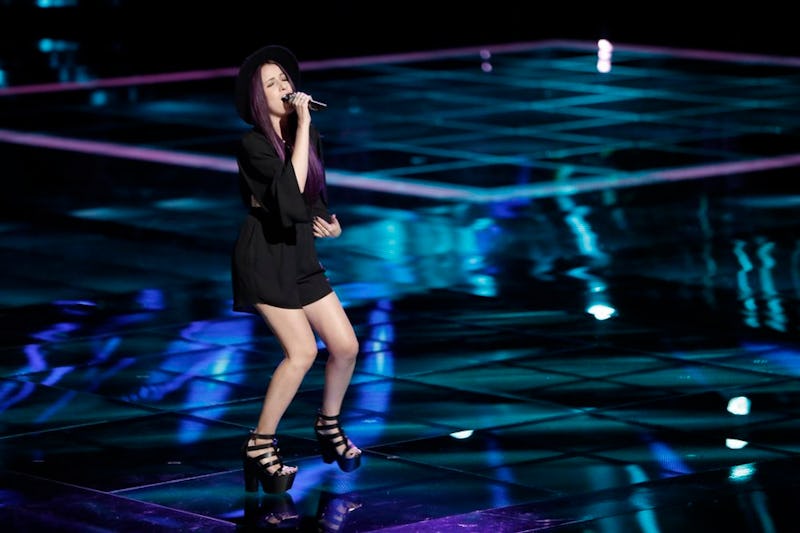 Now, before you jump to conclusions about my feelings about The Voice's Sugar Jones, we need to get a few things straight. I believe, 100 percent, that Sugar Jones is a talented performer. I also completely understand why she survived on Team Pharrell for so long — she's got a great voice and she knows what's in her wheelhouse. But, even though her "Say A Little Prayer" performance during last Tuesday's The Voice playoffs was great, it was time for Sugar to go. Because, unfortunately, she was stuck inside of her wheelhouse and didn't really grow much during her time on the show. And that's why Sugar Jones got eliminated on The Voice .
I say this because, Sugar almost got eliminated the ONE TIME she performed a modern song. When Sugar performed Beyoncé's "Love On Top" against Bryana Salaz in the knockouts, she lost. Luckily, Pharrell knows a good thing when he sees it and stole Sugar for his own team. But, the singer didn't even try to take showcase her talents using modern songs again after that close call. Which is fine, but it doesn't necessarily show strength or growth for Sugar as a contestant or a performer to pigeon-hole herself like that. The Voice isn't just about having a great talent, it's about taking risks and learning how to use it to the best of your ability.
Now, I know what you're thinking — Sugar did take a risk on Beyoncé, realized that it wasn't right for her, and then decided to stick to what she knows. And that's fine, but there is an enormous catalogue of songs out their that she could've chosen from to take a second crack at it. I mean, she almost got eliminated by trying to sing a Beyoncé song. Personally, like Christina Aguilera songs, I don't think any contestant should try to tackle Beyoncé. It just will never work to your advantage.
It was disappointing during Tuesday's results show that Sugar didn't decide to go out of her comfort zone yet again. She had everything and nothing to lose at this point — she already knew that Pharrell loved her and that she has a chance to return as a Wild Card later in the season — and she chose to play it safe. Which is exactly why The Voice voters made the right decision not to save her. Sugar performed Whitney Houston's "I Wanna Dance With Somebody" as her save-song and, yes, it was great, but it was the same, old Sugar again. And that's really starting to get old.
I want the final rounds of my The Voice viewing to be interesting and unique, not Sugar consistently crushing the songs my Staten Island family play at every wedding. Sugar Jones just didn't push herself hard enough and that's why all the talent in the world didn't convince the voters to save her. Hopefully, when she undoubtably return in the Wild Card round, she'll have realized that.
Image: Tyler Golden/NBC