This Dog Got To Be Mayor Of San Fran For A Day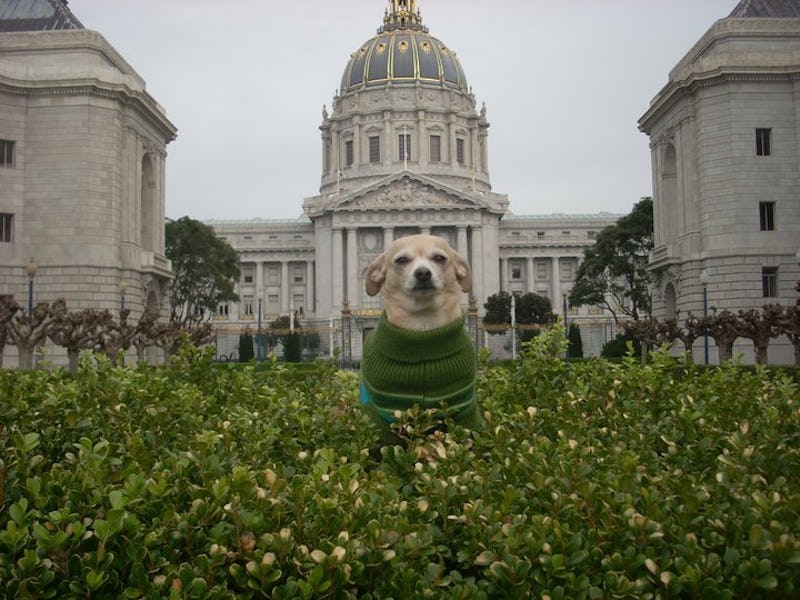 Sometimes, the person in power needn't come from a long pedigree of politicians, tycoons, or even humans. In fact, San Francisco's latest mayor is a dog and her pedigree is unknown, but that doesn't mean she can't fulfill her mayoral duties like the best of them. Yes, really: Frida, a Chihuahua-mix, was mayor of San Francisco for a day on Tuesday. Her appointment was part of a campaign to raise awareness for the city's publicly funded animal shelter, Department of Animal Care and Control, and she was chosen after her owner entered a winning bid to beat out other canine hopefuls.
As mayor, Frida attended a meeting with the Board of Supervisors at San Francisco's City Hall, where San Francisco's human mayor, Ed Lee, paid tribute to her in his opening remarks and Supervisor Scott Wiener read her a commendation for service. Because she was such an important city official, Frida got to tour the city's famous landmarks, presumably given plenty of treats along the way. The rescue dog ran on a nonpartisan platform that included mandatory belly rubs, something every dog supporter — and most human supporters — can get behind.
Frida concluded her official term in office with a press conference on the steps of City Hall. She was presented with a retirement package that included a doggy bed, play toys, and a gift basket to thank her for her service.
Frida's overall message as mayor was that rescue dogs make great pets. She would know — she's a rescue dog herself. Frida was adopted by Dean Clark at the SPCA and has been advocating for rescue dogs as the mascot for adoption initiative For the Love of Dog USA. A mother of two, Frida is proof that with hard work, anyone — human or dog — can achieve their dreams. Miriam Saez, acting director of the Department of Animal Care and Control, told the Guardian:
We applaud Mayor Frida's ability to rise above her humble start as a single mom in an animal shelter to Mayor for the Day.
Having a dog mayor for a day wasn't the first time the city of San Francisco rallied together to make someone's dream come true. Last November, the city transformed into Gotham for a day so that 5-year-old Miles could realize his dream of being Batkid through the Make-A-Wish Foundation. Thousands of citizens lined the streets to play along as Miles, along with an adult Batman, rescued a damsel in distress, thwarted a bank robbery in progress, and helped indict mega villains the Penguin and the Riddler along with the SF office for the U.S. attorney and the FBI, who had both joined in on the game. Miles then received a (chocolate) key to the city from Mayor Ed Lee.
San Francisco might be the best city ever. (Other cities, take note!)
Images: For the Love of Dog/Facebook