'Party Down South 2' Cast is Ready to Get the Party Started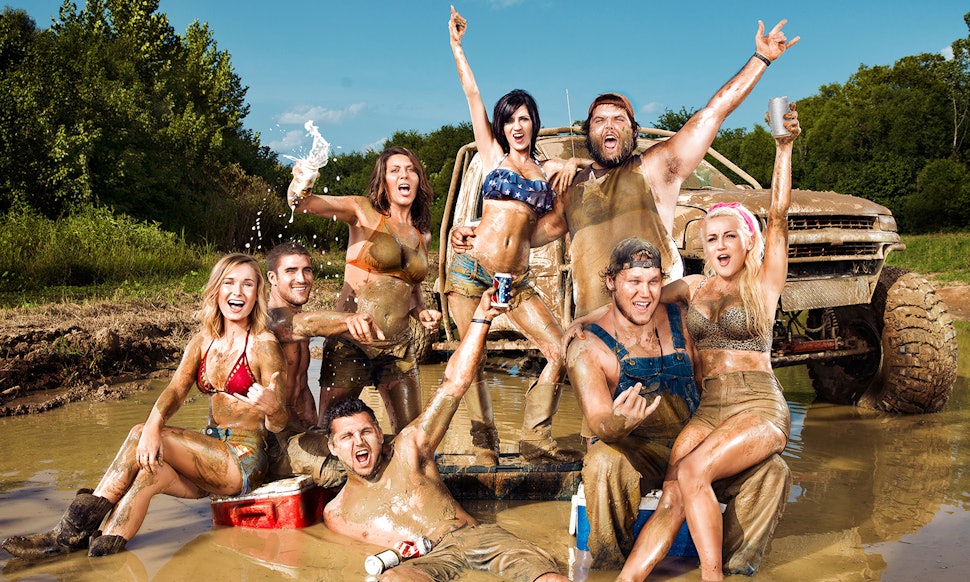 With the premiere of Party Down South 2 , CMT is officially introducing us to eight new strangers, picked to live in Biloxi, Mississippi and have their beer-shotgunning taped. Party Down South didn't exactly take off with Jersey Shore speed, but with subculture expert SallyAnn Salsano at the Executive Producer wheel, it still offered a half-hilarious-half-terrifying look at how a very specific few of the other half (of the Mississippi River) live. But Ryan "Daddy" Richards and Taylor "Lil Bit" Wright have returned home from the bright lights of Murrells Inlet, South Carolina, and became CMT's most popular program. Now it's time to meet a new batch of partiers...
Images: Andy Batt/CMT
Bradley Mitchell, 26
In reality TV there's simply nothing like a "self-proclaimed ladies man." Bradley from Mississippi hereby proclaims that the ladies live him: they love his oil riggin', his partying, his shaved chest, and his affinity for oddly-angled selfies. Like so many reality bros before him, no one thinks Bradley's tractor is sexier than Bradley.
Hunter Robinson, 23
"He never goes to sleep until the keg is empty" — CMT, you have outdone yourself! What more do you need to know about Hunter? Sure, he's a brother of the Kappa Alpha Order from the University of Kentucky, and considers himself a Southern gentleman. But those first ten words are really all you need… clearly when it comes to honoring the integrity of alcohol in bulk, chivalry is alive and well in Hunter.
Michael Duke, 22
Michael, more commonly known as "Duke," sounds like a "good ol' boy," who also happens to be a pretty good guy from Statesboro, GA. Duke can be counted on to bring the party, bring the laughs, and bring a sturdy shoulder to cry on when you're having a rough day (and he probably brings the funk too, but don't quote me on that).
Tommy Theis, 22
Tommy was born and bred in Arkansas, and you know that because he has the words "Arkansas Bred" tattooed on his arm… kind of like a "Made in China" sticker you can't peel off. Tommy is a firefighter who "spends hours working on his physique, so he can impress all the ladies with his ripped abs and toned arms." Mission accomplished, I guess.
Ashton Mosley, 23
Ashton is a preacher's daughter, but methinks she's more of the rebellious variety than the Sunday-morning-soloist variety. Her nickname is "Smashton," which is an awesome play on words, but also an indicator of her tendency to get a little wild when left alone with a handle of Jim Beam.
Karynda Worcester, 26
Karynda counts "line dancing and beer" among her top favorite things, which I really hope she's used at as a beauty pageant intro at some point in her life. I wouldn't count on it though, because CMT tells us that Karynda is not your typical Southern belle and "can definitely hang with the guys." They leave it at that on the website, but on the bios released to the press, they elaborate a little further: "she's a pro at urinating standing up and the only thing she does more than drinking is burping." Karynda, ladies and gentlemen!
Magan Ladner, 25
A cocktail waitress from Mississippi, Magan isn't in the Party Down South 2 house for a long time, she's just there for a good time. Magan is a party starter and surely inspires the most artistry from the CMT copy writer: "she loves hot-boiled crawfish, hot-blooded boys and cold bottles of beer."