Guess What This Thanksgiving Dinner Is Made Of?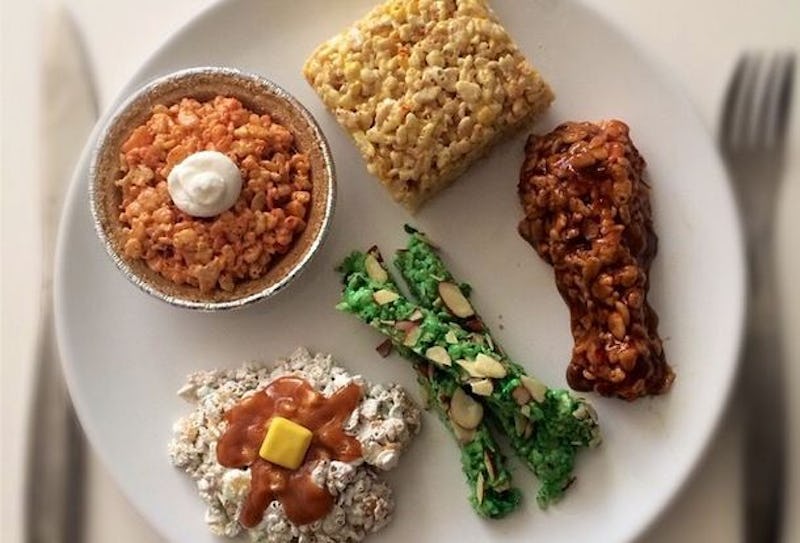 What's better than Rice Krispie Treats? Rice Krispie Treats made to look like other things — and happily, the Instagram account @Mister_Krisp is here to make that happen. The best part? You can actually order these magnificent creations, allowing you to marvel at them in the flesh (or krisp, as the case may be) before you devour them. Awesome? Awesome.
I'm super late to the party on this one — @Mister_Krisp has been around since October of 2013. I can't be the only person who's just catching wind of it, though, so why not come along this tasty journey with me? We can learn of @Mister_Krisp's sweet and crunchy secrets together. The brainchild of Jessica Siskin, a former fashion industry pro with seven years at Elizabeth and James under her belt, it began as a simple Instagram project; said Siskin to Bib and Tuck:
"@Mister_Krisp happened by accident. I don't really know how to cook, but traditional Rice Krispie Treats are so easy to make. When I discovered that food coloring could be added to the mixture I had the spontaneous and overwhelming impulse to make a cheeseburger out of krispies. I posted it to Instagram and brought it to work and everyone freaked out, inspiring me to continue to experiment. After almost a year of playing around with the idea I started the @Mister_Krisp Instagram and orders started rolling in. I had to leave my… job to keep up with the demand!"
For the curious, here's the original cheeseburger:
Pretty impressive, no?
Siskin takes her inspiration from everything from food to pop culture and from holidays to everyday objects. Right now, for example, her Rice Krispie Treat "Thanksgiving dinner" is making the rounds:
She told Refinery29 that this "cheese plate" is one of her favorites:
She's also made emoji:
And sneakers:
She's had some fun with Photoshop at the expense of Lloyd Dobler:
And, yes, she even took on Kim Kardashian's attempt to break the Internet:
Remember Floam? The slightly less popular cousin of Nickelodeon's Gak? I imagine molding shapes out of Rice Krispie Treats is a lot like molding shapes out of Floam; maybe that's just me, though. Check out more of Siskin's remarkable creations — and get in touch with her about custom orders — on the @Mister_Krisp Instagram page.
Images: @Mister_Krisp/Instagram (7)