Where 13 Inspiring Women Were at 21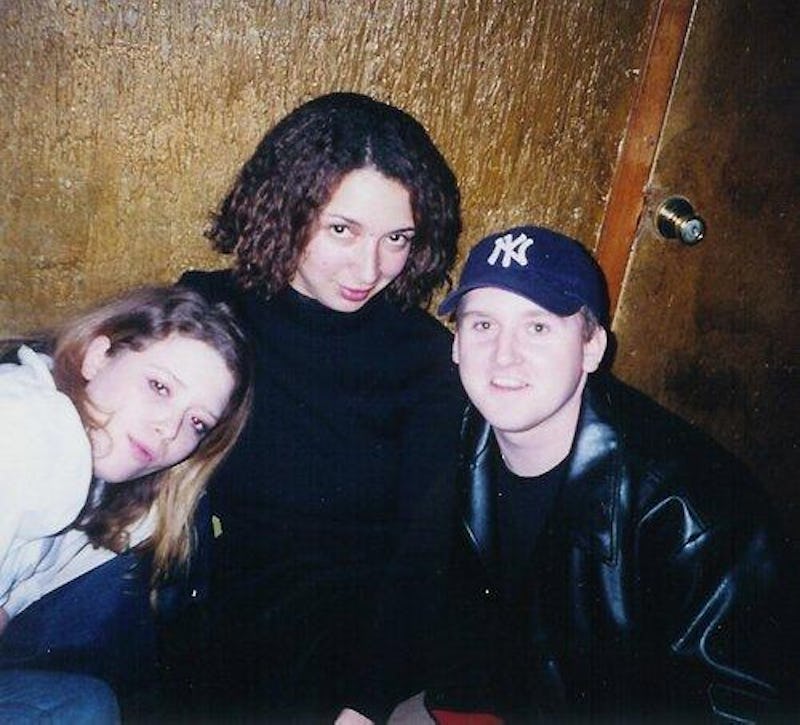 Welcome to 21! Grab a bottle of wine — you're going to need it. When you're 21, you are challenged with important decisions, choices, and opportunities. Senioritis has hit — Netflix or a final year of good grades? College graduation is imminent — grad school or job applications? You can legally drink now — spend too much on fancy mixed drinks or buy a bottle of two buck Chuck? (Either way, enjoy the fun while you can.) Yes, you're still new to your twenties, but you're about to face a series of adulthood obstacles.
If you are still trying to connect with your true self, still unsure about what you want out of life, or unsure of how you will chase your passions, it's okay. This is what your twenties are all about, and we're all agonizing over the growing pains this decade presents. There are lessons to be learned at every age, but lots of that learning seems to happen right about now.
So pour yourself a glass a wine and take a look at where these 13 famous women at 21. Sometimes, knowing you're not the only one to feel this way is the best help you can get. These women will remind you to remain patient, fight for what you want, and, most importantly, stay true to yourself.
Dolly Parton
Dolly Parton certainly wasn't the Queen of Country at 21. After growing up in poverty, she moved to Nashville at 18 to pursue songwriting. She found some success writing, but was marketed as a bubblegum pop singer for her first (unsuccessful) album.
Over the course of her 20s, she dealt with a middling career. Her first big hit, Jolene, finally came at 27 — the same year she refused to let Elvis Presley record "I Will Always Love You." Presley insisted on having half of the publishing rights, which Parton balked at, showing the importance of standing up for yourself, no matter how young you may be.
"If I'd given up half the publishing then I would've made half the money, plus I would've lost half the pride in it. The fact that I wrote the song by myself and published it myself just made the whole thing more special. It was not something you had to share."
Helen Gurley Brown
Though we remember her today as a feminist trailblazer and publishing legend, Helen Gurley Brown was far from influential in her 20s. At 21, she was attending secretarial school, having left Texas State College for Women (now Texas Woman's University) after one semester.
Brown's 20s were spent fulfilling a slew of secretarial jobs (she recounted 17 in total), all the while learning how sex was used to gain power. It wasn't until she was 40 that she wrote the iconic Sex and the Single Girl , based on these experiences. She didn't become the editor-in-chief at Cosmopolitan until she was 43, where she would transform the magazine from dull filler for housewives to fodder for the "fun, fearless female."
Janis Joplin
Picture Janis Joplin straight-laced with a beehive hairdo. It doesn't seem right, but for a brief period of time, the rock legend attempted to subdue her wild image.
Joplin studied at the University of Texas-Austin for a year before heading to San Francisco to try to make it as a singer at 21. She was mostly unsuccessful, and began to spiral into heavy drinking and drug use. When friends convinced her to return home and recover, she backed off music and tried to adopt a conventional lifestyle.
Soon, Joplin realized that her aspirations could not be suppressed, embraced who she truly was, and went on to make a remarkably indelible impact on the history of rock and roll.
Gilda Radner
Before she was a Not Ready For Prime Time Player, Gilda Radner was a uniquely funny girl at the University of Michigan. While studying theatre, she honed her comedic chops on the side, turning her role as a weather broadcaster for her college radio station into a comedy routine.
Radner left college and followed her boyfriend to Toronto, where she joined the Second City comedy club and began to make connections with fellow comedians, all of whom were charmed. "She knocked everybody out with her personality," said friend Paul Shaffer.
Despite charisma and talent, Radner didn't find her breakthrough role until she was 29, when she was cast in the then-new series Saturday Night Live. It was there that Radner would become a household name, one of five funny women in what was widely known as a boy's club.
Wendy Davis
Wendy Davis was propelled onto the national stage last year after a marathon filibuster session in the Texas Senate, but as a 21 year old, she had more immediate concerns than protesting proposed bills — like how she was going to work two jobs and care for her young daughter alone.
Davis left home at 17, had her first child at 19, and found herself a single mother by 21; living in a trailer and struggling to make ends meet. Eventually, she put herself through community college and Texas Christian University. It wasn't until 33 that, with the help of loans and scholarships, she graduated from Harvard Law School.
Katharine Hepburn
History remembers Katharine Hepburn as a tough as nails, disciplined actress. But that wasn't always the case. Before she was an actress, Hepburn was an undergrad at Bryn Mawr College who, like many students today, had fleeting interests in her studies. She attended college primarily to please her mother, but fell in love with acting.
Participation in the school's plays was dependent upon grades. Hepburn was, by her own admission, a terrible student. But she knew what she wanted to do, and knew that only she could make it happen for herself: "I came here by the skin of my teeth; I got in and by the skin of my teeth I stayed," she said.
Her ambition and drive can be attributed to what she learned as a 21 year old student: "Bryn Mawr was my springboard into adult life. I discovered that you can do anything if you work hard enough."
Jenna Lyons
Today she is known as the woman who transformed J. Crew into a designer level brand fit for Anna Wintour and Michelle Obama. But at 21, Jenna Lyons was simply working an entry level job at the company.
Lyons was an "assistant to an assistant to someone else's assistant," as Lyons told Fast Company. But her hard work and dedication paid off, though her ascent to the top of the fashion ladder didn't happen overnight — there were years of sticking through J. Crew's identity crises and failing profits.
Her hard work and dedication eventually paid off: "It's taken me years to get here, and I've cultivated it so carefully," said Lyons.
Sandra Day O'Connor
As the first woman to be appointed to the U.S. Supreme Court, Sandra Day O'Connor faced many challenges as a young woman in American politics. O'Connor graduated from Stanford Law School in 1952, a time in history when female lawyers were few and far between.
The only law firm who would offer her a job offered her a position as a legal secretary. She eventually found a job as the deputy county attorney in California — only after she worked for free for a period of time to get her foot in the door.
O'Connor would face difficulties with finding work in law firms for many years before she became an assistant state attorney general in Arizona. From here, she would shatter numerous glass ceilings before she became the first female Supreme Court justice in 1981.
Michelle Pfeiffer
It's not always easy being beautiful — just ask Michelle Pfeiffer. She may be an award-winning actress today, but when she was 21, she struggled trying to make it in Hollywood. After appearing in a few beauty contests as a teenager, she booked an agent and began to pursue acting, only to be met with a string of bit parts.
"I was playing bimbos and cashing in on my looks," she told the New York Times.
Pfeiffer didn't land her breakout role in Scarface until age 25.
Diane Sawyer
Before she was the first woman to anchor 60 Minutes, Diane Sawyer was a 21 year old English major at Wellesley College, uninspired and unsure about what she wanted to do with her life. She soon realized that broadcast journalism was her dream, but in the early 1970s, there were few women journalists on television. She landed a job as a weather girl on local news in Kentucky, but found the job — which was to basically to read meteorologists' reports and look pretty — unfulfilling.
"I'd lie awake at night feeling that something wasn't right. I'd wait for the revelation, the sign pointing in the direction of the Big Dream," she said. Over the course of the next decade, she would move to Washington, D.C., and work her way up both sides of the political press, first as an assistant to the White House deputy press secretary during the Nixon presidency, and later as a political correspondent and evening news anchor.
Maya Rudolph
It's hard to imagine Maya Rudolph doing anything other than comedy, but as a student at University of California Santa Cruz, she wasn't sure what she was going to do. Rudolph had multiple passions she wanted to pursue: she majored in photography, considered a fashion career, and dabbled in music.
But comedy had always been her love. When she told her father that she planned to be on Saturday Night Live after graduating college, she learned that dreaming about plans and doing them are two separate things. She quickly enrolled in improv classes at the Groundings in Los Angeles.
It wasn't until she was 28 that she had secured a spot on the iconic television show. Looking back, Rudolph says: "That conversation with my dad gave me focus, and that's important no matter what you do in your life. It's like, Don't just think about it. Do it."
Sissy Spacek
Sissy Spacek was just another small-town girl trying to make it in New York City when she was 21. Years before winning an Academy Award, she was an aspiring — and floundering — singer-songwriter. She released an album at 19 under the name of "Rainbo," which failed to sell.
"Because I was so appreciated there in that little town, I just thought that as soon as I got into the big world, the same thing would happen. I didn't realize the odds against me," she told the Wall Street Journal.
Spacek crashed with her cousin, actor Rip Torn, who convinced her to switch her focus to acting. For the next several years, she took bit parts and television roles. It wasn't until she was 25 where she made her breakthrough in the horror classic Carrie.
Sofia Coppola
Being the daughter of legendary director Francis Ford Coppola didn't make things easy for Sofia Coppola. At 21, she had tried her hand at acting, only to be met with heavy criticism. From there, her early twenties were a blur. She went to art school, dropped out, released a clothing line in Japan, and was even a music video it-girl.
Still, she felt lost and directionless. "I was really frustrated that I wasn't really great at one thing, but that I had a lot of interests in different areas," Coppola said.
By the end of her 20s, she picked up filmmaking. A short film led to a feature debut with The Virgin Suicides. When Coppola was 32, she would win an Academy Award for Lost in Translation, a film which was heavily influenced by this time in her life.
Images: Wikimedia (4); Getty Images (1), Diane Sawyer/Instagram