'Troop Beverly Hills' Streaming = Best News Ever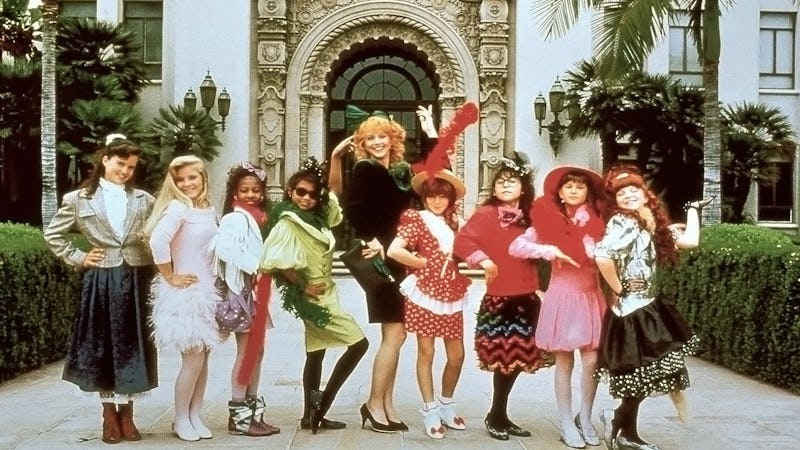 Sometimes all you need is a good dose of nostalgia, but it's hard to find your favorite old TV shows and movies. Although Hulu has released classic '90s cartoons and Netflix has a great selection of oldies (but goodies), some favorites fall through the cracks. Thankfully, one amazing '80s movie is finally available in December, when Amazon Prime starts streaming Troop Beverly Hills. Yep, it's cookie time with your favorite Wilderness Girls, so get ready to (accidentally) perm your hair, put on some green and tan, and dance.
For those of you who aren't familiar with the amazing film, I'll fill you in on all the reasons you should be excited below. If for some reason TBH isn't your jam, you can also stream Goldfinger, A League of Their Own, Monkey Business, Apocalypse Now, Saturday Night Fever, Life After Beth (starring Aubrey Plaza as a zombie) and Air Force One on Dec. 1. Classics like Stand By Me and Fly Away Home stream on Dec. 4, followed by Anchorman 2: The Legend Continues (Dec. 6), The Wolf of Wall Street (Dec. 11), Paranormal Activity: The Marked Ones (Dec. 20), original Amazon series Mozart in the Jungle (Dec. 23), Spy Kids (Dec. 27), Midnight Cowboy (Dec. 31), and many more.
First Off, "Cookie Time" Is Just the Best
Dance and sing along with Phyllis (Shelley Long), Hannah (Jenny Lewis), and all of the members of Troop Beverly Hills.
Generally, Lots of Singing Is Involved
Now is the time to start planning your Halloween costumes.
Especially "Kumbaya"
Around camp fires and in the rain.
Phyllis' Life Lessons Are A+
And her style is on point.
They're Particularly Amazing When Involving Annie
Phyllis and Annie forever.
Phyllis Was the Original Carrie Bradshaw
I still want her shoe collection.
And She Was Almost Always Fabulous
Girl knows how to make an entrance.
But Also Failed, Too
Classic Phyllis.
But She Always Had a Great Zinger
And understands the importance of champagne.
Most of All, It Gives You an Excuse to Scream This Line
Is it Dec. 1 yet?
It Will Leave You Saying...
Get it, Annie.
Images: Columbia Pictures (1); Giphy (10)