This Is What It's Like To Be A UVA Student Today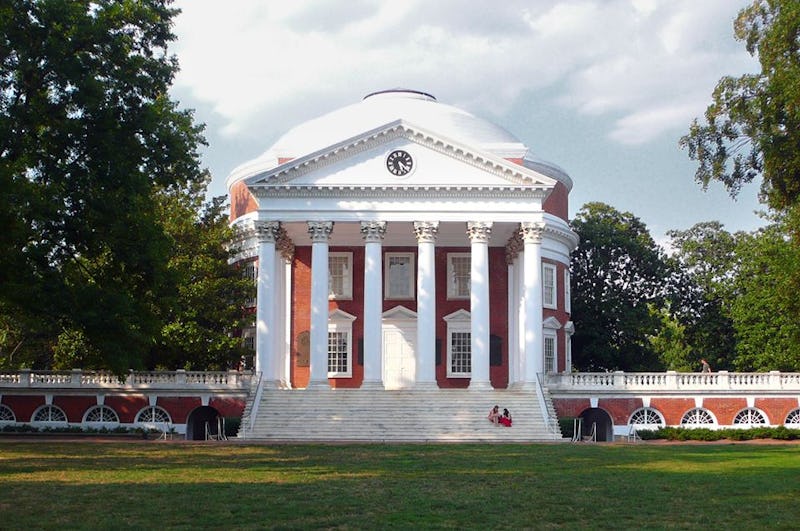 On Monday morning, as I was walking to University of Virginia's Alderman Library for a cup of coffee before my 10:00 a.m. class, I saw Dean Groves, the beloved student leader who was dragged through the journalistic mud in Rolling Stone's "A Rape On Campus" article, published last week about a student named Jackie's alleged gang rape at UVa. He didn't see me. He didn't see anyone. He was walking fast towards Peabody Hall. Though, as always, his shock of white hair was perfectly coiffed and his sweater was neatly preppy, his eyes looked exhausted, and his mouth was set in a hard line. I wanted to run up, tap his shoulder, and say, I trust you. Say the words that will make this all make sense. But I no longer trusted him or any member of the administration, and there were no words that could suddenly make everything right again.
Julie, my editor at Bustle, asked me what it's like to be a student at UVA right now. At first, I balked. I didn't know what to say. No one seemed to. After the murder of Hannah Graham and the suicide of two students in a single semester, this — multiple rapes, assault, distrust, lying — was too much. But I reconsidered, because I want to try to give an accurate portrait of being a student at this school.
This is what it means to be a student at UVa right now.
It means reading the Rolling Stone article and feeling your face go slack, because you've walked by the Phi Kappa Psi house, and you've seen through its expansive windows in broad daylight.
It means attending rally after protest after rally: some of them spouting streams of bitter discourse and vague calls to unclear action; some with fresh anecdotes of rape which make you cry; some with powerfully eloquent speakers who make you wonder why you haven't been fighting for this every moment of your life.
It means walking out your front door and seeing the Hannah Graham memorial, again, because it is close enough to where you live to hit with a stone, and wondering if a community can become too full of pain and death to keep going.
It means learning of the second suicide in a single semester and wondering if you could have done anything to help either of these people you never knew.
It means knowing that change will come, but not how or when, and knowing that your home has both been given an opportunity to lead and dealt a terrible blow.
It means thinking of your own assault, of being pinned to a couch and having your mind go blank. It makes you wonder why he didn't finish the job and rape you after all. He could have. It would have been so easy. He was a law student. He must have known that no one would punish him, whatever happened.
* * *
Depending solely on my own opinions for an article like this seemed wrong, so to get a perspective other than my own, I interviewed two students and a faculty member. Gray Whisnant, a second-year student, writes for the Cavalier Daily student newspaper. Hannah Rosenfeld is a fourth-year majoring in biology, and is currently the CEO of the forthcoming personal safety application Buddy Watch. Allison Bigelow teaches colonial Latin American literature in the Department of Spanish, Italian, and Portuguese at the University of Virginia. For the past two years, she was an NEH postdoctoral fellow at the Omohundro Institute of Early American History and Culture at the College of William & Mary.
I asked Hannah and Gray how, as students, their opinions of the administration and its sexual assault policy have changed since the release of the Rolling Stone article. Rosenfeld said that these charges of negligence and improper handling of cases weren't news to students who were already involved in the sexual assault advocacy communities, but it was only now that these problems were being brought to light for everyone else to see. "Over the last year or so, several survivors have come forward in our local newspaper to tell similar stories of mishandling and no-results," she tells Bustle, "but they just bounced around among the already-activists and didn't get us any closer to the tipping point of progress."
Gray suggested that the current system was restrained by the nature of the institutions involved. He mentioned his belief that many people, including Dean Eramo, truly cared about eraducating sexual assault. "I also think there are big institutional constraints preventing them from creating the kind of adjudication system we'd all like to see," he said. Last week, UVa apologized to Jackie and adopted a zero-tolerance policy against sexual assault in response to the article.
I asked Professor Bigelow how, as a faculty member, she felt her response differed from that of the students. "As a faculty member, I have a particular responsibility for creating conditions in which students can learn...I hope that students are talking about the things that matter to them on their own time, but it is also important that they see that faculty care, and that we want to engage with them in whatever degree they would like to call upon us," she tells Bustle.
She mentioned that she teaches an overwhelmingly female class, which means that she's trying to both show empathy on a classroom level and situate Jackie's story within a much larger frame of gender violence.
Slutwalk UVa
Based on her experiences at other universities, Professor Bigelow says she doesn't think violence, rape, and sexual assault are at all unique to UVa, and she was saddened, but not surprised, by the university's response to it before the Rolling Stone article broke. "The administrative response is an example of how a well-intentioned effort, such as the desire to empower a survivor with the agency to make her own decision, has devastating and damning consequences," she said.
* * *
On the front door of Peabody Hall, which houses UVa's admissions and dean of students offices, there is a collage of notes. They are written on Post-Its, scraps of notebook paper, or poster boards. They say things like "Expel Rapists" and "You Let Us Down." Some people around Grounds have called this vandalism. This is a cruel irony, considering two things: one, that it stands only a hundred or so feet away from a section of the Berlin Wall which was "vandalized" by West German graffiti artist Dennis Kaun; and two, that the display was aggressively torn down on Saturday night by five students who screamed, "What are you going to do about it?"
Around midnight on Saturday, I stood next to that display. My friends and I had just come from a faculty-led rally in front of the Phi Kappa Psi house on nearby Rugby Road. Our route took us by Peabody Hall. We stared at the notes, considering the words, mentally adding their anger and desperation and hope to the storm of language which had just been articulated by the faculty. Then we left.
Less than an hour later, all the notes were ripped off.
A pair of students saw the idiotic destruction and reassembled the display. Today, it's still there. The deans haven't touched it, and neither has anyone else. The students also put a pile of stones, which were supposed to represent survivors of sexual assault at UVa, back together. Everyone was encouraged to add a stone for each survivor they knew. This afternoon, I stood in front of the pile. I began to think about how many survivors I counted among my friends. One, two, three, four, five...
I couldn't find enough stones for all of them.
* * *
Gray, Hannah, and Allison also shared with me which specific incidents during the past week had made them the saddest and angriest. For Gray, it was the fact that students at a bar on the Corner were throwing beer cans and shouting at both faculty and students involved in the "Take Back the Party" demonstration on Saturday night. For Hannah, it was listening to speculation about the connections between the Rolling Stone article and the suicide of a second-year student the day after. "Mental health issues at UVa continue to be ignored," she said. For Professor Bigelow, it was the sheer brutality of Jackie's story itself.
But there have also been moments of happiness and hope for sustained change, however brief. "I am most encouraged by the responses of my students," said Professor Bigelow. "They are disgusted by the counsel of Jackie's 'friends,' and they are realizing that for whatever institutional injustices exist in the world — and have existed for a long time, and will continue to exist, if the past is prologue — there are important changes that they can make as individuals."
"My students...are disgusted by the counsel of Jackie's 'friends.'"
Hannah felt that we had the chance to finally make a change, as long as the impetus to do it didn't die down over the Thanksgiving and winter breaks.
Gray agreed: "I think students and faculty are rediscovering their agency to enact positive change and be part of larger social movements...the Rolling Stone article criticized UVa for lacking an activist scene, but seeing the encouraging turnout at multiple different protests and direct actions makes me just a little bit hopeful."
My friend Vivien, who was handing out flowers on Monday afternoon to brighten people's days
* * *
Whenever a tragedy befalls the University of Virginia and the community wracks its collective brains for the right words to discuss it, one that inevitably comes up is "honor." As in, honor is the UVa way of life, honor defines us as a community, we must face adversity with honor, and so on.
And yet "honor" at UVa is more, historically speaking, than just a slick-sounding buzzword. It carries a lot of implications, and not all of them are good. In 1938, the Honor Committee ruled that women were not allowed to serve as members. This ruling was not overturned until the 1970s. In 1988, a Cavalier Daily article stated that "statistics for the last year show that 29.7 percent of honor accusations are made against black students, a number which is disproportionately higher than the approximately eight percent of blacks attending the University." Now, a video interview with the chair of the Sexual Misconduct Board makes it clear that even admitted rapists are not expelled, while those who lie, cheat, and steal are. (Students have argued both ways about making sexual assault a single sanction offense. You can read opinions for it and against it on the Cav Daily's website, so I encourage you to make up your own mind on the subject.)
Honor is,therefore, far more complicated than a charming, Southern tradition touted in glossy admissions brochures. If we are to be a truly honorable school, it means that we must consider all the ways in which breaches of honor against sexual assault survivors have been made. A university administration which repeatedly mishandles cases of rape and assault is not honorable. A frat party-based social system for first-years which allows women (and, let's not forget, men as well) to have their agency and dignity taken away is not honorable. An individual who encourages her friend not to report a rape is not honorable.
If letting the stories of Jackie, of Liz, of Kelly, of Anonymous Wahoo, of Emily, of Annie, of Kathryn, and of so many others like them go unheeded means living in a community of honor, then forget it. I want no part of honor.
* * *
Finally, I asked Professor Bigelow, Gray, and Hannah the question to which I'd been trying to form an answer for days: how can we possibly move forward from here?
Gray believed that we would primarily have to examine what exactly allowed this behavior. "I think there are things about fraternities and the patriarchal power structures they precipitate we need to not stand for anymore," he said. "A good first step might be to engage in a serious process of reforming these organizations, and to determine whether their social costs outweigh their benefits altogether." (All fraternities are currently suspended until January 9.)
"Not everyone has to lead a movement right now," Hannah added. She told me that the most important next step was consolidating our outrage and desire to move forward so as not to dilute our power as students and faculty.
Professor Bigelow focused on the importance of the individual. "I would hope that we care for one other as students and teachers, value each other as human beings, and show greater empathy toward our fellow women and men," she said.
Images: Alliance for Social Change at UVA/Facebook; Elizabeth Ballou