'Girlfriends' Guide' is Kinda Scripted Reality TV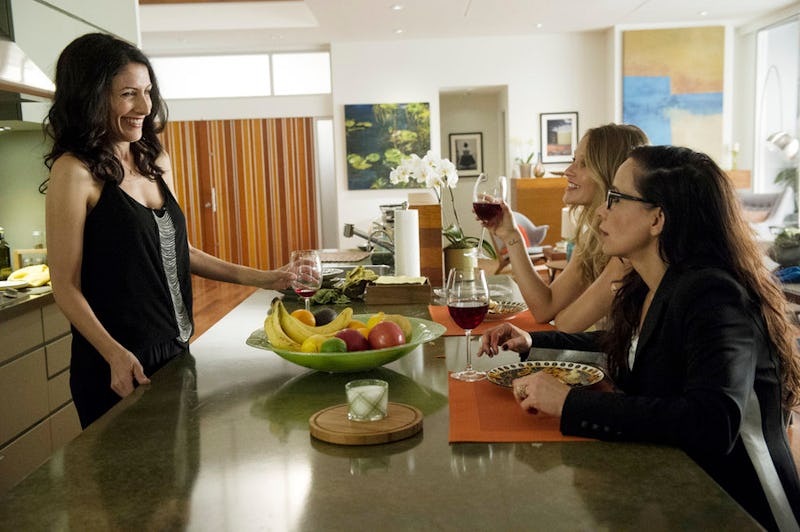 Bravo has officially entered uncharted territory with Girlfriends' Guide to Divorce: Scripted programming. However, it shouldn't be too much of a shake up because — as the star of Girlfriends' Guide , House 's Lisa Edelstein, tells Bustle — it's one of the most real shows that the network has on its lineup.
"I think — in a funny way — [Bravo's] first scripted show shows more about reality than their reality shows," Edelstein said during a set visit. "It's just another way in to looking at people's lives, but with all of the sadness and humor that comes with it."
The new hour-long dramedy follows Abby McCarthy (Edelstein), a self-help book author and family guru, whose life gets upturned when she reveals that her seemingly perfect life is actually in tatters due to her divorce from her husband, Jake (Private Practice's Paul Adelstein). Now she must turn to her new divorced friends for advice so she can figure out exactly how she's supposed to survive being a single woman in her 40s.
Unlike The Real Housewives of Beverly Hills , the drama, heartbreak, wine-induced heart-to-hearts, new girlfriends, and unexpected lovers are completely scripted, but, like the reality show, it all comes from a very real place.
According to Edelstein and Adelstein, the show imitates life so well that people on set have had issues watching their characters, Abby and Jake, fight with each other because of how relatable the dialogue is.
"Some of the people on set ... who have been divorced, found [one of our fight scenes] really upsetting," says Adelstein. "There's a certain tone of voice and certain volume that can be really distressing no matter what's going on. You don't want to upset anybody, but it's nice to get a reaction that seems like you've been truthful to something."
Edelstein says that, when people watch a scene — especially scenes with her and Adelstein — "as soon as it's over, everyone has a story that they want to talk about in their own life."
Even Edelstein has a personal story that relates to the show, and — given the state of mind her character is in life right now — it's quite comical.
"The show is really about relationships, so it's just as valid no matter where you're at in the world of relationships," says Edelstein, adding,
My husband had been recently separated from his ex wife when I met him, so I have walked through their divorce with them. And it's complicated — luckily I get along very well with this ex, so that's not complicated — but just the whole having to sort of move the pieces around the way you have to in divorce. I witnessed quite a bit. And maybe I feel a little bit for Becca Riley, Jake's new girlfriend.
Edelstein is right. Anyone who has ever been in a relationship — whether it ended well, badly or not at all — will probably be able to relate to the story of a woman and man who must face the pain and humor that comes along with a relationship falling apart.
As Edelstein says, "We've all been in part of this story, somewhere."
Girlfriends' Guide to Divorce premieres on Tuesday on Bravo.
Images: Carole Segal, Sergei Bachlakov/Bravo