St. Louis Rams Say "Hands Up, Don't Shoot"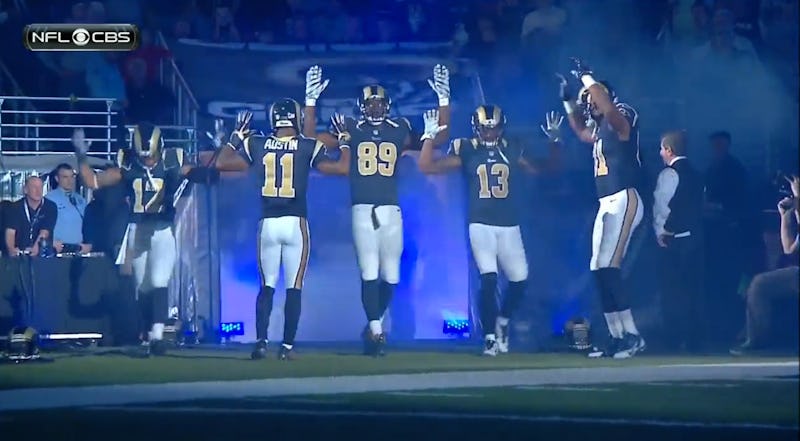 Over the last several days, the images and messages of the Ferguson protests have spread through cities across America. Whether on instances of police militarization, police shootings, the value of black lives, or the woeful prosecution of Ferguson police officer Darren Wilson, people all around the country have united to express their solidarity. And on Sunday, a high-profile group of professional athletes jumped into the mix — St. Louis Rams players honored Ferguson with "Hands Up, Don't Shoot" before their Sunday game against the Oakland Raiders, and it was a pretty powerful scene.
This is the first Rams game in St. Louis since a grand jury failed to indict Wilson for the killing of 18-year-old Michael Brown on Monday, so it comes as little surprise that some of the team's players would've wanted to make a statement. It's also a act of some courage, despite the obvious wealth and privilege of a professional athlete — public opinion in St. Louis is by no means uniform on the issue, with the Ferguson protests inspiring some ugly, reactionary responses.
Regardless, when the pre game introductions began in St. Louis, out came five Rams players — Kenny Britt, Jared Cook, Stedman Bailey, Tavon Austin and Chris Givens — with their hands held aloft, one of the defining images and rallying cries of the protests: "Hands up, don't shoot." (All credit to SB Nation for the gif.)
It's somewhat appropriate that it was the Raiders in town to bear witness to this gesture, considering that the city of Oakland has been a particular hotbed for Ferguson-related protests over the last few days — on Friday, protesters successfully shut down the West Oakland BART station (Bay Area Rapid Transit) for a period of about two hours, halting cross-bay transit. The original plan had been to halt service for four hours, the amount of time that Michael Brown's body had been left on the street following his death.
In short, it's a safe bet that many Raiders fans watching the game were more than ready to salute the Rams for this show of solidarity. To its credit, the NFL on CBS broadcast captured the stirring image and aired it. This is in stark contrast to how the presence of Ferguson protesters in the Rams stadium was covered by ESPN during an October Monday Night Football game — they didn't show the protesters, perhaps because such issues are more easily ignored when they're raised by average, everyday people. Sunday, this quintet of Rams players didn't leave any room for the message to be overlooked.
Unfortunately for the Raiders, however, the gesture of solidarity didn't keep the Rams from focusing their minds on the game — they demolished them, dropping a staggering 38 points in the game's first half.
Images: CBS; SB Nation