A New Spin On A Traditional Holiday Feast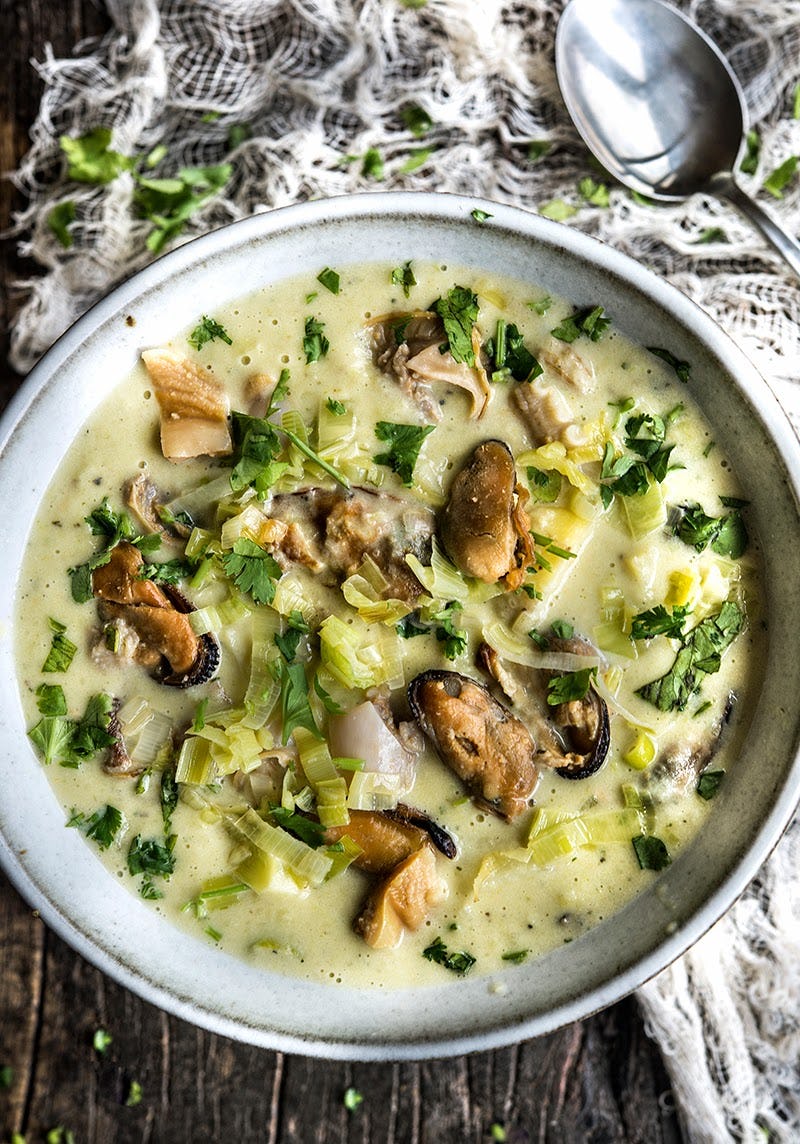 Every holiday, my Sicilian grandmother slaves over a hot stove for hours preparing a traditional Italian Feast of the Seven Fishes for the entire family to indulge in just before midnight Mass on Christmas Eve. Just kidding, that was a complete lie. In reality, each year I beg my Scandinavian-blooded secular mother to adopt the piscine tradition, and each year, to my dismay, she politely declines.
Known as "The Vigil" or "La Vigilia" in Southern Italy, The Feast of the Seven Fishes is a long celebrated tradition intended to commemorate the wait for the midnight birth of baby Jesus. The fish aspect hails from the Roman Catholic practice of abstaining from meat on Christmas Eve. The number aspect either refers to the acknowledgement of the seven sacraments, or the Seven Hills of Rome — the Internet isn't quite sure. Although the exact historical origin is unclear, year after year the seafood ceremony endures, and this year I WANT IN.
And why wouldn't I want to adopt such a delicious custom? Like most Brooklyn-based half Jews, I've experienced one too many December days steeped in stuffed birds and sour creamed potato cakes, so it's no wonder I'd rather hop on the Italian bandwagon and pay homage to my personal favorite food groups: oysters, squid, crab, scallops, lobster, and mussels. Whether your guests prefer their crab in cake, stew, or steamed form, when you've got seven dishes to celebrate, you can be certain everyone will be happy to craft his or her merry plate of choice.
What's that you say? Upon reading this you too want to prepare your own Feast of the Seven Fishes this year? Great! If you're looking for a little culinary inspiration, have a look at the sample menu I've put together below. I even took an extra step and provided you tips on how to select the freshest of fishes. Now that I've done all this research and prep, perhaps this year my mother will have no reason not to humor me and politely accept my traditional (and delicious) invitation.
Devils On Horseback, Two Ways
Thanks to Wild Greens and Sardines, you can make these little devils with shucked oysters and smoked bacon or house-cured anchovies and soft-boiled egg. A squeeze of lemon and fresh flat leaf parsley serve as the perfect complement to both.
How to select fresh oysters: Choose oysters that are heavy in your hand and full of water with tightly clamped shells.
Crab, Leek, and Mushroom Lasagna
Canned or fresh crab meat will do in this decadent recipe from Vikalinka, but since I'm a coastal girl I'll reach for the fresh jumbo lump and/or claw meat every time.
How to select fresh crab meat: Fresh crab meat should have a very faint seafood aroma, and should be packed the same day of purchase.
Grilled Calamari and Roasted Red Peppers
Nom Nom Paleo bloggers Michelle and Henry toss their squid in bacon grease before grilling. This is also known as pure genius.
How to select fresh squid: Fresh squid skin should be cream colored with reddish-brown spots. As squid ages, the skin turns pink and the flesh yellows. Eww. Don't buy that.
Lobster Mac and Cheese
I think we can all agree that lobster mac and cheese needs no introduction. Our friends at Foodie Crush include some stellar cheese recommendations in their recipe here.
How to select fresh lobster meat: Fresh lobster meat should be tender, chilled, and eaten within two days of purchase.
Caramelized Scallops
Shawnda sears her scallops before she adds a white wine and lemon reduction — the perfect acidic complement to the mild sweetness of fresh seafood. Craving the full recipe? Head on over to Confections of a Foodie Bride.
How to select fresh scallops: Fresh sea scallops are firm with a creamy white color and mildly sweet aroma.
Paella
Go big with The Healthy Foodie's paella recipe which includes mussels, scallops, shrimp, and sausage. Bigger? Throw in some clams and calamari for good measure.
How to select fresh mussels: Fresh mussels should be live with tightly closed shells.
How to select fresh shrimp: Fresh shrimp should have a firm texture, dark gray color, and mild seafood aroma.
How to select fresh scallops: Fresh sea scallops are firm with a creamy white color and mildly sweet aroma.
Seafood Chowder
Smooth and creamy broth houses far more seafood than potato in this classic chowder recipe from Wild Greens and Sardines. Don't forget to smoke your mussels and chop your clams for the (ultimate) win.
How to select fresh mussels: Fresh mussels should be live with tightly closed shells.
How to select fresh clams: Just like mussels, fresh clams should be live with tightly closed shells. When transporting, make sure they can breathe — never store fresh mollusks in a tightly sealed bag where they will go bad before cooking.
Images: Giphy; Wild Greens and Sardines (2); Nom Nom Paleo; Vikalinka; Foodie Crush; Confections of a Foodie Bride; The Healthy Foodie