'The Little Couple' Season Premiere Has a Baptism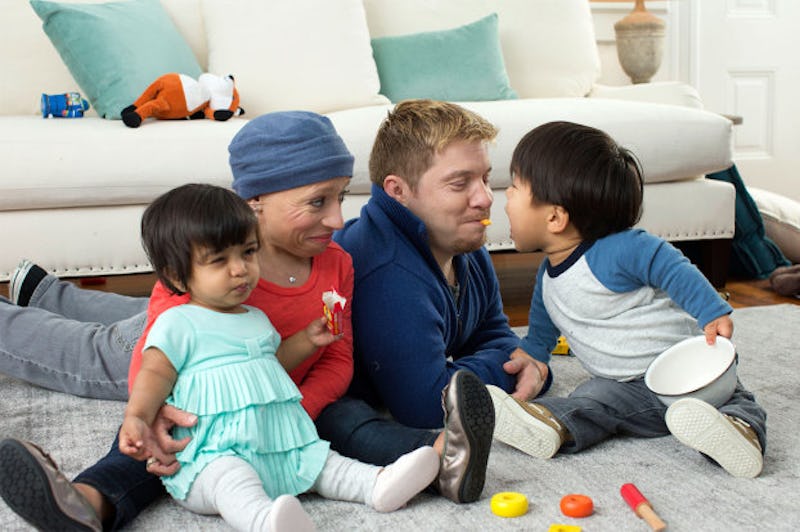 While they don't discuss it often, both members of TLC's The Little Couple, Jen Arnold and Bill Klein, are very dedicated to their spirituality, which we'll be seeing a little more of when the show returns on Dec. 2. And because they usually don't talk about religion on The Little Couple, you might not know that the Klein-Arnold family is Catholic. Jen was raised Catholic, and even referred to herself in one episode as "a good Catholic girl."
In Tuesday night's Season 7 premiere, we'll see Jen and Bill baptize their two children, Will and Zoey. Catholic baptism is usually done when the children are very young, but since both of the Klein-Arnold kids were adopted in relatively quick succession and that transitional period of moving them in and getting adjusted was followed immediately by Jen's cancer treatment, they didn't really have enough time to organize a baptism for the kids until this season. While religion has never been a huge part of the show — if anything, it's just naturally been included coincidentally, like a prayer during a tough time or grace before meals — judging from their reactions to the baptism, it's an important part of their lives and their spirituality is closely tied to the Catholic church.
People actually shared a short clip of the children's baptism on Tuesday, and as predicted, Will and Zoey are just adorable and the whole family is so sweet and supportive of one another.
Am I crazy, or was that priest remarkably laid back and chill? As much as religion doesn't often mesh with reality TV, I would be so down to watch that priest give a sermon every single week if he remains that blissed out.
And it was cute to see how Bill and Jen's brothers both excitedly stepped up to become Will and Zoey's godparents. This clearly will tie the extended family closer together, as Catholic godparents are expected to be spiritual guides for their godchildren. But that can mean anything from just taking them out for ice cream to taking them to church every week.
At the very least, this proves just how different the Klein-Arnold family are than another reality TV family with another famous TV baptism — there were absolutely no Gorga-Giudice hijinks at this low-key affair. Catholicism comes in many forms, but the Klein-Arnolds' is drama-free.
Image: TLC