Team Adam Is Going To Win 'The Voice'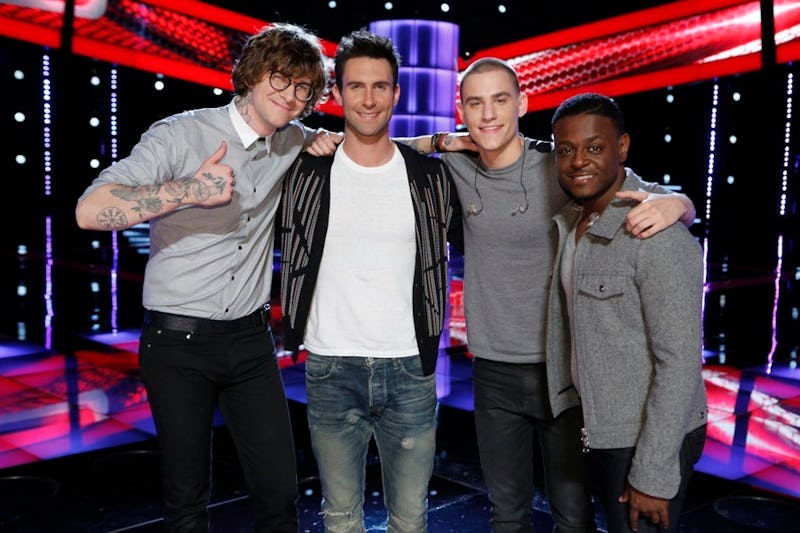 For all of the naysayers out there — myself included, as I was feeling pretty jaded when Jonathan Wyndham didn't make it through the battle rounds — Team Adam is officially the team to beat on The Voice. During Tuesday night's live results show, all three of Adam's remaining contestants made it through to the Top 5. Which, I guess isn't hard to believe considering Damien blew everyone away with Adele's "Someone Like You" on Monday night. On Tuesday, America chose Damien and Matt McAndrew to join the Top 5, but left Chris Jamison to battle it out in the Bottom 4. But, with an unbelievable performance of "Georgia On My Mind," America saved Chris Jamison on Tuesday night and now Team Adam officially dominates the final rounds.
Here's the deal, I'm hardly content with how the final rounds of this season have turned out. As of Tuesday night, there are officially no female contestants left on The Voice — which is quite shocking considering how many strong talents there were going into this season. But, I absolutely can't deny that Team Adam's three singers are worthy of being in the Top 5. Damien has consistently proven that he's got exactly what it takes to win this competition, Chris has risen to the occasion with every song he's performed since his game-changing "Gravity" audition, and Matt is an absolute star. Adam has been playing with a stacked deck from the beginning and that became all too clear during Tuesday night's results.
Frankly, Chris deserved to be saved. The college student went up against contestants from teams Pharrell and Gwen, Luke Wade, Ryan Sill, and DaNica Shirey, and was the clear winner. I'm not just saying that because I find him to be completely adorable — Chris Jamison KILLED it. He hit every note and proved that he deserves to stay in this competition and, unlike last week when America didn't save frontrunner Reagan James, the Twitter voters made the right choice.
And now, it's Team Adam's game all the way — or at least until the wildcard round. Three of the Top 5 contestants are on Team Adam, with Team Pharrell completely eliminated at this point. On The Voice Season 8, Team Adam is clearly the one to beat. But now that we've got these three great performers, how the heck are we supposed to pick one?
Watch Chris Jamison's save-worthy performance here:
Image: Trae Patton/NBC