Rogue's Sriracha Beer Has a Release Date!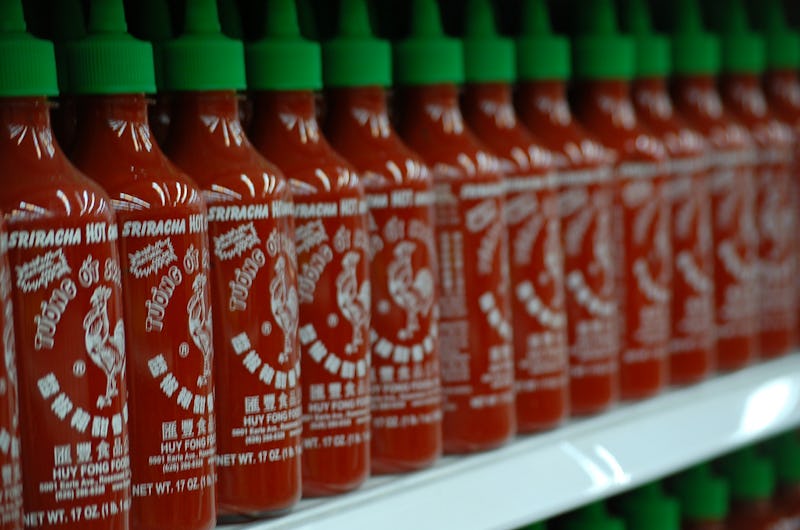 The week of Thanksgiving, news broke that Oregon brewery Rogue was teaming up with Huy Fong Foods to bring us something that sounds equal parts delicious and disgusting: Srirach-flavored beer. And hey, guess what? We've finally got some more information about it — including its release date. Rogue's Sriracha Hot Stout Beer will arrive on December 8, so ready your taste buds for one of the most unusual flavor combinations of all time.
A week ago, all we had to go on was the label art, a few preliminary taste tests from Untappd, and one word: "December." Now, though, we've got not only its arrival date (I wasn't kidding when I speculated it was probably going to be "soon"), but also more info about the drink itself. According to its product page on Rogue's website, it's made with "Huy Fong original hot chili sauce and sun ripened Rogue Farm ingredients"; its recommended pairings including soups, pasta, pizza, burgers, chow mein, or "anything else you'd like to wash down with a spicy kick." Sooooo… it should go with just about everything you could ever possibly want to jam in your mouth. Got it.
It'll set you back $13 a bottle; for the curious, here's what it looks like:
Awww, how cute! It looks like a little bottle of actual Rooster Sauce!
Helpfully, Rogue also notes that it's their policy to cancel and refund orders to states that restrict the import of alcoholic beverages (because the U.S. still has weird and obsolete liquor laws). If you live in Utah, Massachusetts, New Hampshire, Texas, Minnesota, and North Dakota, you're out of luck — but at least you'll get your money back if you try. If you do live in a place where you can get booze delivered, though, be sure to choose FedEx as your shipping option — the United States Postal Service won't ship alcohol.
I think Alfred Maskeroni at AdWeek said it best: "Oh man, oh man, oh man."
Images: ilovememphis/Flickr; Rogue