YouTube Sensation Breaks J.K. Rowling's Record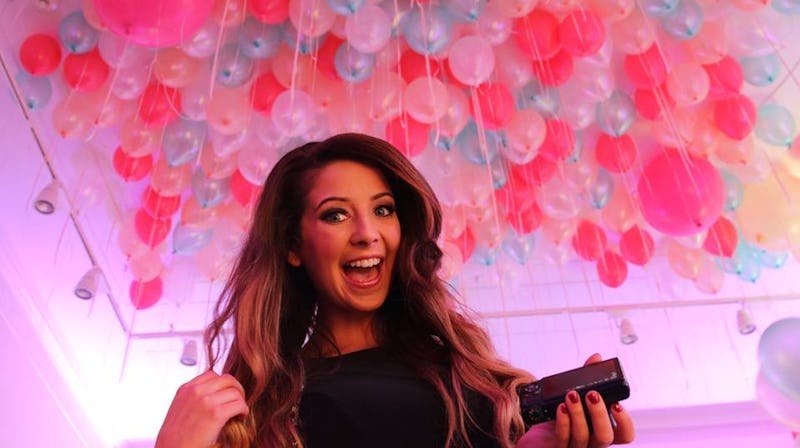 Even Harry Potter's magic couldn't defeat YouTuber Zoe Sugg. Sugg broke J.K. Rowling's U.K. record for debut novel book sales, making her the fastest-selling debut novelist ever. Sugg, also known by her YouTube name Zoella, sold 78,000 (no I didn't add extra zeroes) of her book Girl Online in its first week on the shelves. Girl Online also knocked off Jeff Kinney's Diary of a Wimpy Kid: The Long Haul for the fastest-selling book, debut or not, this year.
Oh, and the kicker? She's only 25 years old.
Sugg has been a fashion and beauty advice blogger and vlogger since 2009, and she also speaks about other issues from a female-centric perspective, such as body image, mental health (she has been forthcoming about her own experiences with anxiety and panic attacks), and bullying. The Zoella YouTube channel has more than 6.5 million subscribers (!!!) and she has more than 2.5 million Twitter followers on her handle @ZoZeeBo. Again I feel the need to remind everyone that she's 25 years old.
Girl Online is loosely based on her experiences as a fashion and beauty blogger, and it has been billed as a modern-day Notting Hill for the teenager set. 15-year-old Penny is a blogger like Sugg, whose relationship with a major pop star gets outed on the Internet, which throws everything into a tailspin, because her then-anonymous blog is exposed.
This is only the very beginning for Sugg. Girl Online rights have been sold in a whopping 25 languages, and there's already a sequel on the calendar for 2015. And considering most of us still haven't done our Christmas shopping yet (right?) and we're sliding head first into the holiday season, I expect these book sales numbers are only going to climb. For her part, Sugg has said she's been overwhelmed with this record-breaking success:
If you're not among those 6.5 million fans, check out her vlog trailer, and I'm willing to bet you'll be making it 6.5 million and 1 followers.
You go, Zoella.
Image: Zoe Sugg/Facebook