These Doll House Accessory Rings Are Adorable, and Your BFF Won't Believe You Made Them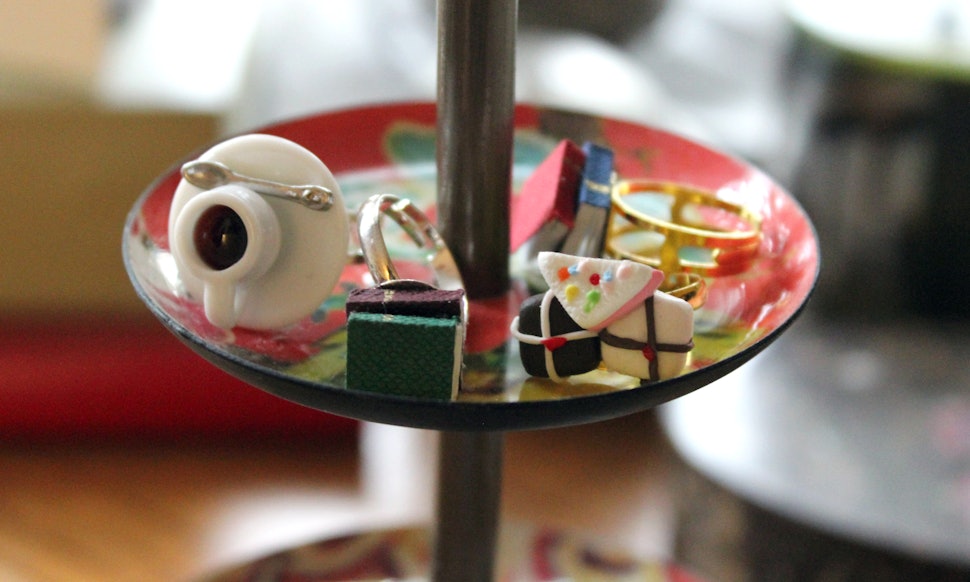 Looking for a present to get your BFF? I have three words for you — doll house rings. Just hear me out. I'm sure we can all agree that having a best friend is one of the best experiences in the world. Our best friends probably know us better than anyone, and you know that you'll always be there for each other — even if you don't see each other as much as you used to. So when the holidays roll around and you're putting together your gift list, you know you can't get your BFF just any gift.
Jewelry is always a good option, but it needs to be a piece that's unique and shows them that we get them. And what's more unique than a handmade ring that reflects your besties' passions in the form of adorable doll house accessories? We've got your super simple tutorial, right here.
Images: Emily Kelley
Step 1: Get Your Materials Together
You can find doll house accessories at craft stores like Michael's and JoAnn's, as well as specialty hobby shops. You'll also need ring backs (basically ring bases), which you can usually find in the bead and jewelry-making isles. Make sure the accessories you're picking will fit onto the ring back's surface, and that they wouldn't be too much of a hindrance to wear. You'll also need E6000 or some other heavy duty glue.
Step 2: Pick Which Accessories Will Go on Which Rings
This is really a matter of taste and what your bestie likes. I got one set of gold and one set of silver backs, and each set came with three different ring looks. Pair the accessories with the ring backs ahead of time, since it's hard to unglue them once you've started.
Step 3: Prepare the Ring and Accessory
For my first ring, I chose a wider band to go with a saucer and coffee cup. With a cloth, wipe the ring surface and the bottom of the accessory, just to remove any stray dirt or hair.
Step 4: Glue the Accessory to the Ring Back
The E6000 glue is really powerful, so you'll only need a drop. Pro tip: the tube tends to leak a bit, so have a paper towel or cardboard scrap on hand. The glue can go on the ring back or the accessory, whichever is easiest for you.
Step 5: Let the Glue Set
Hold the ring in one hand and use your thumb and middle or pointer finger to press the accessory against the ring back. Hold down tightly for a few minutes, and then set the ring in a safe place. The E6000 glue takes about five minutes to start to dry, but it'll take a full 24 hours for the glue to cure completely.
Coffee Ring — Finished!
Here's what the coffee cup ring looks like finished. Adorable, right? But we aren't done just yet…
Step 6: Separating Accessories (Optional)
For my second ring, I wanted to use these adorable little pastries, but the plate they came with was huge. Very carefully, using a box cutter, I cut through the glue that held the tiny pieces to the plate. Some pieces might come off easier than others, but you want to try and preserve them as much as possible.
Pastries Ring — Finished!
Repeat Steps 3-5. Since the pastries were small, I put the glue onto them instead of the ring back, so it was easier to arrange them. I was a bit more gentle in letting the glue set since the pieces were so small, too.
Step 7: Altering Accessories (Optional)
My BFFs and I all love books, and I definitely wanted to make some book-themed rings. Unfortunately, the doll house books were just a bit too big to comfortably fit on the ring backs and be worn.
Step 8: Cut the Books in Half
With the help of a box cutter (and my strong boyfriend), I cut the books in half, and then used scissors to make them more square. I cut them small enough to just cover the space of the ring back.
Book Rings — Finished!
Repeat Steps 3-5. I stacked two of the books together, and used a bit of glue to hold down the top covers so they wouldn't catch on anything. You can stack them as high as you like, but remember they have to be worn!
Step 9: Gift!
Put these babies in ring boxes, and get ready to have your BFF squeal in delight.