Match Your Ugly Christmas Sweater With Your Dog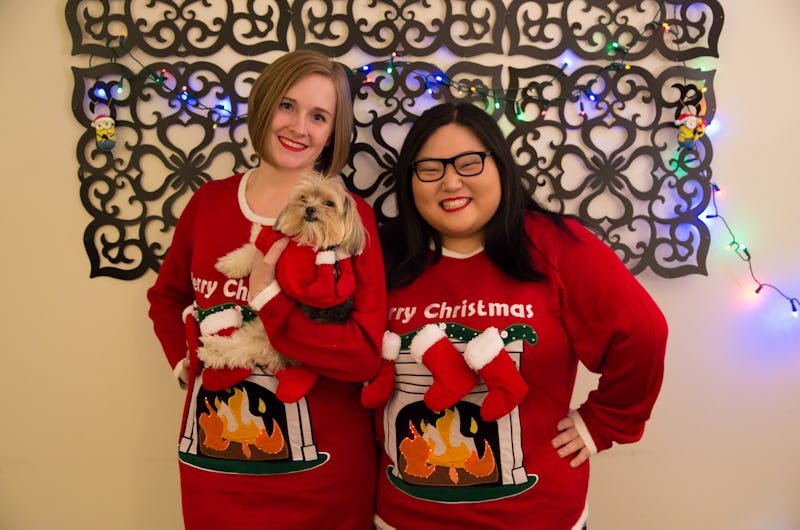 With the holidays just around the corner, it's time to break out your best ugly Christmas sweater. They come in all shapes, sizes, and colors, but the most important thing is that they're tacky. These days, you don't have to rely on raiding your grandma's closet to find the perfect one — instead, you can buy ones that are lit up, three-dimensional, have fun pop culture ties (think A Christmas Story and Home Alone), and more online and in plenty of stores.
But before you go searching for the craziest one out there, don't forget about your four-legged friends. Yes, they make ugly holiday sweaters for dogs, too, and the best news is that you can match with your pup. Some companies make pairs to buy, but it's also easy to find one for your dog and then match a similar one for yourself. Just like with Halloween, it's all about being creative — and I've rounded up a handful of options available online now to get you started. I decided to dress up with my best friend Erica, and my adorable two-year-old Morkie, Marshall. (Psst, you can find him on Instagram at marshallthemorkie.) Come and get in the holiday spirit with us!
Dog Fireplace Sweater, $29, Amazon; Women's Sweater Dress, $65, Amazon; Men's Sweater, $50, Amazon
These are the ones I went for, mostly because they light up. Festified makes a dog sweater, a women's sweater dress, and a men's/unisex sweater, and they're all hilarious.
Ugly Christmas Sweater Elf, $35, Amazon
If you want to channel your inner Buddy, you and your pup can try these elf sweaters from Tipsy Elves (yes, the guys from Shark Tank ). Check out the sweater, and the dog sweater to match.
Puppy Sweater , $20, FunkyTails; Men's Sweater, $60, FunkyTails
If you want to make your dog wear a dog on his sweater, Funky Tails has a matching men's/unisex sweater and pup version for you.
Home Alone Sweater
Yo Filthy Animal Dog Sweater, $30, Amazon; Men's Ya Filthy Animal, $15, Amazon
If you love Home Alone, this "Merry Christmas, ya filthy animal" sweater set is for you. They're not exactly the same, but you can snag a dog hoodie and a men's/unisex sweatshirt.
Holiday Reindeer Sweater, $65, Amazon; Dog Sweater, $33, Amazon
This is the least "ugly" of the bunch, and it happens to be the sweater that Kristen Bell and Dax Shepard wear in their holiday Samsung commercial. This one is also from Festified, and is available in a men's/unisex version and as a dog sweater.
Images: John Daniels, Festified (2), Tipsy Elves, Funky Tails, Etsy (2)