7 Times Effie Trinket's Wardrobe Made Us Go Full-On Capitol-Envy — So May the Odds be Ever in Our Favors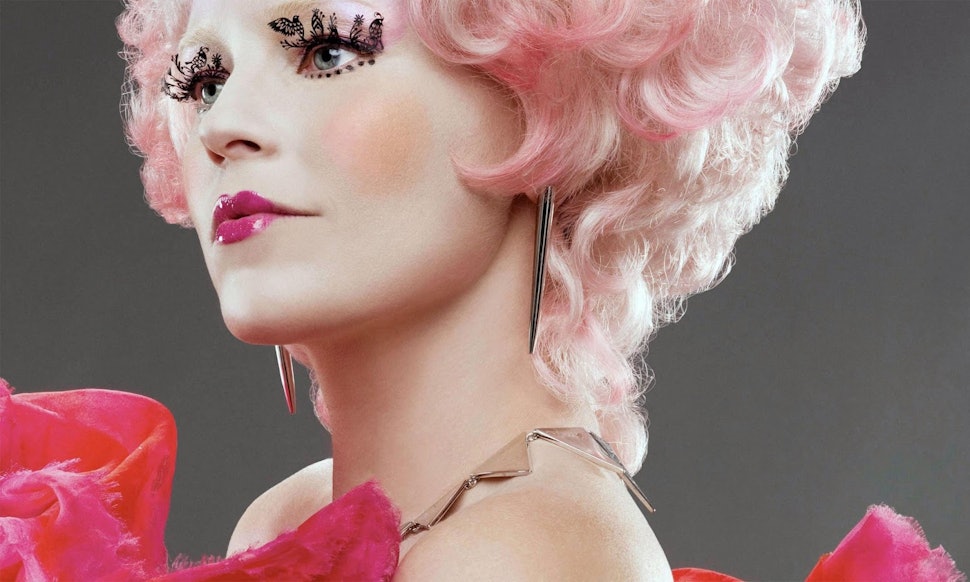 With the recent release of The Hunger Games: Mockingjay — Part 1 , now seemed as good a time as any to celebrate the inimitable style of the Capitol's ultimate fashionista, Effie Trinket. Elizabeth Banks' character never ceases to amaze us with her avant-garde couture and we can only imagine the artistry and skill that must be required to construct these high-fashion creations. The reality is that Effie's ensembles transcend fashion and will take their place in culture as works of art.
Costume designer Trish Summerville is the talented lady responsible for Effie's wardrobe and she has done an absolutely sterling job at creating looks that tell us so much about Effie's character.
In the first movie, Effie is somewhat lighthearted (or delusional), and her outfits reflect said element of her personality. But in the second film, Catching Fire, her character becomes a little more serious as she fights an internal battle between her Capitol life and all that it entails — and the pain she feels at seeing people she cares about put in harm's way for a second time is very real. Summerville was mindful of this change in Effie's countenance when putting together the wardrobe for the second movie, and again, her judgement cannot be faulted.
There is something about this kind of completely OTT couture that is absolute delight. Each costume is a feast for the eyes — packed with little details that may not be immediately noticed, but without which the outfits could not be considered complete.
So here's to you, Effie, and may the odds be ever in your favor!
Images: Color Force; Lions Gate Entertainment
Perfect in Peacock
This combination of peacock blue and lime green is so Effie. The black fascinator is the perfect touch to show that she means business, and the shade of fuchsia on her lips is absolutely perfect.
Effie de Vil
A coat that appears to be constructed of doilies, inspired by Cruella de Vil, teamed with a wig that Sybil Fawlty would have loved, shouldn't work. It really shouldn't. And yet it does! It so does.
Lovely in Lavender
This powder blue wig is inspiring, and it's a shade I would be very tempted to try myself. And can we talk about that incredible frilled collar? Have you ever seen anything like it?!
Magical in Magenta
This is arguably one of Effie's harshest looks; her pale powdered skin and platinum locks contrast heavily with the black and magenta of this Victorian-inspired ensemble.
Sensational in Silver
This is my favorite of what I would consider Effie's "daywear" looks (if such a thing can be defined). The gold and silver combination works like a gem, and from now on I will only be wearing wigs that are perfectly color-matched to my ensembles.
The Butterfly Dress
We all know it, we all love it. This list would just not be complete without a mention of this absolutely glorious butterfly piece. Every element has been so carefully considered, and even the yellow pigment dusting on her eyes and cheekbones is spot on. Spectacular.
Cherry Cupcake
Like all of Effie's looks, this is just impeccable. The red ruffle Alexander McQueen dress is not her only gown from the fashion house of my dreams, but it is definitely my favorite. It could not have been a better choice, and teamed with that red-dusted wig? Oh my gosh. Also, I need to find out where I can get a set of those eyelashes, because wow.