13 Gifts Any Ryan Gosling Super Fan Will Enjoy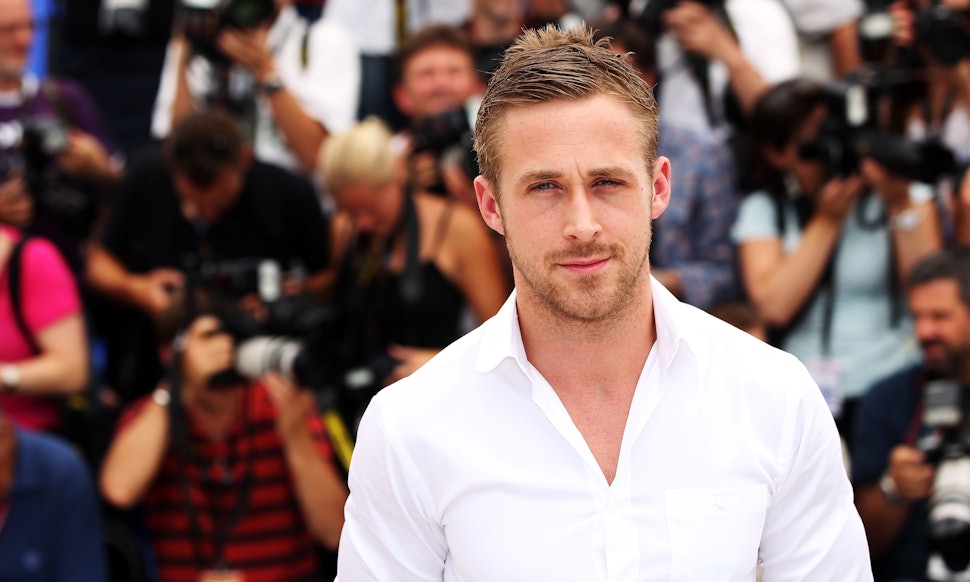 Sean Gallup/Getty Images Entertainment/Getty Images
Hey, girl, I see you over there googling those Ryan Gosling leggings. Well, let me tell you, they do exist and, unsurprisingly, Ryan Gosling's dreamy face has spawned thousands of somewhat bizarre products. Not that we're complaining. Gosling might have had a baby with Eva Mendes, but I've gathered some holiday gifts to fill the void of not being married to him. These gifts are perfect for the Ryan Gosling fan in your life — or for yourself, because we know the mystique of the man is hard to deny.
For the Taylor Swift In All Of Us
Jump on the hipster cross stitch train and get your friend a pattern. That way, she can stitch Ryan Gosling's beautiful face while she watches the Notebook for the 19833th time.
Ryan Gosling Hey Girl Cross Stitch, $6, Etsy
For Fans Who Love Puns
Well, now your friend can actually say that she sleeps with Ryan Gosling, right? There is no greater gift than this.
For Anyone Who Needs No Reason to Think About Gos All Day
Seems like putting your celebrity crush on your nails is a popular thing these days, so why not the Gos?
Ryan Gosling Nail Art Decals, $6, Etsy
For the Child at Heart
I have a feeling this gift would make a great accompaniment to a session of Drink & Draw, just saying.
For Those Who Want to Carry Gos Wherever They Go
Probably the most apropos name for a gift, because Gosling is the studliest of the studs. Look at that tiny, brooding face that could soon sit upon your ear.
Ryan Gosling Earrings, $8, Etsy
For Lovers of Personalized Christmas Cards
A custom drawing of Ryan Gosling under a mistletoe would be the perfect card for your friend who wants to celebrate holiday cheer with her main boo.
Ryan Gosling Mistletoe Christmas Card, $5, Etsy
For the Work Out Queen
This is the perfect sports bra for the fitness freak that knows what she wants — Ryan Gosling on her boobs, of course.
The Ryan Gosling Bra, $34, Etsy
For the Fan with a Sweet Tooth
It was only a matter of time before Ryan's face would be pressed onto sugary treats, making him even more perfect than before. And now you can eat him.
Ryan Gosling Cookie Cutter, $10, Etsy
For the Private Gosling Fans
Well, there's not much more to say about this than there is a print of Ryan Gosling's face on your lacy underwear. So, make sure no other man sees these. That could get a little awkward.
Ryan Gosling Underwear, $35, Etsy
For the Mommy Gosling Fans
This is pretty self-explanatory but let's hope this doesn't offend the real daddy too much. Whoops.
Gosling Baby Body Suit, $13, Etsy
For Those Still Lighting Prayer Candles to Wake Up as Eva Mendes
Hey girl, why not light a candle for Ryan Gosling to come whisk you away to an exotic island and love you forever? Anything helps at this point.
For the Dedicated Liars
Did your Gosling super fan get in a fight with their boo over their obsessive, fan-girling ways? Well, there's no better way to prove that you really care than with this banner (even if it's not entirely true, but we won't tell).
Ryan Gosling Banner, $20, Etsy
For the Fashionistas
As the description for these say, "Hey Girl, can I put a collage of my face on leggings for you to wear, then we can take a walk together?" Um, YES.
Dapper Ryan Gosling Leggings, $70, Etsy