It Was Not a Good Night For Jimmy Darling on 'AHS'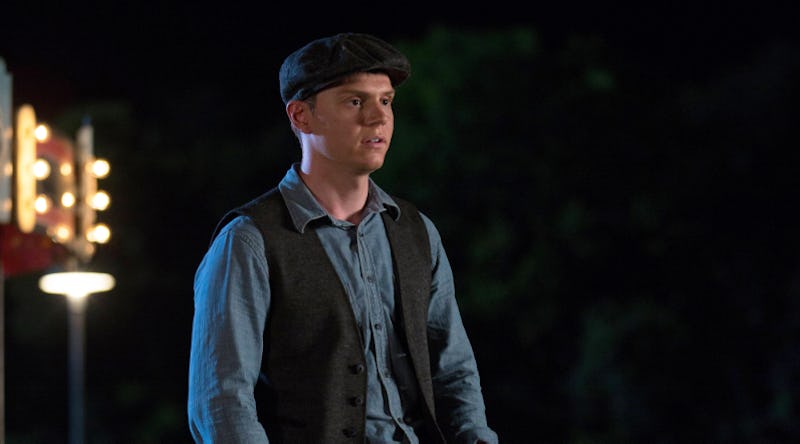 Sometimes it's just not your day — a sentiment I feel Jimmy Darling could relate to extremely well during this week's episode of American Horror Story: Freak Show. You see, poor Jimmy isn't handling the death of Ethel very well and got himself into a drunken confrontation with the worst enemy you could think of: Mr. Dandy Mott. And because of that, Jimmy has been arrested for the "Tupperware Party Massacre" that Dandy's responsible for. And all it took was a single glove at the crime scene and a dirty cop on the Mott pay bill to turn this Jupiter hero into a jail-bound zero. (Money may not buy you happiness, but it certainly buys you loyalty.)
Bottom line: it has not been a great past few days for Jimmy and now that he's off to prison I can't help but worry about his fate. Because, as I'm sure you all remember, the last time a sideshow character found their way behind bars, they ended up being killed. (RIP Meep.) Granted, Jimmy's a lot bigger than Meep was and could probably defend himself pretty well as long as he's sober. But given that he's in such a vulnerable state right now it's hard to know for sure whether he'll make it out of this ordeal alive.
Wednesday's episode proved deceased characters still have the chance of popping up every now and then thanks to the power of drunken hallucinations. So even if Evan Peters is killed off, there'd still be opportunities for him to make a few cameos down the line. But I doubt things will get that far. Jimmy's got a lot of redeeming to do. And let's face it, he's probably one of the only few who can eventually put a stop to Elsa, Stanley, and Dandy's multiple reigns of terror.
He may not have a million bucks at his disposal, but he's got something even more powerful: fan support.
Images: Michele K. Short/FX