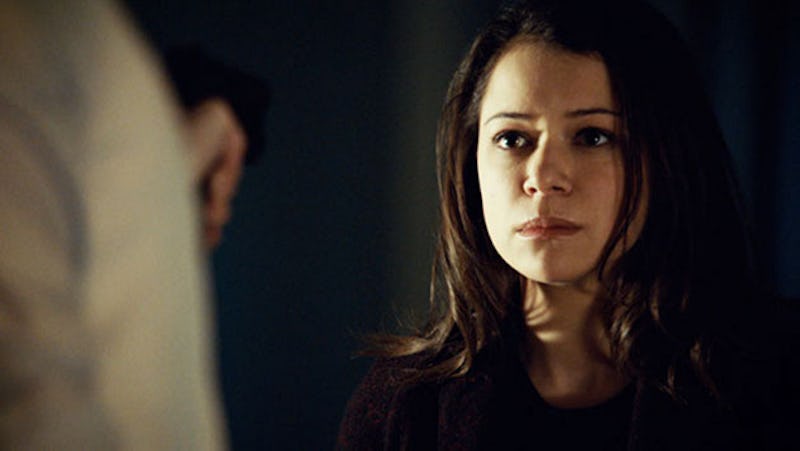 C'mon Golden Globes. You were doing so well this year, giving love to shows that deserve recognition as much as they deserve ratings, and turning your back on ones that perhaps have a bit too much recognition. But then you announced the names of the Best Actress in a TV Drama nominees. Homeland's Claire Danes. How to Get Away With Murder's Viola Davis. The Good Wife's Julianna Margulies. The Affair's Ruth Wilson. And House of Cards' Robin Wright. Yes, all of these women are wonderful actresses, more than deserving of their award nominations... but there's someone remarkable missing from this list of remarkable women. Because, Golden Globes, you snubbed Orphan Black 's Tatiana Maslany. Sigh.
Now, Orphan Black fans don't have quite the beef with the Globes as they do with the Emmys. Because though the Emmys have astonishingly yet to recognize Maslany for her work on the BBC America show, the Globes did tip a hat to the actress, nominating her for a 2014 award.
But what gives this year? Why, after Maslany picked up a Screen Actors Guild nomination on Wednesday, did her forward momentum come to a sudden halt?
When the Emmys snubbed Maslany last year, The Washington Post's Emily Yahr turned in a few theories (the fact that BBC America isn't has highly watched as other networks, the fact that Orphan Black is far quirkier than other dramas), but as Maslany continues to get attention and acclaim for her work, it becomes far more difficult to excuse the constant snub. I mean, did we mention we're talking about an actress who plays nearly a dozen characters on one single TV show?
Still, the actress has been ignored so often that Orphan Black's fan base, labeled the Clone Club, seems less shocked than let down by the Globes.
Really, Globes, why did you have go and disappoint us? Don't you know you broke the first rule of Clone Club?
Never ignore the lady also known as Sarah, Alison, Cosima, Beth, Rachel, etc. etc. etc. Sigh.