Man Posts Last Scary Instagram Before His Death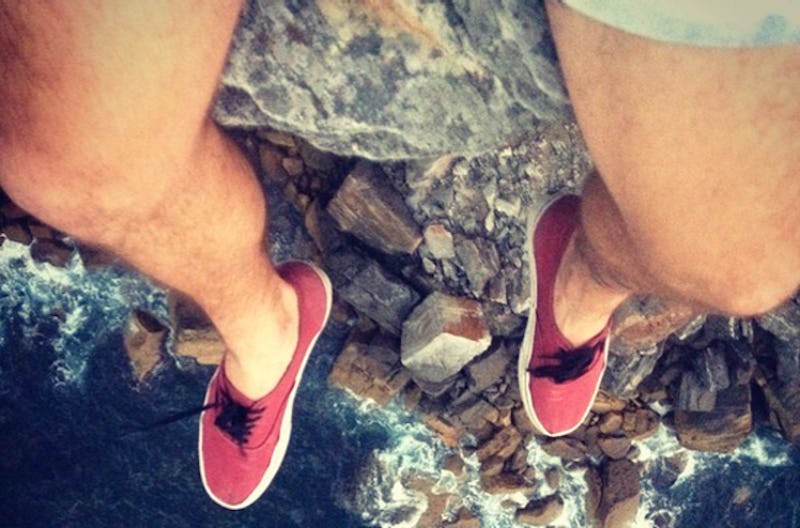 Gareth Jones, a 25-year-old base jumper, all-around adventurous person, and Cambridge graduate from from Brighton, England, posted a picture on his Instagram of the same cliff he later died after falling off of last Sunday. The picture is harrowing without even knowing the circumstances behind it, showing Jones' legs dangling off of the high perch with rock-filled waters below him. The photo was taken (and the tragedy later occurred) at North Head Cliff in Manly, Sydney, where Jones was visiting on a student visa. On December 3, he posted the photo to his Instagram account with the caption "Another day another happy place. #manly #vans #fear". Two days later, he and his friends returned to the spot to watch the sunrise, where onlookers said that they watched Jones hop over the safety fence to join his friends on the edge shortly before he fell to his death.
As a base jumper, Jones traveled all over the world, frequently posting pictures of all of the striking heights he conquered, spanning over 500 base jumps in his career. His account is a history of how fearlessly he lived his life and the friendships with fellow base jumper that he made along the way. Here are a few of the captivating images of his travels:
The police have classified Jones' fall from North Head Cliff as a "tragic accident." This is the picture that he posted on his account just days before his death:
Jones is survived by a tight knit community of fellow base jumpers. Among them is Echo Giesel Widmer, who left a haunting message in his memorial: "Ironically he told me and some others a week ago that when he died, he'd be pissed if his friends had a funeral and cried for him. He said he wanted to have a Viking Funeral and he wanted his friends to send him out to sea on a burning ship while celebrating and partying in the moonlight. Gareth wasn't afraid of what the future may bring, he just wanted to live."
Images: bugsbunnyslife/Instagram