Holiday Meals from Around the World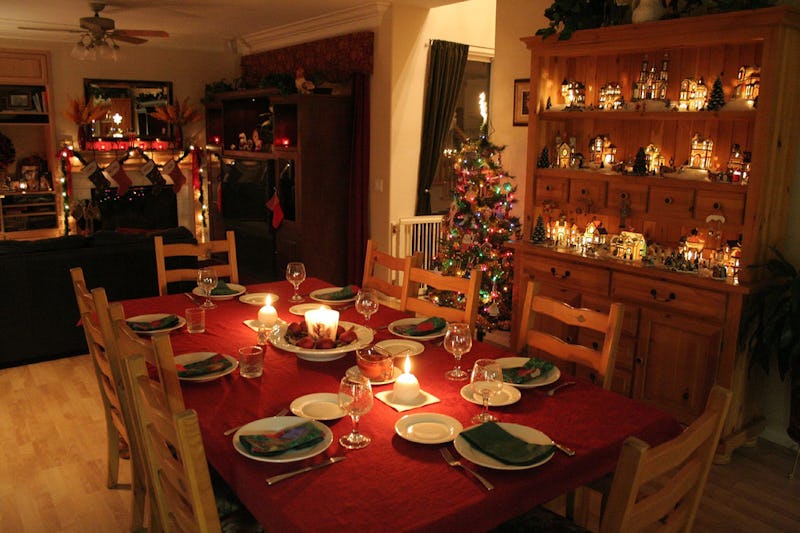 Everyone has their own holiday traditions — including what they eat while they're celebrating. If you'd like to do something a little off the beaten path this year, check out these five different Christmas dinners from around the world; they're sure to fire up some culinary inspiration. Oh, and did I mention that they're all arranged in a handy-dandy little infographic? Because they are. Who doesn't love an infographic? No one, that's who.
UK restaurant finder and booking app Bookatable has dug up some information on how folks who celebrate Christmas in 23 different countries handle the big celebratory meal; then they compiled it all into an easy-to-digest (see what we did there?) visual. Although turkey factors prominently into the meal in a lot of places, it's definitely not the only menu staple out there — fish is a major player, as are a lot of vegetarian dishes. There's even a surprise appearance from a fast food chain (can you guess which country it's from? Hint: It's probably not what you think). Here are five of my favorites; head on over to Bookatable to see the full infographic.
Now if you'll excuse me, it's just about lunchtime, and I've got a hankering for some pretty exotic sounding dishes…
1. Greenland: Mattak and Kiviak
Mattak is whale skin, blubber and all; kiviak is the made by burying the flesh of Arctic auk birds in seal skin for months on end until it's totally decomposed. Just, y'know… FYI.
2. Italy: The Feast of the Seven Fishes
I'm Italian on my mother's side of the family, so Mom usually does some variation on the Feast of the Seven Fishes on Christmas Eve. We kind of cheat, though; instead of making a whole bunch of different dishes (battered calamari, marinated anchovies, clam linguine, and so on), we knock out at least five of the requisite seven by making a seafood gumbo.
3. Australia: BBQ
It's summer down there right now, so of course you'd take the opportunity to have a Christmas BBQ, right? I mean, what else are you going to do?
4. Japan: KFC
We can blame a marketing campaign for this one; KFC has apparently been the Christmas Day meal of choice for a lot of Japan since the 1970s. It's not exactly "fast" food, though — you usually have to put your order in for your bucket o' chicken months in advance to avoid the terrifying lines on December 25.
5. Fiji: A Whole Lot of Things I Want to Shove in My Face Right Now
Instead of a roast turkey, folks in Fiji stuff chickens with garlic and other spices, wrap fish in banana leaves, and cook pork in what's called a "lovo" — a hot stone oven that gets to work while buried in the ground. All of these things sound fabulously delicious to me.
Check out the full infographic at Bookatable.
Images: chrisphoto/Flickr; Giphy (5)