Dior + 'Blade Runner' = Epic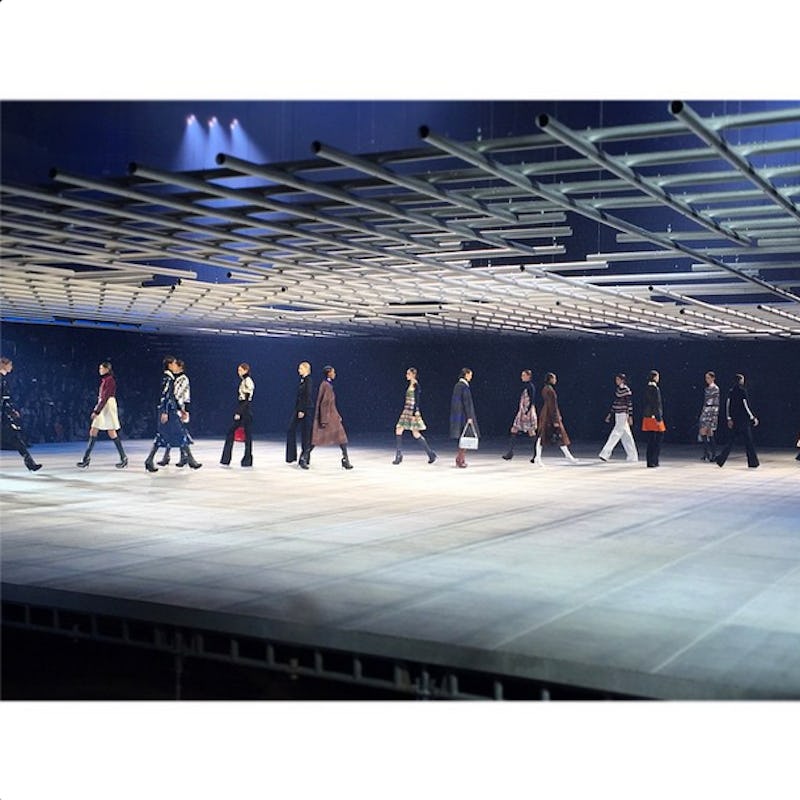 Okay, stop the presses: Christian Dior's Pre-Fall 2015 show (aka Esprit Dior Tokyo) was inspired by — get this — Blade Runner. It was all there, from the neo-noir, stylized (and stylish) high-contrast lighting, to the dramatic silhouettes and futuristic makeup (Pris and Zhora would definitely approve of that eyeliner) to the the snow drifting down from the rafters (though apocalyptic rain would have been more thematic, if problematic in terms of the heavily-sequined couture). Add that to the fact that this was all taking place in Tokyo's Kokugigan (which is, interestingly enough, a sumo wrestling arena), and you've got yourself quite the tableau.
I mean, four for you Raf Simons, you go Raf Simons— because when it comes to inspiration? I can't think of a better source than Blade Runner. I can hardly comprehend just how awesomely atmospheric the whole show must have been. According to British Vogue, sound clips from the film actually played in the background as models walked the runway (imagine, if you will, stomping the runway in couture as Harrison Ford interviews Sean Young about replicants).
TL;DR? It was absolutely gorgeous and fashion critics the world over are heralding it as quite the triumph for Raf Simons, who's taking to the Christian Dior helm with considerable aplomb.
The Setting
"All those moments will be lost in time... like tears in rain..." I know, I know, it's snow — but still!
I mean, wow.
The Makeup
It might be a little subtler than her usual Taylor Momsen-style black eyeshadow, but Pris could totally rock this look!
The Clothes
Very modern Rachael (because 2014 Rachael would be way into patent leather).
More of a Zhora look, no?
Gah, it's all so gorgeous, right? I can't wait to see all this glamour on the red carpet (boxy eyeliner included).
Images: Getty Images; Instagram