Sexy Charades Are the Best Charades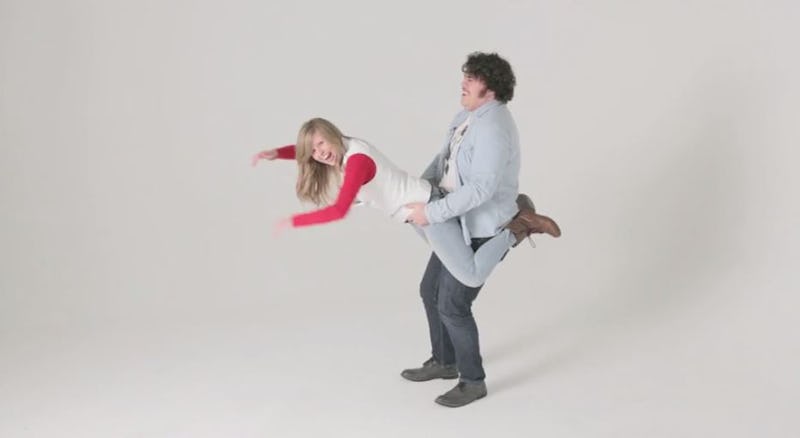 Personally, I'm of the opinion that the best sex involves a lot of good-spirited laughter; furthermore, you don't even need to be naked and getting it on for real to enjoy a few sexually explicit giggles with your partner. Cut's latest video, "Real Couples Playing Sexy Charades," involves a bunch of fully-clothed couples attempting to act out some incredibly obscure sex positions — and not only is it hilarious, but even better, it's the perfect reminder that sex doesn't have to be super serious in order to be good. Friday night inspiration, anyone?
The Cut, which also brought us that magnificent video of a bunch of grandmas smoking weed for the first time, took inspiration for this one from Nerve's "Position of the Day" iPhone app. They assembled a group of couples with relationships of varying lengths (a few months to 36 years) and orientations; then they read out the names of some ridiculous-sounding sex positions and asked the couples to demonstrate what they'd look like. I'm a little unclear about whether these are actual sex positions or if they were made up solely for the purposes of this video — but I don't actually think it matters, because I'm sure at least one or two people somewhere have done each of them before. All bets are off when it comes to consensual bedroom activities. The best part? Even though the game is a little awkward, all the couples look like they're having a blast playing it. Love it.
Here are five of my favorites; scroll down to watch all of 'em in action, including what each couple did with each position. You can also head over to Cut's YouTube page to see videos each individual couple. Oh, and just in case you didn't already figure it out, it's all rather NSFW — even if everyone is fully clothed.
1. "The Drill Bit"
Something tells me you need to have killer upper body strength to pull this one off the way it's meant to be done.
But that works, too.
2. "One Sausage Wrapped to Go"
I feel like this one might be aided by the presence of a wall for support.
Or you can do that instead.
3. "The Laptop"
Don't forget to lay a pillow or two down if your chairs aren't padded. Because otherwise? Ouch.
I like the use of the medicine ball here, though.
4. "The Intermediate Swimming Lesson"
Does anyone else thinks this one looks suspiciously similar to "The Laptop?"
YES. You guys win. That is the best.
5. "So You Liked the Lasagna…"
Mmm. Lasagna.
Tasty, tasty lasagna. Or something.
Watch the whole video here:
Images: Cut Video/YouTube (10)