Grandmas Try Weed For The Very First Time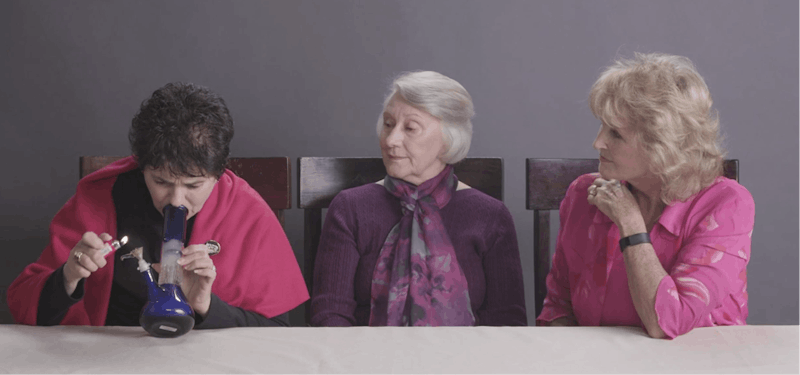 For those of you who impatiently thought you waited a long time for the statewide legalization of marijuana, you're about to get shut down by these grandmas smoking weed for the first time. That's right: These women's children had children before they went anywhere near marijuana. A few years ago, this is something that we would never have the good fortune to see so blatantly posted on the Internet, but now that marijuana is legal in the state of Washington (where the video took place) and several other states, these opportunistic YouTubers could give these grandmas the thrill of their lives.
They set the grandmas up in a room with a bong and showed them how to light the cannabis. (Side note: This video actually doubles as a very handy tutorial for people who are green about these greens.) They're all dressed to the nines and looking altogether classier than I've looked since my last ballet recital, and as soon as they start inhaling, the fun begins. In case you couldn't tell they were grandmas already, after the first one takes a puff she very dutifully and patiently helps instruct the other women.
As the high hits, they play a rousing and friendly game of Jenga, and then the video makers bring out the vaporizer. My favorite line? "I thought it was a dildo."
I actually got to spend August in Seattle this year, and anyone who has ever lived in Seattle knows about the complete and utter chaos that is the yearly marijuana festival. It actually took place about ten feet from where I worked, and it was perhaps the most bizarre and fascinating event my eyes have ever seen. Something tells me that after this experience (Cards Against Humanity and Oreos are involved) these ladies are going to be in attendance next year:
Images: YouTube(3)