A Suspect Was Arrested In The Portland Shooting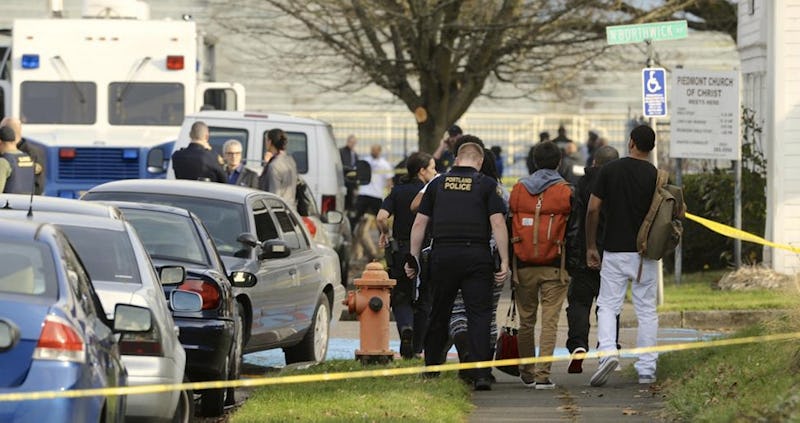 Following a shooting near an alternative high school in Portland, Oregon, police have arrested a suspect who appears to have gang ties. The 22-year-old was stopped around 1:30 am Saturday morning, and was found in possession of a handgun. Soon thereafter, authorities conducted a search of a nearby apartment, located near Rosemary Anderson High School where the crime took place. The suspect's name has not yet been released, but law enforcement officials have confirmed that he has been booked in the Multnomah County Jail. On Friday evening, Sgt. Pete Simpson said in a statement, "Based on the investigation thus far, the shooting appears to be gang-related."
According to witness testimonies, there seemed to be some sort of altercation that occurred just before the shooting. In a recent statement, Simpson said investigators "feel comfortable saying this is a gang-related shooting based on some of the people involved," but police have not yet said who, if any, of the victims were involved in gangs. Simpson added, "There was some kind of dispute between the shooter and some people. We don't know if it was (with) all the victims or one of the victims." While most gang violence tends to occur between members of rival organizations, bystanders have been known to be caught in the crossfire.
The three wounded were identified as 16-year-old Taylor Michelle Zimmers, who is in critical condition; David Jackson-Liday, 20; and Labraye Franklin, 17. Another 17-year-old, Olyvia Batson, was also given medical attention when a bullet grazed her foot during the shooting. All four were students of Rosemary Anderson High School and seemed to be on lunch break when the shooting occurred around 12:15 p.m. local time. The alternative high school has a population of about 190 students, many of whom are considered at-risk after being expelled or dropping out of their previous institutions. Many are homeless or are single parents.
Students described the chaotic scene to local media outlets, with Sierra Smith, 17, telling The Oregonian that she watched a teacher assist one of the male victims, helping him find cover inside the school. Said Smith, "He was laying on the ground. He had blood coming out of his stomach. It was scary." 16-year-old Oliviann Danley said that she saw another male student run past her towards safety, yelling "Oh my God, did I just get shot?"
Unfortunately, gang violence is not a new phenomenon in the Portland area, and despite "a lot of progress in addressing the gang problem," Mayor Charlie Hales admitted that the city hasn't completely eradicated the problem. On Friday, following the incident, he said, "Today's really a sad reminder that it's still with us." According to recent reports on gang violence in the city, overall crime has actually decreased between 2005 and 2012, but it seems that violence is shifting more and more away from the gentrifying inner-city areas to other neighborhoods in Portland. This summer, police addressed a surge in gang-related violence, as one man was killed during a drive-by shooting in June, and a 5-year-old boy suffered a gunshot wound while playing in an apartment complex. According to police, they lack adequate resources to address this violence, which has created some tensions within the department. As Simpson said of the most recent incident, "It brings up a lot of old wounds."
The 22-year-old arrested seems to be one of the three men who were seen fleeing the scene immediately following the shooting. Currently, the Portland police department's gang task force is involved in the investigation, and agents from the FBI and the Bureau of Alcohol, Tobacco, Firearms and Explosives are also participating, according to Simpson. The violence has certainly shaken the community, with Jason Nelson of Cornerstone Community Church of God in Christ telling CNN of one of the victims, "The young man I know attends our church frequently who is, according to my understanding, not involved in any criminal activity, he is a bright young man. You hear about shootings every day and when it comes close to your school it's heartbreaking."
Images: hotrocksyes, BrentKOIN, CBSNews/Twitter