Eric Holder Thinks Athletes Can Make An Impact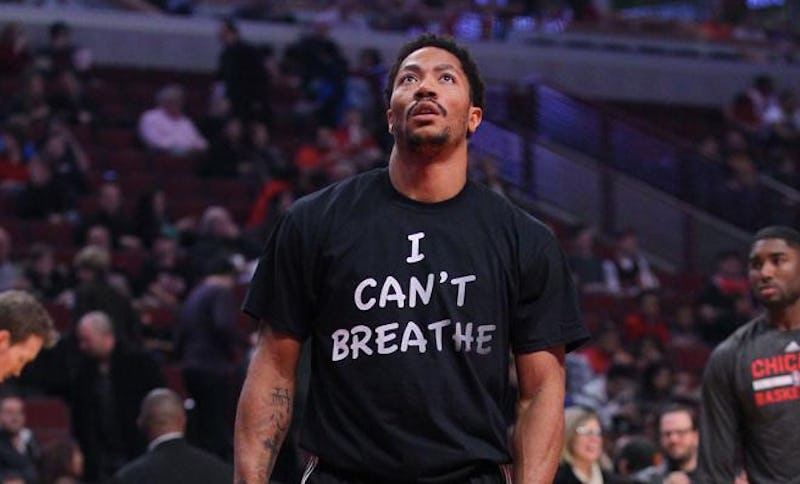 Chicago Bulls player Derrick Rose sparked a sports protest last week when he walked onto the stadium floor for pregame warm-ups wearing an "I can't breathe" T-shirt. Following Rose's act of silent protest, professional basketball and football players began taking to the field or floor with their own "I can't breathe" messages, either writing the phrase on their gear like Detroit Lions player Reggie Bush, or wearing a matching T-shirt, like Los Angeles Lakers player Jeremy Lin. Now, outgoing Attorney General Eric Holder says he admired Rose's "I can't breathe" T-shirt — and thinks its an act of protest that we need.
In an interview with Lynn Sweet of The Chicago Sun-Times, Holder praised Rose and his fellow NBA athletes, including Cavaliers player/living God Lebron James, for taking such a public stance on this national issue. "Whether they want to be or not, they are role models," Holder told The Sun-Times. "They are seen as people who young men especially want to be like."
The attorney general continued:
For them to get out there and to express in that way a social conscience, I think goes back to maybe people that these guys don't even know or my son has a vague awareness of, to Jackie Robinson, who is seen as not only a great athlete, but as an involved, thinking, caring black man. And to have LeBron, Derrick Rose and others who wore those 'I Can't Breathe' shirts, that shows a level of involvement. It shows a depth to them beyond just being great ballplayers.
Although Rose was the first athlete to wear the "I can't breathe" T-shirt, James decided to make his statement during Monday's night game against the Brooklyn Nets in New York City — you know, just with members of Britain's Royal Family watching his every move. That same night, a mass protest against police brutality was also held outside the Barclays Center.
Hours after a Staten Island grand jury decided not to indict police officer Daniel Pantaleo for Eric Garner's death by a chokehold, Holder announced the Department of Justice would open an investigation into the incident. The DoJ is also probing the death of 18-year-old Michael Brown and the police department in Ferguson, Missouri, where Brown was killed.
Meanwhile, tensions have heightened in New York between Mayor Bill de Blasio and the New York Police Department. The Patrolmen's Benevolent Association are now offering their officers a waiver that effectively bans de Blasio from attending police funerals.
The New York Daily News reported that while speaking at the organization's annual holiday party, PBA President Patrick Lynch explained the message the police officers are sending to de Blasio and his colleagues:
And the members said, 'If they can't support us now when we're alive, they surely shouldn't come to a funeral and have crocodile tears and sit next to my family.'
Image: Derrick Rose/Twitter, Getty Images