The 7 Craziest Lingerie Items of 2014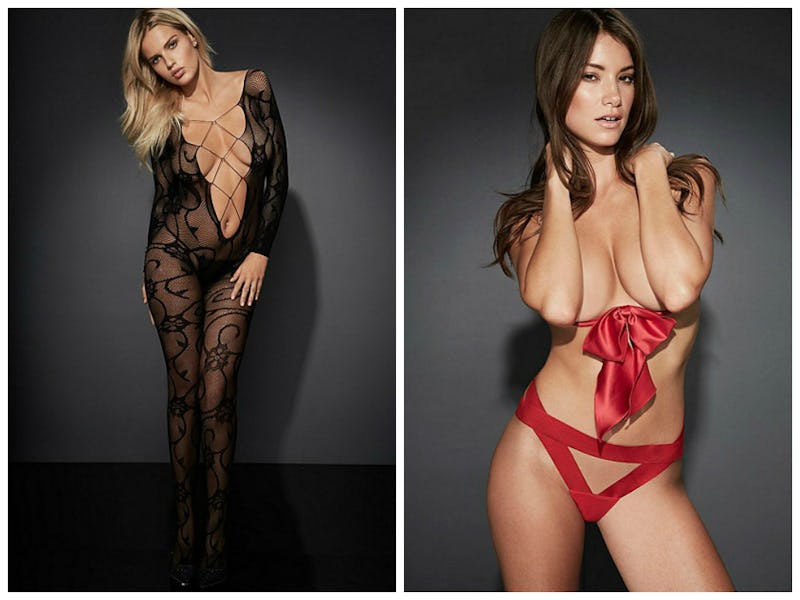 Sex sells. Isn't that the go-to advertising mantra? Well, it's true. Seduction is a big business in America, with nearly 12 billion of our hard earned dollars being exchanged for sassy nightwear in 2013. Bras, panties, teddies, negligees — you name it, we bought it. With big brands like Victoria's Secret on the cusp on world domination, one rhinestone bra and matching wing at a time, the multi-billion dollar industry will surely continue to grow. And you know what? More power to the people. There are enough things in this world that make us feel less than fabulous, but our lingerie shouldn't be one of them! So, if you want to bring sexy back (here's looking at you JT), you go right ahead and hand over your dollar bills to Victoria. OK, that admittedly came out wrong, but you get the idea.
In addition to the world's largest lingerie brand, there are quite a few other players who know how to fancy up an under garment, or over garment if you know what i'm saying. La Perla, a staple in the wardrobe of everyone's favorite Upper East-sider, Blair Waldorf, Journelle, Kiki De Montparnasse and Agent Provocateur all have sexy, sassy and super feminine down to a science, which is cause for gratitude. Good lingerie serves many a worthy purpose, but, more importantly, is truly appreciated when compared to satin and lace gone all sorts of wrong. Ladies, if there is one lesson we can impart on one another it is that when lingerie gets crazy, it can get awkward real fast.
I promise you, there are endless lingerie options out there that will make you feel sexy, but it may be a good idea to steer clear of some of the craziest pieces of the year. I want you to wear whatever brings out your inner, empowered bombshell; it's just that, in my opinion, your bombshell may protest certain items for the greater good. Each of us should have that one friend we can take into the dressing room and shamelessly force to give their opinion on our bedroom attire. In the case you don't have anyone to protest on your behalf, I'll shout out for you now.
1. THE BODYSTOCKING
First of all, this seems like all sorts of uncomfortable. I don't even like wearing regular, leg-only stockings, never mind one that covers the entire body. The bodystocking feels like an overtly sexy, risqué option in the land of photoshop, but in realm of your real life bedroom it's more likely you may end up in a Ross Gellar-wearing-leather-pants scenario. Full body anything is hard to pull off and probably even harder to get off.
CrissCross Scroll Print Body Stocking, $30, fredericks.com
2. THE OPEN FRONT TEDDY
I am all for a little sex appeal and am never one to judge. You do you, girl. But, open front teddies? At this point, why are you wearing anything? There is more ribbon on a Christmas package than on your body when you tie yourself into one of these. The open front teddy surprisingly comes in many varieties, criss-cross patterns and materials, all equally ridiculous. Plus, this lingerie gives it all away up front! So you look like a package but there is seriously nothing left to unwrap. Essentially you are paying money to be naked when you could do that for free!
New Bow Front Open Teddy, $38, fredericks.com
3. THE PLAYSUIT
Did you think it was possible to find lingerie made from less material than the open front teddy? Oh, my friend, it's true. The playsuit uses no material at all, only draping chains. The fact that this item's description uses the word suit may be the craziest trend of all, considering it is more like oversized jewelry. Also, it's highly probable that this bedroom ensemble is unflattering on 99 percent of body types, requires assistance to get into and could very well become hazardous when it's time to get busy.
Akiko Playsuit, $3200, agentprovocateur.com
4. THE CAGE BACK PANTY
In other, "Why are you wearing anything at all?" news, I bring you, cage back underwear. Panties have really progressed over the years, becoming cute little lingerie pieces with back bows and sexy silhouettes. However, cage back underwear takes the V-String to the next level, with a grid like pattern of skinny fabric that could easily slip into all the wrong places. Also, it is hard enough to worry about one or two booty bumps or bulges in traditional lingerie, let alone how our junk looks in an elastic cage trunk.
Cage Back Open Panel Panty, $18, fredericks.com
5. THE SHELF BRA
Where does one even begin when discussing lingerie that fully exposes the ta-tas yet ensures extremity warmth with fancy, over-the-elbow gloves? In the words of Gwen Stefani, this trend is B-A-N-A-N-A-S. While the particular ensemble we see here takes the cake, there was no shortage of bras in the market this year that left our boobs flapping in the breeze; if lingerie that provides zero coverage can even be categorized as a brazier. I think it is better labeled as a boob sling, a crazy trend that, again, likely does not make the boobs of America look bedroom runway ready.
Seduction Show Me Set, $28, lingeriediva.com
6. THE CAT INSPIRED LINGERIE
You guys, I am not telling you anything you don't know when I say that cats are a thing. Personally I prefer dogs, but I can admit that cats are all the rage. Grumpy Cat made millions (yes, dollars) this year and Taylor Swift's famous feline duo is more recognizable than a majority of the human population. To add to matters, cat-inspired lingerie is now a thing. Besides all the obviously gross jokes one could make, there is just something strange about your skivvies resembling your cat.
Felissimo Bra and Panty Set, $35, felissimo.co.jp
7. THE MAN THONG
Oh no, no. Not even the men of the world are left out of the crazy lingerie recap. Gender equality and all, right? While I am a huge advocate of "anything you can do I can do too," some things are just bizarre. Men's lingerie is absolutely one of those things, especially when that lingerie is "animal pouches." It's like a weird down under hand puppet. JUST, NO.
Men's Alligator Pouch, $12, lingeriediva.com
Need I say more? After all, a picture is worth a thousand words and that last photo could be a novel. Get your sexy on in the new year ladies, by all means. Just choose carefully!
Images: Courtesy Brands