Kate Middleton and Blair Waldorf Are Fashion Twins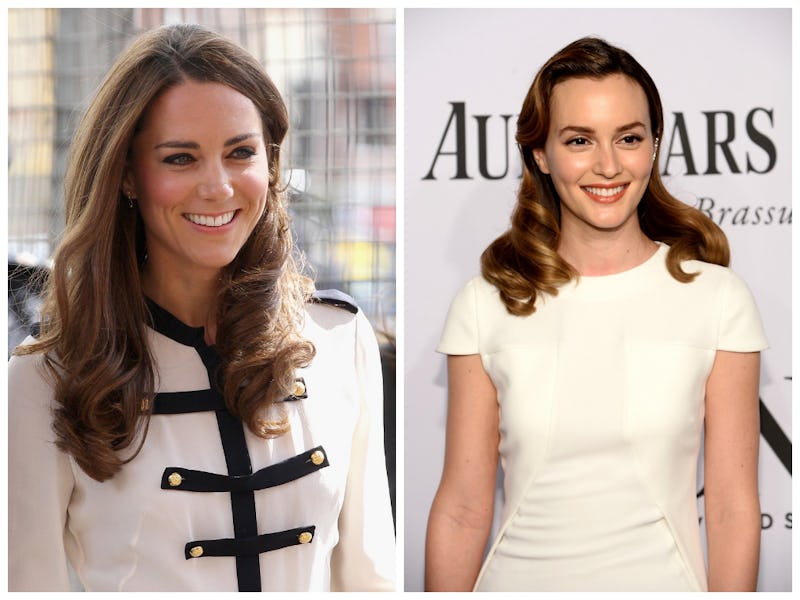 Kate Middleton is the new royal in town — quite literally this past week in New York City — and if there is anything super fans of America love, it is an obsessive royal watch. Our affinity for all things duchess-related is understandable, considering she manages to emulate fellow Brit Mary Poppins and appear practically perfect in an unattainable, yet fully lovable sort of way. Her style is enviable with not a "fashion don't" in sight and her air-to-the-throne husband seems to worship the ground she walks on. Anyone still questioning the preoccupation we have across the pond?
But let us not forget that once upon a time, in a land between 59th and 96th street, lived a headband-clad queen that ruled from the steps of the Metropolitan Museum of Art with a yogurt in one hand and the heart of a Bass in the other. That's right, before we all fawned over Ms. Middleton, the royal watch was focused on our beloved Queen B of the Upper East Side. For years we watched Blair Waldorf lead the ladies of Constance Billiard, fawning over, blogging about and endlessly emulating her iconic, high-fashion-fantasy, Eric Daman-curated wardrobe. Sadly, we haven't seen much of Queen B since Dan Humphrey revealed himself as Gossip Girl, but Kate Middleton's fashion is causing a fuss all it's own that we are drawn to with a nostalgic fervor. Could it be that we have a case of life imitating art?
Sure, Blair could be an aristocratic nightmare, while Kate is seemingly lovely in every way, but there are some striking similarities. For example, Duchess Kate married Prince William of Wales and Queen B almost married Prince Louis Grimaldi of Monaco. In the end, though, she married Chuck Bass, which is essentially the same thing as marrying true royalty because, obviously, he's Chuck Bass. So, twins. Also, even when Blair was a total tyrant there was still something about her we couldn't help but love — she was a girl boss before it was mainstream and Duchess Kate is the epitome of a strong, modern royal woman. #GIRLBOSS duo.
Most importantly, though, the British apple doesn't fall far from the Upper East Side fashion tree. Our two favorite regal women have made some similar, noteworthy style statements. I mean, isn't that why we all fell in love with them from afar? So I present you with six ways in which Kate Middleton and Blair Waldorf are the same person.
1. A fondness for spectacular hats that no one else in this world could pull off as well as they do.
2. A penchant for gorgeous gowns.
3. And also, that time they wore the same dream-worthy Jenny Packham.
4. A coat collection that is on point, anchored by a shared love of green.
5. A high-fashion wedding day ensemble. While Blair Waldorf wore Elie Saab and Kate Middleton wore Alexander McQueen, both looked like they walked out of a designer dream.
6. A perfectly hued, expertly curled head of tousled hair.
Case in point. Kate Middleton and Blair Waldorf are the same person. I mean, maybe not in all the ways, but definitely in a karmic fashion kind of way, and I, for one, couldn't be happier about it. I wonder if our queen of the Upper East Side would let the Duchess of Cambridge sit on the top step with her? Mind = blown.
Images: Getty; Twitter