There's A Hostage Situation In A Sydney Café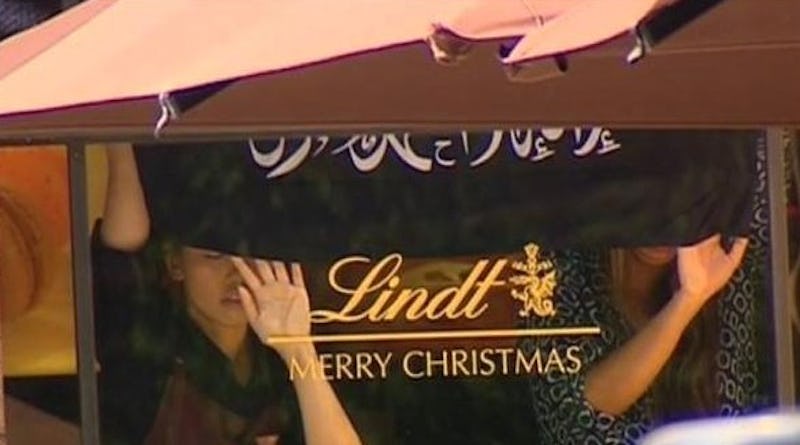 Some harrowing and still-developing news has broken out of Sydney, Australia — there's a hostage situation unfolding in a Martin Place Lindt cafe, and it's being reported that a member of an Islamic militant group is the culprit. As pictured above, a gunman who entered around 9:45 a.m. local time Monday and has taken hostages — reports from different outlets suggest at least a dozen, and possibly more — apparently forced two women to hold up a flag representing an Islamic militant group against the window of the cafe.
While it's not entirely clear what group the gunman belongs to (initial reports that it might be ISIS have been called into question by the pictured flag's differing style), the incident has forced major evacuations, with hundreds of police reportedly mobilized to respond to the threat.
Reports continue to conflict as to the number of hostages being held, with most all agreeing at least 12, but Lindt CEO Steve Loane has told Bloomberg there may be as many as 10 employees inside, and that a normal mid-morning crowd would mean around 30 customers.
As with these kinds of high-intensity, breaking stories, it's important to sift available information carefully. So far, here's what we know: at least one gunman, according to the BBC, is holed up inside the cafe, and at least a dozen people are being held hostage. Numerous reports have stated that the man is carrying a shotgun, and the situation has spurred a massive police response, with numerous landmarks around Sydney being closed down, including the famed Sydney Opera House, where local news channels have suggested a possible incident involving a suspicious package. Australian Prime Minister Tony Abbott has released a statement on the situation, calling it "obviously a deeply concerning incident."
As detailed by VICE News, the flag being held in the cafe window isn't the ISIS flag, as some initial reports of the situation suggested — rather, it's a Shahada flag, which has been used by al-Qaeda and al-Shabab as well as ISIS. As such, it's too early to say what group if any motivated or helped organize this incident, but the flag as an emblem of fundamentalist Islamic movements is well-known. According to VICE, the text on the Shahada translates to "there is no god but Allah and Muhammad is his prophet."
The New South Wales Police Department has issued a press release, urging the public to remain calm as they attempts to quell the situation.
There is a police operation underway at Martin Place. Police and emergency services have responded and a number of streets around the area have been closed. The Martin Place train station is also shut. Police are dealing with an armed incident and specialist officers are attempting to make contact those inside a cafe.
Some nearby offices have been evacuated as a precaution. Anyone else in the area encompassing Hunter, George, Elizabeth and Macquarie streets bordering Martin Place is directed to remain indoors and away from open windows. Anyone in the vicinity but outside that area is free to leave their buildings.
Police urge members of the public to remain calm and note that an appropriate police presence is in place. Police urge the media to be responsible in their reporting. Speculation can cause unnecessary alarm.
Later on Monday, the New South Wales Premier Mike Baird held a press conference, insisting that the gunmen's motivations were not yet known, but that the city would remain strong throughout the incident.
According to Channel Seven producer Patrick Byrne, who spoke to the Australian Broadcasting Corporation, the scene was visible from his newsroom, which sits just across the street from the Martin Place cafe.
We raced to the window and saw the shocking and chilling sight of people putting their hands up against the panes of glass at the cafe. This was just extraordinary.
However this crisis ends, peacefully or otherwise, it seems likely that this dismal event could have a profound impact on the Muslim community within Sydney, and Australia politics more broadly. As VICE notes, Dr. Ibrahim Abu Mohamed, the Grand Mufti of Australia, has already spoken out on the incident, denouncing the hostage-taking and voicing support for the victims and their families.
According to multiple reports, five hostages have made it out of the cafe, though the circumstances of how precisely they got out aren't yet clear. According to New South Wales Police Commissioner Catherine Burn, direct contact has been made with the hostage-taker, the first such confirmation in nearly six hours since the start of the incident.
Developing...
Image: Global News BC1/Twitter