2 Hostages Killed In Sydney Siege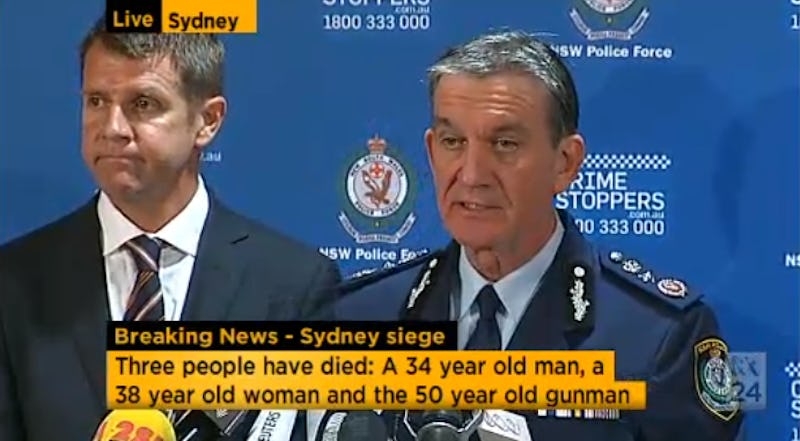 Roughly 16 hours after a gunman, Man Haron Monis, began holding hostages in the Lindt chocolate café in Sydney, police stormed the Lindt café in a bid to end the crisis and rescue the hostages — six of which had already been released or escaped during the long standoff. A statement from New South Wales police said that three people are dead; two hostages, and the gunman, Monis, who was killed when confronted by police. In a police press conference shortly thereafter, the New South Wales police commissioner addressed the nation.
This morning I come before you with the heaviest of hearts. Overnight, we have lost some of our own in an attack we never thought we would see here in our city. In the past 24 hours this city has been shaken.
According to police, a man and a woman in their 30s were pronounced dead at the scene, and four more were injured: another woman was taking to hospital with a gunshot wound in her shoulder. A police officer and two more women were being treated for non-life threatening injuries.
The hostage taker was killed in a confrontation with police; he has been identified as Man Haron Monis, a 50-year-old Iranian refugee living in Australia who had dozens of charges, including sex assault and being an accessory to his ex-wife's murder, to his name. Before he death, he was out on bail and had no links to Islamic militant groups, his lawyer told ABC.
This is a one-off random individual…. It's not a concerted terrorism event or act…. It's a damaged-goods individual who's done something outrageous.
Image: Twitter: Brad Esposito