13 Gifts For 'Orange is the New Black' Fans Because 26 Episodes Just Isn't Enough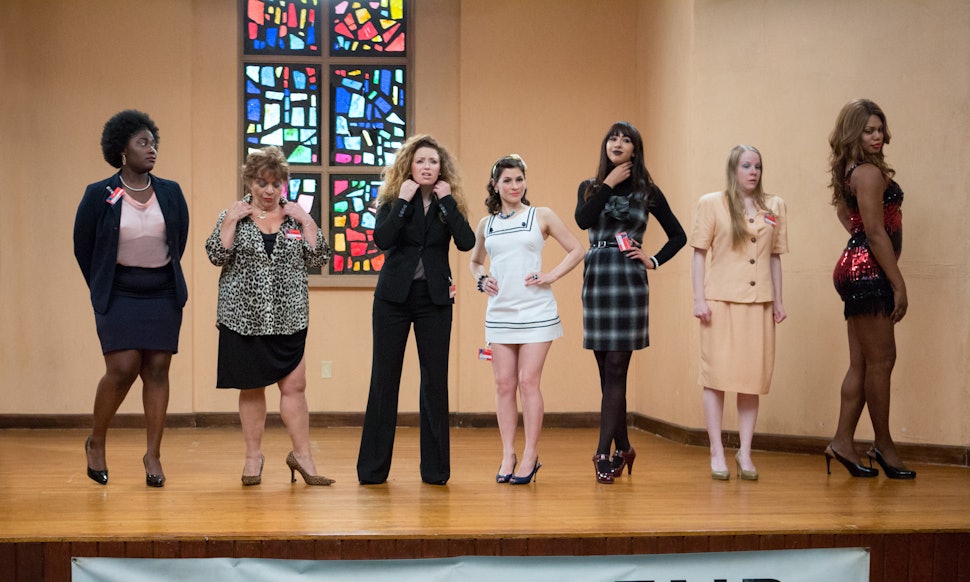 There's no kind of Christmas like a Litchfield Christmas, y'all — and the obsessive Orange is The New Black fans in your life know that better than anyone else. And by "obsessive," I mean anyone who has ever actually seen the show, because it's impossible to watch the Netflix hit without becoming totally consumed by it. It's probably safe to say that your friends and family who have discussed the finer plot points of OITNB with you over Thanksgiving dinner this year would be totally delighted by Orange Is The New Black gifts, and thanks to a beautiful thing called Etsy, the options are quite literally endless.
Drew your co-worker for Secret Santa, and the only thing you've ever talked to her about is the time she binge-watched the show over a long weekend? These gifts will totally work for her. Is your roommate constantly talking about what an incredible character Crazy Eyes is? Done. BFF who's talking about dressing up as Piper next Halloween? Got her covered, too. Click through the slideshow and find 13 perfect OITNB-related gifts, and you can thank me later.
Image: Netflix
Red's Kitchen T-Shirt
Of course, Red doesn't have time for things like manufacturing t-shirts, but if she did, it would totally look like this one. Please note the legendary and magical chicken.
Red's Kitchen T-Shirt, $20, Orange is The New Black Official Store
Votive Candle Holders
Featuring the OITNB character of your choice and a memorable quote from the show. These would make awesome stocking stuffers at under $4 each.
OITNB votive candle holders, $3, Etsy
The 'Orange is The New Black' Cookbook
If you've ever wanted to cook a prison chic meal — or read the books the women of Litchfield go crazy over — this is the book for you. Regardless of the recipes, this book seems like an awesome keepsake for any OITNB fan, and I kind of want one myself.
Orange is the New Black Presents: The Cookbook, $25, Orange is the New Black: The Official Store
Popi Soap
In partnership with the people behind OITNB, Chivas Soap brought Polly and Piper's skincare line to life. How cute is this packaging?
Popi Soap. Vanilla & Verbena, $12, Etsy
Crazy Eyes Mug
Because she threw her pie for you, and this is the perfect way to commemorate the scene. Plus, the best part of waking up is obviously Crazy Eyes on your cup.
Crazy Eyes Threw My Pie Mug, $15, Orange is The New Black: The Official Store
Crazy Eyes Earrings
Another awesome gift for your favorite Crazy Eyes fan. How adorable are these earrings? Suzanne would call them unique.
Crazy Eyes Orange is The New Black Post Earrings, $7, Etsy
Runner's Tank
If this statement doesn't serve as motivation at the gym, I don't know what will.
Orange is the New Black Runner Tank, $25, Etsy
Piper Chapman Inmate ID Badge
Totally perfect for Halloween next year… or just for casual daily wear.
Piper Chapman Inmate ID Badge, $10, Etsy
Friendship Bracelets
When you order, you get both bracelets, so this is a great gift for your BFF — especially if you enjoy doing imitations together and would be totally down for each other if you ever found yourselves in lockup.
Orange is the New Black Friendship Bracelets, $40, Etsy
A Halloween Costume
Because if the badge isn't enough, this one comes with the badge and an orange v-neck to complete the look. Easiest Halloween costume ever, and perfect for any costume parties that might crop up until then.
Orange is the New Black Costume: Shirt and Prison Badge, $17, Etsy
Typography Print
These are the words we all live by, in prison and in the free world. Where would I be if I had to carry on without the hope that tomorrow would be taco night? Go the extra mile and get it framed before handing it off to the lucky recipient, and you've got yourself a solid gift.
Orange is the New Black Typography Print, $9, Etsy
The Book That Started It All
The DVDs
And finally, for your friend who refuses to buy a Netflix account but who is dying to see what all the fuss is about — the entire first season on DVD. Also known as the gift that keeps on giving.