The 12 Most Feminist TV Shows Of 2014: Because We All Deserve A Dose of Girl Power at Its Finest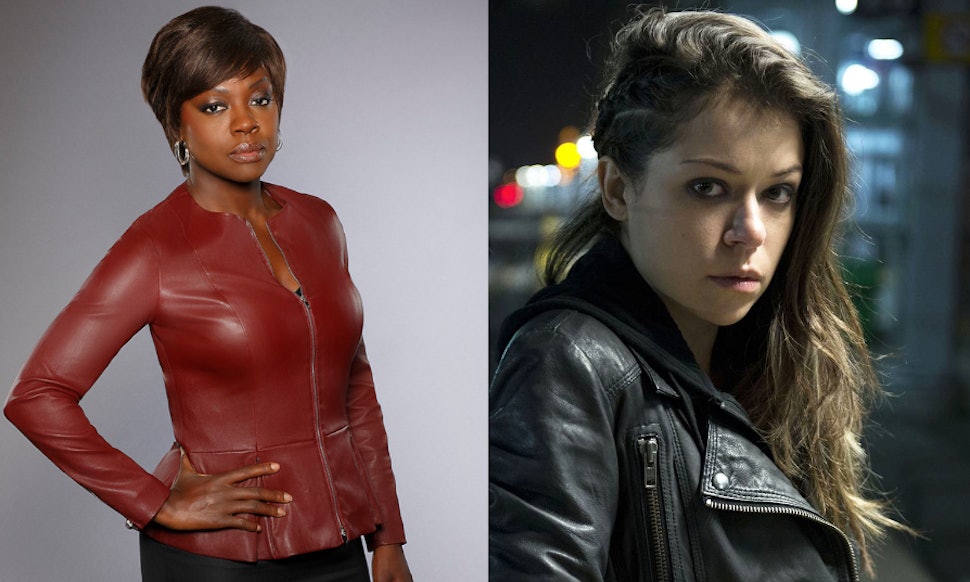 With a brand new year almost upon us, it's time for TV-obsessed fans such as ourselves to look back and reflect on all that has happened in the television industry throughout the passing year. And boy-oh-boy, what a year it has been, especially for the vast array of equally dynamic and diverse female characters. That's right, folks, 2014 has produced some of the best TV shows for women the world has ever seen before — highlighting strong, independent ladies we've all come to admire and respect. Basically, what I'm trying to say here is that there are a ton of shows out there more than worthy of your time.
So if you have yet to see any of these series — whether they've been on the air for years or only a few months — trust me when I tell you they are must-see gems that deserve top priority on your New Year's binge-watching list. Because as much as 2014 in general was a pretty great year, it was made even greater because of these incredible shows and the phenomenal leading ladies who made it that much more compelling (in no particular order, because these ladies aren't in competition with each other — they're all awesome).
Images: Craig Sjodin/ABC; BBC America
'Jane the Virgin'
In a world that is so focused on sex and the pressures that come with it, this CW series offers a refreshing take on a girl who sticks to her morals and beliefs even in the face of raging hormones (and pregnancy). Gina Rodriguez is an absolute delight and while the show can at times be slightly cheesy, its grounded and memorable characters make this feel-good family journey more than worth watching.
Images: Tyler Golden/The CW
'Orange Is the New Black'
Thanks to its wildly popular debut in 2013, this Netflix hit was sentenced to a second season and proved to be just as captivating as its freshman debut. Seriously, if you weren't able to crank out all 13 episodes in one sitting, then you're doing it wrong. (OITNB episodes are a lot like M&Ms — it's impossible to consume just one.) Yes, indeed, these Litchfield inmates are beyond fascinating and not paying tribute to that fact is the worst crime of all. (And among these ladies, that's truly saying something.)
Images: Netflix
'Broad City'
On the outside this could seem like just another comedy involving twenty-something girls as they attempt to live their lives in the Big Apple. But trust me when I say that Broad City is so much more than that. For starters, it's full of non-stop hilarity, so be prepared to laugh straight through each episode from start to finish. And for another, Ilana Glazer and Abbi Jacobson prove to be a dynamic pair that provide their viewers with a unique view of single ladies as they deal with work, sex, love, and everything in-between.
Images: Comedy Central
'How To Get Away With Murder'
Anything involving Viola Davis was bound to be downright riveting, but How To Get Away With Murder exceeded even our wildest expectations this fall by introducing not just strong female characters, but steamy same-sex scenes that many shows still tend to shy away from. It's bold. It's fresh. It's a show to die for.
Images: ABC
'Veep'
This bold HBO political comedy has dared to go where no female has gone before (in real life anyway): the Oval Office. This season marked a game-changing twist to Selina Meyer's career when she suddenly went from "Veep" to the actual President of the United States during the show's two-part finale. (Umm, best twist ever? I think so!) Eat your heart out, Frank Underwood. You aren't the only person who can climb their way up the political ladder so quickly.
Images: HBO
'Scandal'
Fact: every woman's life goal should be to act more like Olivia Pope. This legendary fixer is the epitome of feminism through and through. After all, when you have the ability to put even the President of the United States (aka the most powerful man in the country) in his place, odds are you're an unstoppable force to be reckoned with. And that's just a taste of all this series has to offer. It'll leave you empowered in ways you never thought possible and have you shopping for a new white hate and suit before you can say, "it's handled."
Images: ABC
'Girls'
Speaking as a twenty-something girl currently residing in New York City, let me tell you that nothing will bring you more joy and satisfaction than to see a group of similarly aged ladies — all unique and flawed in their own special way — going through the exact same struggles as you are. Life can be hard, but with friends like these, you learn you can make it through just about anything.
Images: HBO
'Orphan Black'
This series may center around the concept of cloning, but truth be told, there's no other show on television quite like Orphan Black. Full of smart, engaging characters — most of whom are all played by the same talented actress, Tatiana Maslany, might I add — this series is a journey of self identity and discovery that will leave you reeling after each and every episode. From one Sestra to another, you'll never meet a more captivating group of women on television anywhere else. #CloneClub4ever
Images: BBC America
'The Good Wife'
Talk about a group of characters who are just as intriguing inside the office as they are out, The Good Wife continues to outdo itself each and every season, especially in regards to its titular character, Alicia Florrick. Her ability to overcome even the toughest of challenges, both personally and professionally, makes her all the more awe-inspiring and proves that no scandal or man is enough to keep this strong woman down.
Images: CBS
'Parks and Recreation'
Do you even have to ask with this one? When a show consists of 1.) Amy Poehler and 2.) Galentine's Day (aka the best fake holiday ever centered around ladies celebrating ladies) it automatically climbs to the top of your must-see list. Between the consistently witty dialogue and charming cast of characters, this is easily the smartest running sitcom on primetime television. So go ahead and treat yo self before it's gone for good. (*Sobs*)
Images: NBC
'Masters of Sex'
Though it takes place in a time when women weren't given many of the rights and liberties they so deserve, Masters of Sex is, in many ways, a journey of female sexual empowerment. Gone are the days when women felt they had to put their husband's sexual needs and desires above their own. In fact, as some of Bill and Virginia's studies show, sometimes men need not be brought into the equation at all. (Sorry, fellas, but it's true.) To see so many of these characters finally take control of what they want and become a master of their own sex is truly a wondrous sight to behold.
Images: Showtime
'Madam Secretary'
Joining this year's band of fiery females, Madam Secretary's Elizabeth McCord shines as the equally smart and savvy Elizabeth McCord. In a world where sexism, even today, is still a big problem, it's nice to see another series tackle the struggles and stereotypes that women in power go through in comparison to their male counterparts. You don't have to be a political person to appreciate all that Tea Leoni brings to the table here, proving once and for all that the political arena is no longer a man's world. Indeed, the series never fails to offer up spoonfuls of feminism with each passing week, and that in itself has earned my vote.
Images: Craig Blankenhorn/CBS