The Ultimate Essential Oil for Combination Skin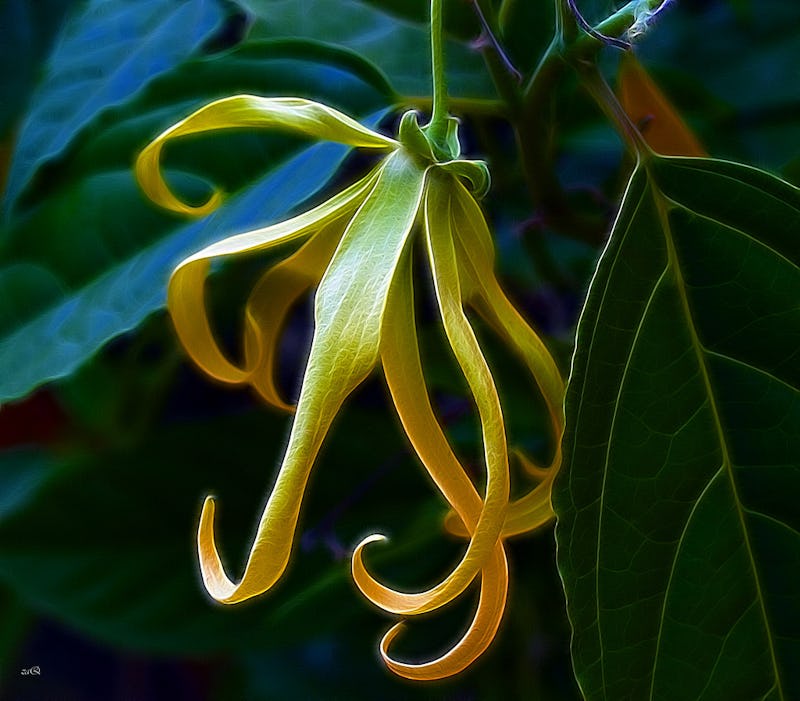 Acne sufferers might wish that dry winter weather means no more pimples, but that just isn't the case. Personally, I've noticed it's even harder to treat breakouts in the winter — but ylang ylang essential oil is definitely helping. My skin leans towards the drier side of things, but I still get monthly hormonal breakouts. Understanding what products are simply going to dry you out and the ones that will control and balance the production of oil is what's going to keep your skin smooth AND clear. Ylang ylang has been used for centuries in Southeast Asian skincare and medicine, and it's definitely my new favorite essential oil.
Ylang ylang (pronounced (Ee-lang, Ee-lang) is a well-known aphrodisiac and anti-depressant in holistic aromatherapy, but the benefits don't stop at lifting your sex-drive and mood. Your skin cells can be uplifted and rejuvenated by adding this essential oil into your beauty regimen too. That plus its anti-aging benefits are why this oil is being used more and more in Western skincare products. Despite the exotic-sounding name, you shouldn't have to travel too far to get the stuff: Ylang ylang essential oil is available at most vitamin and health food stores.
After ylang ylang oil is distilled from the flower, it creates a potent floral aroma that's similar to lilac. Like most essential oils, it should be diluted to avoid skin irritations regardless of your skin type. Ylang ylang has antiseptic and anti-inflammatory properties that make it ideal for treating moderate acne, but because of it's anti-bacterial components you can treat ingrown hairs and boils with ylang ylang as well.
I keep a very healthy skincare routine, washing my face twice daily, taking off my makeup, and drinking loads of water. However, my face has been going through puberty for what seems like 15 years. I can control what goes on my face or in my bod, but I'm not able to control those hormonal outbreaks. Obvy, I'm always eager to test an oil that balances out hormones in my skin routine. According to Healing, Living, Oils, ylang ylang can balance hormones which often lead us ladies to break the eff out before or during our periods.
Here, some awesome ylang ylang recipes to boost your skincare routine.
1. Skin Toner
This toner is super easy to make and smells absolutely deeee-lish! Brew a cup of chamomile tea, then add a teaspoon each of witch hazel and ylang ylang for a great toner that has anti-aging and cleansing properties. The witch hazel is totally optional (though it does help treat acne), but your potion will last longer if you add it.
2. Boil Treatment
Fortunately, boils are not as common as other forms of blemishes. Thank GAWD, because they are super painful and when I was a teen, I was definitely shamed by one or two. To get rid of an unopen boil, use a clean, hot wash cloth soaked with sea salt, tea tree oil, and ylang ylang essential oil and press down hard with clean hands. This will clean and bring down the inflammation of your boil. Sources like the natural news state that popping the boil with a needle can actually spread more boils to near areas, so steer clear of that scary method.
3. Acne Body Scrub
Months ago, I found a delicious spelling body scrub with ylang ylang, lemongrass, and several other of my fave ingredients... for $25. My bod and my wallet are super happy now that I've been incorporating ylang ylang into my homemade body exfoliates. I use dead sea salt, clary sage essential oil, raw honey, and ylang ylang for an amazing cleanse. Exfoliates are a great way to shed dead skin cells, but in those winter months you want to make sure that you aren't stripping your body of essential oils — that's where the ylang ylang comes in.
Image: Zaggy, Fiona Henderson, Scamperdale/Flickr; Giphy