16 Perfect Toddler Holiday Gifts For Your Niece Or Nephew, Because Your Sibling Having Kids Is More Fun Than Having Your Own — PHOTOS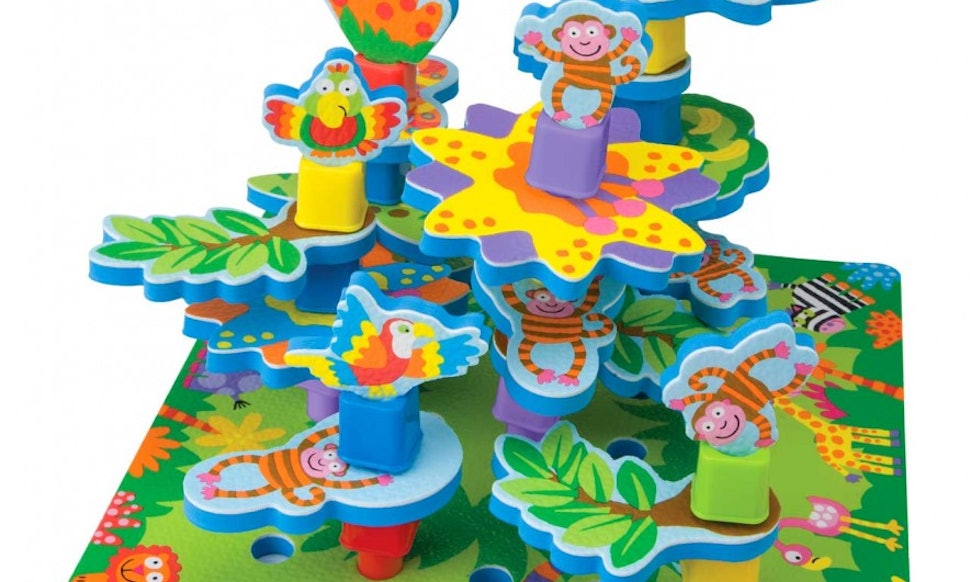 Gift-giving is basically like a sport to me. I spent all four years of high school working in a toy store (and funneling my paycheck right back into it, because discounted toys, hello). Nearly every day of my life was spent calming panicked 20-somethings or co-workers who needed a toy for their niece, nephew, or boss's new kid, so with all of the authority my 14-year-old self could muster, I eventually blossomed into the toddler gift master. Because let's be real, shopping for toddlers when you don't have any of your own can be super confusing. Luckily, there were plenty of people to train me before I started recklessly giving advice.
Toy trends change every year (I still have horrible flashbacks to the tantrums that I saw the Year of the Webkinz Animals), but there are some types of toys that kids will always love, no matter what the hottest thing on the shelves is at any given time. Odds are, their parents will get them the "hot" thing anyway—but you can get them something lasting and fun. I'm going to warn you right now, as an ex-daycare employee (I've had a lot of jobs), I'm not huge on getting electronic toys for kids, so you're not going to see much on that on this list, but hopefully you'll get some great holiday shopping inspiration for the toddler you love (even if you don't always fully understand them).
Personalized Puzzle Stool
There's also a more "boy"-oriented one in the shop, if you care about the "gender" of kid stuff. Stools like this are a great investment because they'll have something adorable to step up on when they brush their teeth, and when they're younger putting the blocks in will help with motor coordination.
Personalized 'Frozen' Shirt
WHO DOESN'T LOVE OLAF?! Also, the shop has tons of other favorite Disney characters and the rest of the Frozen crew, so there's a shirt for everybody.
Personalized 'Frozen' Shirt, $10, Etsy
Block Truck
I have a slight obsession with wooden toys. They inspire so much creativity, and they're built to last through whatever wrath a toddler can inflict on them. Plus you'll be slightly more okay with them shoving it in their mouths.
Block Truck, $18, Etsy
Reading Tents
They're almost to that age where you can have Harry Potter read-alongs, when this tent will be truly magical. But until then you can stash all their fun picture books in there and reading will make them feel like an adventurer.
Reading Tents, $60, Etsy
Anamalz
These wooden animals are so adorable, you'll want to collect them all. They're all equipped with flexible legs, and a portion of the proceeds goes to nature conservation.
Wooden Anamalz, $10, Anamalz
Cozy Coupe
Odds are they already have one, maybe even a hand-me-down from when you were kid. But if they don't, it is your duty as The "Cool" Aunt to get them one of these, STAT.
Crazy Coupe, $69, Amazon
Peg and Layer Jungle
Believe me, the brother or sister who parents the child-in-question will be enormously grateful at how occupied this toy will keep them during some much needed quiet. That is, if they're not on their knees helping build themselves (it's a little too cute to pass up).
Peg and Layer Jungle, $22, AlexToys
Bilibo
What is a bilibo? Your guess is as good as mine. It specifically doesn't come with instructions so kids can make of it whatever they want. I have seen enough kids use them in action to know that it will inspire some wackiness and spontaneity that may require you to run and get your camera, stat. Also it comes in pretty much every color of the rainbow.
This Pigeon Needs A Bath
This hilarious picture book will (maybe) inspire kids to take some responsibility for their hygiene, plus it just got top ranked for Goodread's Picture Books of 2014.
Minion Hat
Now your favorite little minion will actually look like a little minion. Plus this shop has all sorts of other animal hats, including a UNICORN.
Minion Hat, $24, Etsy
Turtle Constellation Nightlight
If you didn't have one of these as a kid, you had that one awesome friend whose house you always slept over at who did, and you remember the magic like it was yesterday.
Art Ball
The video of the guy showing how to use it is oddly mesmerizing, and the toy supposedly inspires neuron activity, which is a plus. But because of the potential choking hazard, this is ages three and up.
Art Ball, $30, Marbles The Brain Store
Cubebot
He looks like a robot, but with all the ways he bends and twists he inspires a lot more creativity than an actual one. The only hazard: If you buy this for a small human, you might not be able to share.
Cubebot, $35, Marbles the Brain Store
Personalized Light Up Helmet
This is an awesome way to help a kid overcome a fear of the dark, or to just have a fun time under the bed.
Personalized Light Up Helmet, $15, Etsy
Personalized Jump Rope
They might be too young to master it just yet, but you can have a ton of fun helping them learn (or approximate some version of jumping rope).
Personalized Jump Rope, $17, Etsy
Happy Giddy Bowling Set
Melissa and Doug used to be the primary company we sold from at the toy store where I worked, so I can confidently recommend anything that they make. It's stable, fun, and always adorable.
Happy Giddy Bowling Set, $20, Melissa and Doug