We Already Know 2015's Biggest Hair Trend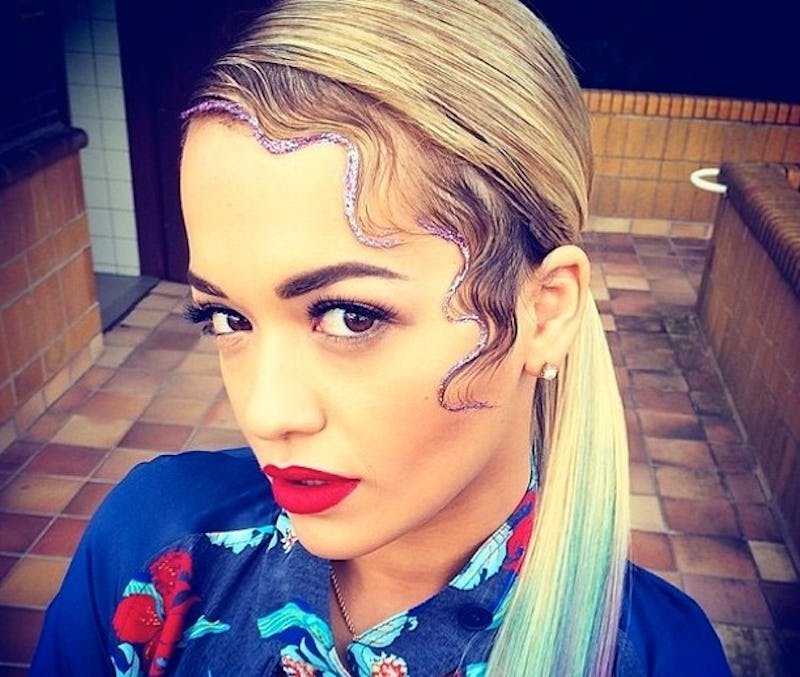 Two major trends dominated the hair landscape in 2014 — the lob (aka, the cut of choice amongst just about everyone) and the rainbow 'do. An "any shade under the sun" mentality reined amongst celebrities like Nicole Richie, Demi Lovato, and Rita Ora, who regularly changed the color of their locks. It was fun while it lasted, but 2015 is approaching and there's a new color trend in town — metallic hair!
According to Style.com, Hari's salon on King's Road in London has begun offering a bronze color treatment called "New Metallics" to people who their strands to glisten like a Cartier LOVE bracelet. Well, sort of. The process doesn't involve any actual metal and the results, while lovely and full of depth, don't exactly scream SILVER SPACE-AGE GODDESS. It's definitely more subtle than, say, the metallic glitter stripe that Rita Ora used to outline her bangs in September.
Mel Halacoglu, a senior colorist at Hari's, explained the process to Style, saying that instead of "wormlike" (her words, not mine) highlights, the treatment "uses the balayage technique to apply the exclusive golden-honey hue" reminiscent of bronze, resulting in a sort of warm glow over the entire head. As Samantha Escobar at TheGloss points out, "This would be especially great for those women who have always wanted to do something experimental and fun with their hair, but don't feel like going over-the-top with their haircut or dyeing their locks allover purple." Agreed.
Hari's isn't the only salon getting in on the trend. Another U.K. salon called Bleach offers a similar treatment for more colorful hair dyes. Salon manager Sapphire Lewis gave the London Evening Standard some advice for getting the look on your own, saying, "Our metallic colours tend to have more of a blue or green base to them, giving them an iridescent shine. If you want a more metallic-looking pink, add some purple to the colour to deepen it and give it bluey-green undertones."
So we're still waiting on the days when we cant match our coiffures to our gold liquid eyeliner, but I think "New Metallics" will suffice until then.
Image: ritaora/Instagram