One Man Band In Airport Makes Us Vaguely Sad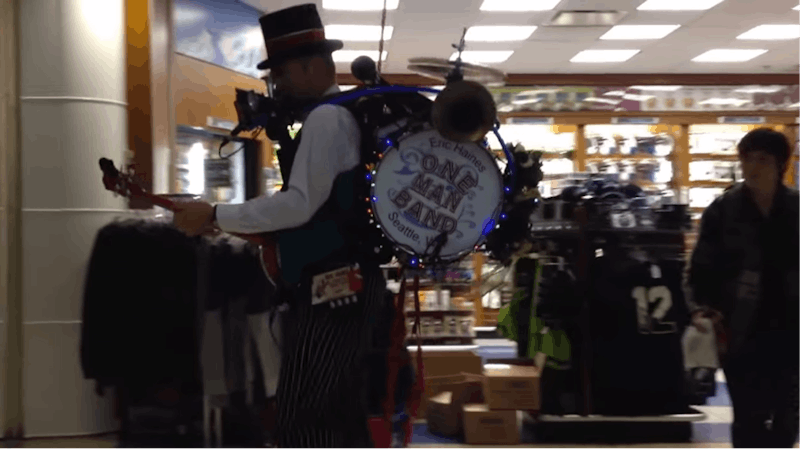 You know how they're always telling us in airports, "If you see something, say something"? Well, occasionally there are sights in airports for which there are no words. And I'm not talking your usual airport fare of toddler meltdowns or drunk newlyweds with excessive honeymoon PDA, although I kind of wish I was, because this video of a one-man band singing Christmas carols in Sea-Tac somehow makes me much sadder. What is even sadder than that is a quick stalking of his website indicates that his shift doing this takes place at the gruesome hours of 6AM to 10AM, aka the hours when everybody in the airport is essentially dead inside and unable to appreciate anything that isn't caffeinated.
The man in question is Eric Haines, who not only composes and performs songs for his one-man band, but walks on stilts, performs comedy acts, juggles, and even embarked on an impressive mission this year to draw one picture six days of every week. What it does not reveal on his website, though, is when he sleeps.
As a human being and former Seattle resident who has been to Sea-Tac many a time, I can attest to how dreary it is to stroll through their halls at the buttcrack of dawn, which is why I especially feel for poor Eric (who must have people just walk past him without a second glance all the time, thus my sadness at this video). At least the party responsible for the video that got snapped of him yesterday appreciated the holiday cheer he was spreading with his one-man rendition of "Jingle Bell Rock" and his impressively decked out instruments. Besides, no matter what Eric does, it will never look quite as lonely as this guy shamelessly singing "All By Myself" in the middle of the Las Vegas airport.
If you are looking for some Christmas cheer, look no further than this snippet. And if you happen to be traveling early in the morning at Sea-Tac sometime in the next three days, make sure you give this man a smile:
Image: YouTube