Who Is Ismaaiyl Brinsley, Killer of the NYPD Cops?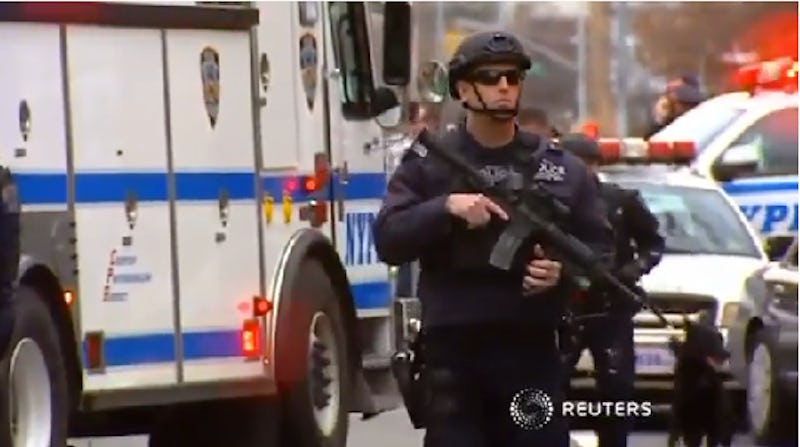 On Saturday, Ismaaiyl Brinsley traveled to New York City and fatally shot two NYPD officers sitting in their squad car in Brooklyn. The crime, disturbing in its nature, was allegedly carried out in retribution for the deaths of Eric Garner and Michael Brown. As police comb through Brinsley's arrest history and events of the day, disturbing details about the gunman have emerged.
Brinsley is believed to be responsible for a shooting in a Baltimore apartment that took place that same day, before 6 a.m. The victim, a woman, is said to be his ex-girlfriend. She was shot in the stomach and is in serious condition, reported the Baltimore Sun, but is expected to survive. After wounding her, Brinsley headed to NYC, during which he posted several disturbing posts on his social media accounts.
His postings, which the NYPD are currently investigating, were what NY Police Commissioner Bill Bratton called "anti-police." On Instagram, Brinsley posted a photo of a silver handgun with the caption:
I'm Putting Wings On Pigs Today. They Take One Of Ours...... Let's Take 2 of Theirs #ShootThePolice #RIPErivGarner #RIPMike Brown This May Be My Final Post...I'm Putting Pigs In A Blanket.
NYPD have said that the gunman's mother and sister told them Brinsley was a violent man and that they feared him. The New York Times talked to a woman they identified as Brinsley's sister, who said that she hadn't talked to him in two years but doesn't remember hearing him expressing anger at the police before. NBC reported cops believe Brinsley's mother lives the Brooklyn neighborhood, Crown Heights, and that he has an 11-month-old baby with a girlfriend who lived in the borough.
At a press conference on Saturday night, Commissioner Bratton said that Brinsley's last known residence was Georgia, adding:
[B]ut he's an individual who appears to move around. He's got a girlfriend in Baltimore, he comes to New York to murder two police officers, he does have some connectivity to Brooklyn, but I won't go into the specifics of that now.
According to the Baltimore Sun, from online records from Georgia's Fulton County sheriff's office, Brinsley has been arrested at least nine times since 2004, for charges of simple battery, criminal trespassing, carrying a concealed weapon, obstruction of a law enforcement officer and shoplifting.
He also has been arrested on robbery charges in Ohio and was a suspect in an NYC harassment case around 2011, reported the New York Times. That same year, Brinsley was convicted of felony gun possession in Georgia around 2011 and sentenced to two years in prison.
After killing the two police officers, Wenjian Liu and Rafael Ramos, Brinsley shot himself on the platform of a subway station.
Images: CNN/Screenshot; USA Today/Reuters Newslook/Screenshot (2)