How to Actually Get Ready in Under 5 Minutes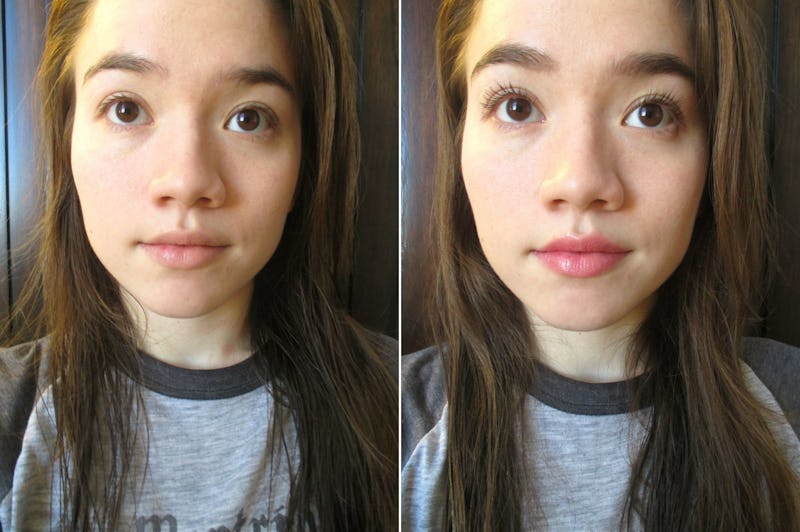 I take my meditation or "me" time by putting on makeup. I find the whole process extremely relaxing, and use it as a way to get in touch with how I'm really feeling and then express it. So I usually like to take as long as I can — sometimes even an hour to do my makeup. But on the days that I'm being totally honest with myself, I can get ready in under five minutes by hitting the three most important features (and then throwing my hands up and backing away from the makeup like Ted Allen just told me my time was up on Chopped): brows, lashes, and lips.
After all, the problem with being someone who likes to take her sweet time to nail a cat eye or contour her entire face, is that I still like to believe that I don't have to sacrifice any part of my beauty routine on days when I'm crunched for time. Sadly, this is a lesson I've had to learn time and again.
Although foundation or concealer might be the first thing you want to reach for if told you have limited time, perfecting a base actually takes up a fair amount of time. And unless you also have time to throw on a little blush, it's better to skip a foundation or concealer, as these types of products remove dimension from the face by evening everything out. If you want a little coverage though, reach for a tinted moisturizer or BB cream if you're in a rush. These products can be applied in a more slap-on-and-go fashion.
But if you want to look a little more fresh-faced instead of just having an even base, it's all about hitting the features that frame the face and draw the most attention. Because if Jeremy Renner (former makeup artist) agrees, it's totally a thing.
Here's what to do:
Brows
When getting ready in a hurry, you don't have to do a full brow routine. Instead, use a pencil to just roughly fill them in, and make sure to comb them up and over. This will better frame your eyes and face.
Lashes
Eyeshadow is fun, but if you have to be out the door, make sure to at least curl your lashes (and a little mascara doesn't hurt either). Squeeze your curler at the base of your lashes, and add a couple more pulses moving the curler up your lashes. Doing this will give you an even, rounded curl, making your eyes appear a bit wider and more awake.
Lips
An easy way to look a little more polished in a pinch, and to finish framing your face, is to add color to the lips. For everyday, or to make your lips appear more plump, opt for a shiny, light pink. If you have an extra minute, a bright or red lip will make it look like you spent way more than just five minutes on your makeup.
Images: Miki Hayes (3)