Joe Cocker's Best Covers, From "Everybody Hurts" to "With A Little Help From My Friends"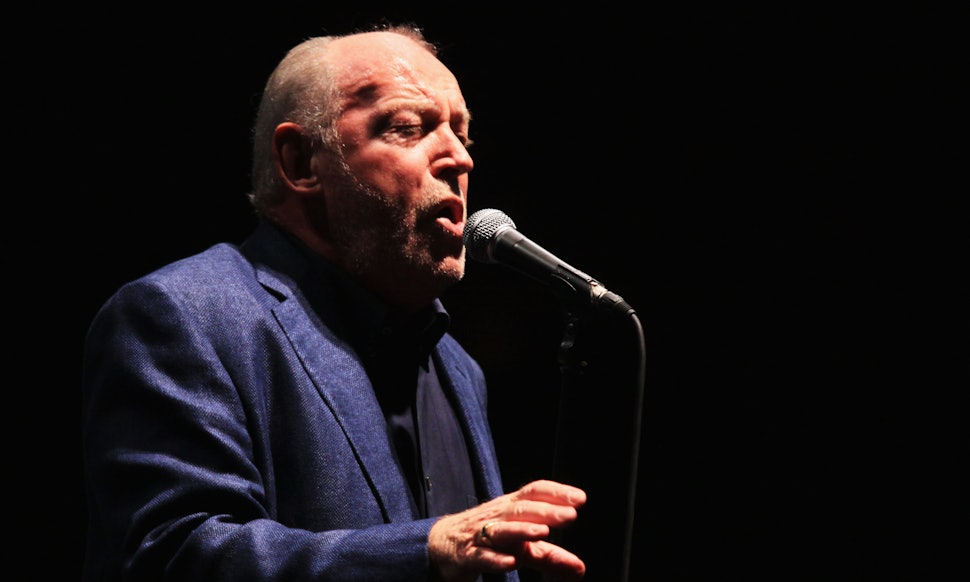 Ernesto Ruscio/Getty Images Entertainment/Getty Images
On Monday, December 22, the world lost a musical legend. For some — like myself — he is recognizable as the voice behind The Wonder Years theme song, evoking images of late Nick at Nite reruns. For most, he is beloved for his cover songs, particularly a cover of "With a Little Help From My Friends" that would make the entire cast of Across the Universe ashamed. Yes, Joe Cocker passed away on Monday and, if you didn't get to know his music well while he was still alive, then there's certainly no time like the present to catch up. He was a legend. He was a rock star. He will be missed.
As far as I'm concerned, Cocker was the indisputable king of cover songs, so it would be just plain ridiculous to try and talk about him without mentioning some of his greatest hits. You'd be hard pressed to find a bad cover from Cocker, to be honest, but, if this is the very first time you've ever gotten a chance to hear the rock star sing, then you might want to start with the best of the best. That's why, in honor of the legacy of the singer-songwriter, I took it upon myself to rank his greatest covers. "With a Little Help From My Friends" was just the tip of the iceberg from this great talent.
13. "Unchain My Heart"
YouTube
"Unchain My Heart" was written by Bobby Sharp and recorded by Ray Charles in 1961. It also made up the title of Cocker's 1987 album. (And it was covered by Hugh Laurie a.k.a. Doctor House a.k.a. light of my life.)
12. "Everybody Hurts"
Bogdan Valentin on YouTube
"Everybody Hurts" was written by R.E.M., a band that can give you some really high highs and some really low lows musically. Listen to Cocker's version if you want to cry. Especially since his voice literally shakes at some point in the song, like it wasn't emotionally poignant enough.
11. "I Put a Spell on You"
TheDompepe on YouTube
"I Put a Spell on You" was written by Screamin' Jay Hawkins and is considered one of the 500 greatest rock songs of all time, so naturally Cocker had to put his own spin on it. And it came out amazingly.
10. "Sorry Seems to Be the Hardest Word"
MrMarlboro2009 on YouTube
"Sorry Seems to Be the Hardest Word" is another song by Elton John that still sounds so good when Cocker's the one singing it instead.
9. "She Came In Through the Bathroom Window"
YouTube
Cocker is most famous for covering Beatles' songs, so it should come as no surprise that more than one of them would make the list of his best covers. "She Came In Through the Bathroom Window" originally debuted on the iconic Abbey Road album before Cocker made it his own.
8. "Cry Me a River"
djclay33 on YouTube
"Cry Me a River" was written by Arthur Hamilton for jazz legend Ella Fitzgerald, though the song was dropped. Cocker clearly eventually picked it up and made gold out of it. Audio gold.
7. "The Letter"
Nicole Holt on YouTube
"The Letter" was written by Wayne Carson Thompson, and I can't listen to Cocker's cover without wanting to (a) cry, (b) dance, or (c) wish I was at a concert so I could throw flowers on the stage or something.
6. "You Can Leave Your Hat On"
luzbrisaa on YouTube
"You Can Leave Your Hat On" might have been written by Randy Newman, but it's the Cocker version that's the most famous. Spoiler alert: it's about sex.
5. "Summer in the City"
YouTube
"Summer in the City" was recorded by The Lovin' Spoonful and has been featured in an episode of The Simpsons, so you know it's a big deal. The original song is magic, but I have a special place in my heart for Cocker's cover.
4. "Feelin' Alright"
lidia.fernandes1 on YouTube
"Feelin' Alright" was written by Dave Mason, but, sorry, you can't tell me there's a better version of the song than Cocker's version. Full respect to Mason, of course, but there's a reason this was a hit single for Cocker. It's just that good.
3. "With a Little Help From My Friends"
YouTube
I mean, duh.
2. "You Are So Beautiful"
passionaddictvideo on YouTube
BRB, sobbing. ("You Are So Beautiful" was written by Billy Preston, Bruce Fisher and Dennis Wilson, but it didn't become a true hit until Cocker did a cover of it. Now, BRB, sobbing at my future wedding song.)
1. "Up Where We Belong"
thyzira on YouTube
"Up Where We Belong" was written by Jack Nitzsche, Buffy Sainte-Marie, and Will Jennings, but it became a smash hit when Cocker did a duet version of it with Jennifer Warnes. It was even on the soundtrack for An Officer and a Gentleman. Listen to it and get chills like I did.