9 Books About Cuba To Transport You Now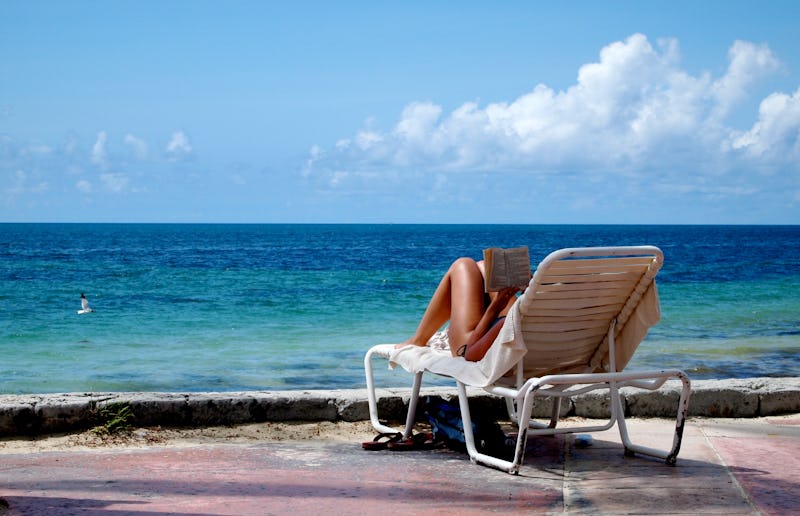 From the illustrious Ernest Hemingway to the irresistible Mylene Fernández-Pintado, authors the world over have long been fascinated by the mysterious, mercurial, and utterly illusive island of Cuba. Poignant prose about the wonders and woes of Cuba's forbidden shores has sparked in readers a fiery passion for the island paradise, myself very much included.
On more than one night in snowy, suburban Connecticut, I have strongly considered secretly setting off for azure seas and unknown adventures among these people and places. And although the icy cold and a lack of sailing skills prevented me from making my way down to Cuba rather than a fear of the famed embargo, the fact remains that until now, Cuba has been built more on myth than reality for most.
As of December 17, however, all has changed — President Obama and Cuban leader Raul Castro have announced a path toward normalization of Cuban-American relations, and the island nation will soon be open to Americans in ways we have not seen in 54 years. So, on this occasion, I've collected nine titles that will give you new reasons to celebrate the opening of the island that gave life to some of the 20th century's greatest literary masterworks.
The Old Man and the Sea by Ernest Hemingway
Ernest Hemingway is undeniably the father of my own personal obsession with the island of Cuba, and countless others can say the same. Hemingway's stark, honest, devoted portrayal of lives lived and lost on Cuba's stormy shores are so sincere they practically struggle for breath in the humid, briny sea air. I defy you to read The Old Man and the Sea without imagining your toes in the sand, rum in your hand, and the ocean lapping at your feet.
A Corner of the World by Mylene Fernández Pintado
As one of the first female-authored novels to make its way out of Cuba, Mylene Fernández-Pintado's daring, deeply felt tale of a reticent Spanish literature professor presented with opportunities for love, life, and a far-flung future perfectly captures the Faustian bargain faced by so many contemporary Cubans. Weaving together threads of love, loyalty, home, and hope, Fernández-Pintado crafts a story of uncommon intensity and irresistible passion, a modern masterpiece that breathes new life into the literature of and about the illusive island.
King of Cuba by Christina García
If you like your novels big, bad, and bursting with political import, run, don't walk, to your local bookstore and pick up a copy of Christina García's King of Cuba. A hilarious, imaginative account of an aging Fidel Castro living out his days under the unknown threat of an obsessive exiled octogenarian hellbent on executing the reclusive dictator. Needless to say, hijinks most certainly ensue, and thanks to García's exquisite prose, the plot that unfolds is as intellectually captivating as it is vibrantly entertaining.
Our Man in Havana by Graham Greene
If I could have just one affair with a literary luminary, it would most certainly be Graham Greene — his sultry, mysterious thrillers are rife with honest, captivating characters and a unique style that is enough to knock even the tightest-fitting socks right off. With Our Man in Havana, Greene subtly negotiates the line between popular spy fiction and contemporary classic through the implausible and irresistible story of a vacuum-cleaner salesmen turned secret agent reluctantly filing falsified briefs based on Charles Lamb's Tales from Shakespeare. If it sounds too good to be true, you'll just have to trust me.
Mea Cuba by Guillermo Cabrera Infante
A Cuban reading list would be nowhere without notes from the revolution, and Guillermo Cabrera Infante's explosive and engaging autobiography provides the perfect way to explore the political intrigue, popular suffering, and long-lasting implications of the improbable uprising. For the factually inclined reader or anyone seeking greater insight into the history and culture of the island, Infante's breathtaking book is an absolute must-read.
Telex from Cuba by Rachel Kushner
Rachel Kushner's engrossing, energetic, and authentic debut novel set among the American conclaves dotting the Cuban countryside in the days leading up to the 1958 revolution simmers with illicit desire and frustrated fervor. Bringing together the stories of foreign teens coming of age among 300,000 acres of United Fruit Company sugarcane, French political agitators, cabaret dancers, and the Castro brothers themselves, Kushner's deft storytelling captures the scope of upheaval with a breathless joy and compassionate breadth.
Farewell to the Sea by Reinaldo Arenas
Reinaldo Arena's small, sweet story of a couple sojourning to a seaside resort to recapture forgotten passions expands to encapsulate the frustrated desires of all Cubans over the course of this expressive, exhilarating novel. Combining revolutionary fervor, romantic disenchantment, and the perilous quest for freedom, Arenas' prose manages to perfectly present a tale both epic and intimate over the course of this unique and unforgettable novel.
Cuba Confidential by Ann Louise Bardach
With Cuba Confidential, award-winning investigative journalist Ann Louise Bardach brings rigorous reporting and ruthless honesty to the story of a country long-shrouded in secrecy. If you're looking for an honest accounting of the country, the people, the politics and the possibilities, you can't do better than Bardach's Cuba Confidential.
An Island Called Home by Ruth Behar
From Cuban-American anthropologist and author Ruth Behar comes the remarkable true story of the Jewish communities that remained in Cuba throughout the revolution. As a Jewish emigrant who escaped Cuba during the widespread diaspora preceding the political upheaval of the 1950s, Behar's journey back to Cuba is a deeply personal story that sheds new light on a long-forgotten Cuban community.
Image: Steve Bennett/Flickr