Kendall and Kris Get Silly In Antlers for 'LOVE'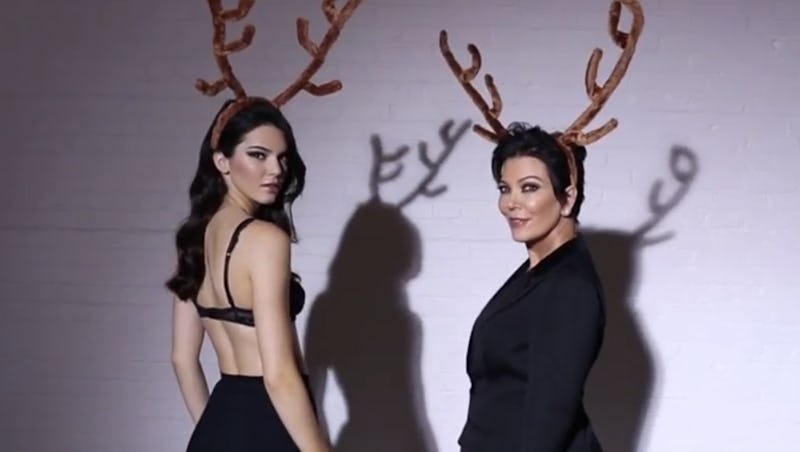 It's the 23rd day of LOVE's advent calendar, which means we've been treated to almost an entire month of cute, sexy clips of everyone from Lindsey Lohan to Gigi Hadid getting in the Christmas spirit. Today's video features throws back to earlier this December, with two LOVE advent alums: Kendall and Kris Jenner!
The mother-daughter duo donned matching reindeer antlers and stockings with lines up the back while dancing around to some ~sick beats~ and knocking over a Christmas tree. Kendall rocked the same bra and high-waisted panties that she sported while getting frisky with Santa in her first vid, while Kris layered a tuxedo blazer over an extremely asymmetrical, ruffle trimmed skirt.
There's definitely something a little weird about this minute-long clip, but I can't quite put my finger on it. Perhaps its the fact that Kendall is wearing almost nothing while her mom is relatively covered up? Or maybe the whole concept of filming a cheekily sexy video with your mother is what's throwing me off? My mom and I have done the whole "let's take a photo in matching hats" schtick before and it's pretty damn cute, but if you add lingerie to that premise it would quickly become, well, gross.
I do enjoy the bit where they undecorate a pink Christmas tree, however, because who wouldn't want to do that?
Image: YouTube