Holiday Flirtmojis Will Heat Up Your Winter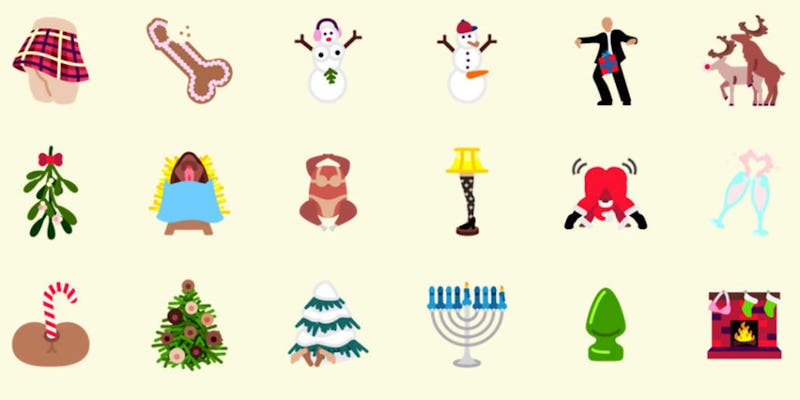 If you're bored on Christmas and far away from those with whom you'd rather be "hanging out," these holiday flirtmojis will heat up your winter (via Cosmopolitan). Brought to us by the same company that released innovative yet tasteful NSFW flirtmojis earlier this fall, holiday flirtmojis help you to really kick things up a notch with wrapped "packages," gingerbread penis cookies, and downward-facing santas. And is that a Christmas tree decorated with breast-shaped ornaments in all the colors of the rainbow? The holidays will never be the same.
Women aren't quite as into sexting as men, but it's easy to see how sending cutesy holiday flirtmojis could help a gal get her sext on with less fear of embarrassment or re-sharing than ordinary sexts (or sext selfies!) present. So make your way to the flirtmoji site with all due haste (signing up gets you 15 free flirtmoji). Although these flirtmoji aren't built into your iPhone's keyboard, it's easy enough to download, copy, and paste them into your texts. Just don't accidentally send mom or dad that dildo menorah or snowman with a rack by accident, ok? It's not too late for you to make it into worst sexting bloopers of 2014.
Images: https://flirtmoji.co