17 TV Characters Who Came Back From the Dead (& Which Ones Should Have Stayed Dead)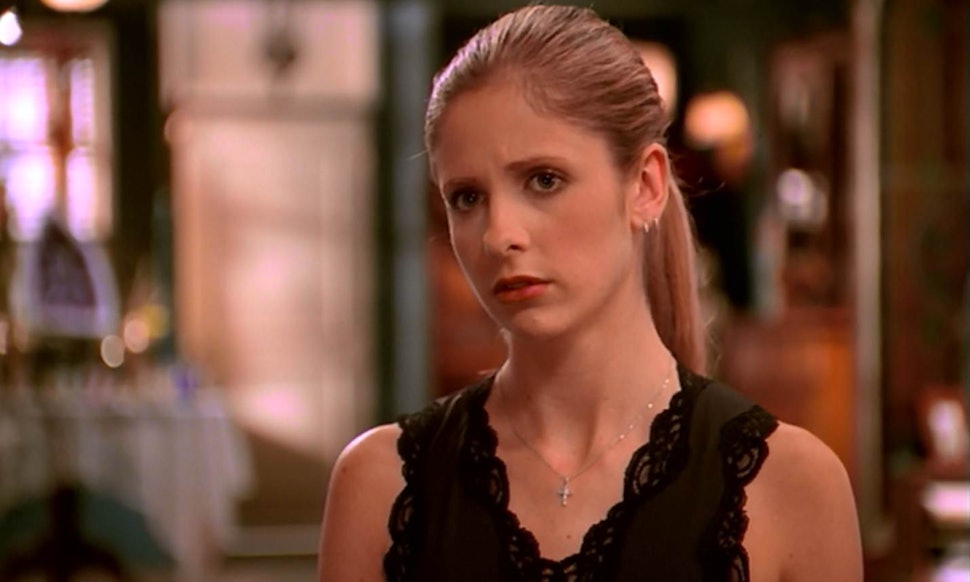 The death of a beloved television character shakes a show's very foundation, bringing change to the lives of the character's left behind and moving the plot into surprising new territory. As shocked as fans feel to lose a character they've spent week after week with, it's all the more mind-blowing when the series decides to bring back the characters we all previously assumed were dead and gone. Resurrecting a character we all thought was dead (or, in the case of rule-bending supernatural shows, knew was dead) can be an awesome twist — or, in some cases, a desperate move to revitalize a staggering series. So what resurrected TV characters were we happy to see back? Click through to find out.
Image: The WB
Brian, 'Family Guy'
The beloved Griffin family dog died after being hit by a car — just after Stewie destroyed his time machine.
Images: Fox
Brian, 'Family Guy'
Brian was resurrected after the show aired several episodes featuring the Griffin's new dog, Vinny. Brian and Stewie's friendship had become the heart of Family Guy over the years, and the show wasn't the same without him. It wasn't Brian's resurrection that was lame — it was the fact that he died at all.
Images: Fox
Bart, 'Gossip Girl'
Bart "died" in a car accident after his wife, Lily, had already made arrangements to leave him for Brooklyn DILF Rufus.
Images: The CW
Bart, 'Gossip Girl'
Bart faked his own death, which was revealed after a particularly bizarre arc about Chuck's real parentage. The reveal was shocking, but the reason why Bart faked his own death was so lame it didn't matter. Someone should have told the Gossip Girl writers that absolutely no one cared about Bart escaping jail time for bypassing a trade embargo — mostly no one had any idea what that even meant.
Images: The CW
Alison, 'Pretty Little Liars'
The pilot episode of Pretty Little Liars ended with the reveal that the missing Rosewood teen's body was found in a hole in her backyard.
Images: ABC Family
Alison, 'Pretty Little Liars'
Fans of the original book series could have told you that Ali would eventually return to Rosewood having faked her own death, but the larger mystery surrounding who Ali really is continues to keep the show interesting. Is Ali a sociopath? Is she a victim? Could she be the elusive A? Though I loved Ali's mysterious persona (shown exclusively through flashbacks and "dream sequences") in the early seasons, she's just unreliable enough to warrant a place back in Rosewood.
Images: ABC Family
Sherlock, 'Sherlock'
The detective jumped to his death after calling his loyal friend and partner, Dr. Watson, in the finale of the second series.
Images: BBC
Sherlock, 'Sherlock'
Any Sherlock Holmes fan knew how this was going to turn out — the brilliant Brit faked his own death so well that no one registered a pulse. Though the twist was predictable, at least it meant that there would be more Sherlock.
Images: BBC
Mr. Gold, 'Once Upon a Time'
After a battle with Peter Pan — who also happened to be his father in the body of a child because, uh, reasons — Mr. Gold (a.k.a. Rumpelstiltskin, a.k.a. Rumpel) appeared to sacrifice himself to save his son and the rest of the town.
Images: ABC
Mr. Gold, 'Once Upon a Time'
Gold returning to the show would have been great, save for the fact that he returned for what could only be described as a character assassination. The progress that Gold made over the years was completely ruined in Season 4 of the show, and essentially placed him back on the villainous path, even getting chucked out of Storybrooke for betraying his wife Belle. Maybe he should have just stayed a martyr.
Images: ABC
Jeremy, 'The Vampire Diaries'
It's possible to make an entire slideshow of resurrected characters from The Vampire Diaries, but Jeremy's death was the one that felt the most permanent. His death at the hands of his sister's doppelganger Katherine sent his big sis Elena into a downward spiral.
Images: The CW
Jeremy, 'The Vampire Diaries'
It's unfortunate, because as much as I adore Jeremy, his resurrection felt just a touch unnecessary. Jeremy was brought back from the dead by his girlfriend/resident Mystic Falls witch Bonnie, which led to Bonnie dying to save JerBear — annnnd Bonnie later being resurrected from the dead herself.
Images: The CW
Damon, 'The Vampire Diaries'
Like I said: Everyone gets resurrected on TVD. But it'd be kind of cruel not to put Damon on this list, considering that he sacrificed himself for his Mystic Falls friends and had to spend months in time-space purgatory. Sure, Bonnie was there, too, but she's been resurrected so many times it doesn't even count.
Images: The CW
Damon, 'The Vampire Diaries'
Damon was brought back by… actually, I'm not even sure what happened. I know it had to do with a witch named Kai and a teddy bear and blah, blah, blah, whatever. Sure, Damon's resurrection was ridiculous, but having it not happen would have been just way too cruel to Delena shippers everywhere.
Images: The CW
Mama Pope, 'Scandal'
Olivia Pope's mother (also known as Maya Lewis, or Marie Wallace, or about a billion other names) was allegedly killed in a plane crash, which is later discovered to be a government coverup. And then, well… then there's another coverup. Because there's always another coverup with this show.
Images: ABC
Mama Pope, 'Scandal'
Keeping up with the conspiracies on Scandal is sometimes like trying to count the grains of sand on the beach, but it was sort of cool knowing that the embodiment of Olivia's trust issues was actually kept under lock and key this entire time — because she was a dangerous criminal.
Images: ABC
David, 'Revenge'
Much like Alison on Pretty Little Liars, Revenge was kicked off with the mystery surrounding David Clarke, a man imprisoned for a crime he did not commit. Clarke died in prison, years before the events of the show, and viewers watched as his daughter, Amanda-turned-Emily (it's complicated) sought justice on behalf of her dead dad.
Images: ABC
David, 'Revenge'
Clarke was revealed to be very much alive in the Season 3 finale, when he fatally stabbed Hamptons evil-doer Conrad Grayson. (At least, we think it was fatal… who knows with this show?) Clarke's arrival to the Hamptons brought along a whole new mystery, necessary for a show that was on the verge of exhausting its vengeance-driven plot.
Images: ABC
Lydia, 'Revenge'
Lydia was the first woman that Emily went after in her quest for vengeance, but "died" in a plane crash in the Season 1 finale.
Images: ABC
Lydia, 'Revenge'
Of course, Lydia didn't really die — she was spared from the fatal crash by Victoria, who sent her frenemy into hiding. Of course, when she returned from the dead in Season 3, no one cared very much about Conrad's mistress or the revenge plan Lydia had in store for Emily. Frankly, no one had given much thought to Lydia since she got on that plane years earlier, and bringing her back seemed like an odd choice.
Images: ABC
Jack, 'Beverly Hills, 90210'
Dylan "Daddy Issues" McKay thought he lost his father forever when he "died" in a car explosion. Didn't really work out like that.
Images: FOX
Jack, 'Beverly Hills, 90210'
If you're wondering where Gossip Girl got their "Bart Bass lives!" storyline from, it's most likely this original rich kid drama. And just like with Gossip Girl, Dylan's father faking his own death to avoid being murdered by mobsters felt like a bit of a cheap twist.
Images: FOX
Madison, 'American Horror Story: Coven'
The bitchy starlet-turned-witch died when a jealous Fiona slashed her throat to stop Madison from becoming the next Supreme.
Images: FX
Madison, 'American Horror Story: Coven'
Madison turned her grand return to the series — she was resurrected by her fellow witches — into a meme. with the now-infamous line, "Surprise, bitch. I bet you saw the last of me." Madison was a fun character (in the sense that she was an awful, awful person) and the coven felt empty without her, but her revival was unfortunately just one of what felt like dozens of "faux-deaths" that Coven had up its sleeve.
Images: FX
Fiona, 'American Horror Story: Coven'
We thought we saw the last of Supreme witch Fiona when her daughter, Cordelia, has a vision of Fiona being hacked to death by the Axeman. Her body was allegedly dumped in the swamp and eaten by alligators.
Images: FX
Fiona, 'American Horror Story: Coven'
We learned in the final episode that Cordelia's vision was false, set up by Fiona herself so she could fake her own death and live out her days in peace. The Supreme dies of cancer in the arms of her daughter, which honestly seemed too kind a death for a woman who had planned to slaughter her entire coven. Fiona's "resurrection" was hardly surprising, given that no one ever seemed to die on the show, but at least we got to see her in hell.
Images: FX
Buffy, 'Buffy the Vampire Slayer'
At the end of Season 5, Buffy sacrificed herself to save her sister Dawn and the rest of Sunnydale.
Image: The WB
Buffy, 'Buffy the Vampire Slayer'
Buffy was brought back from the dead by her friends at the beginning of Season 6, who thought that she was trapped in Hell due to the circumstances of her demise. Little did they know that she was actually ripped out of Heaven by their resurrection, and now felt burdened by the pain and suffering of her human life. The supernatural elements of Buffy's death made her resurrection not particularly surprising (and it's not like there would have been a show without her) but what made this return particularly interesting was that it profoundly changed Buffy as a character — her resurrection had significance for the rest of Season 6 and wasn't merely a plot device.
Image: The WB
Keith, 'Veronica Mars'
Okay, so this wasn't exactly a "death," but I'm counting it because it's Veronica Mars and oh the feels, you guys. At the end of Season 2, Veronica confronts Cassidy (a.k.a. Beaver) about the school bus explosion. Cassidy admits that he blew up the bus so that he could stop his fellow students from talking about the child molestation from their former coach — the coach that was currently on a private plane with Veronica's father. Cassidy blew up the plane, and Veronica crumbled, thinking that her own father had died at Cassidy's hands.
Images: The CW
Keith, 'Veronica Mars'
…Of course, that only lasted about five minutes. Veronica returned home, where her father, private detective Keith, was waiting for her. Still, Veronica Mars fans were devastated for a hot second there, making this "resurrection" far from lame.
Images: The CW
Kenny, 'South Park'
Depending on how you look at it, South Park resident Kenny either has the worst luck in the world (he dies alllll the time) or the best (he always come back!)
Images: Comedy Central
Kenny, 'South Park'
"Oh my God, you killed Kenny!" is kind of the battle cry for South Park fans, and while Kenny often dies seriously horrific deaths, it's a running gag that, without it, wouldn't make South Park, well, South Park.
Images: Comedy Central
The Ghosts, 'American Horror Story: Murder House'
The first season of American Horror Story took place in a home with just one house rule: If you die in the house, you're never leaving.
Images: FX
The Ghosts, 'American Horror Story: Murder House'
Technically, the ghosts of American Horror Story: Murder House didn't "come back" from the dead — they remained dead, but appeared like normal humans to those who entered the house. Though the death rule lowered the stakes of the show a little bit, it did make for one hell of a premise. Imagine being stuck in a house with your crazy ex?! Sure sounds like hell to me — which was exactly the idea.
Images: FX