25 of 2014's Best Book Covers That Left Us Utterly Awestruck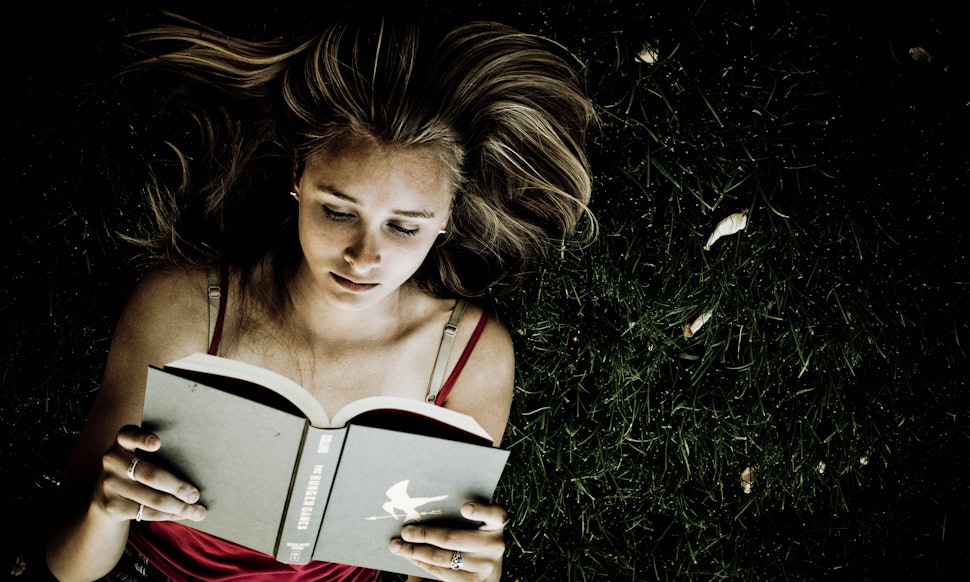 Whoever said that we judge a book by its cover was really on to something; after all, good cover art is so much more than mere marketing. Cover art is a visual encapsulation of the meaning and message of the story itself; the style, the tone, and the content therein. As much as I hate to say it, it's true that bad cover art can turn us away from a story, but great cover art can lure us in and keep us — even giving a story a little extra magic.
So as we all suffer through the grey and grim days that mark the very longest and darkest of the calendar year, why not celebrate cover art that makes browsing the local bookstore shelves an extra-special experience this year? Don't wait to stumble upon these beautifully styled gems of design, concept, and carefully honed craft — steep yourself in the most stunning cover art of 2014.
Perhaps it'll inspire you for the year to come.
Image: Kathryin Dennman/Flickr
'Give Me Everything You Have: On Being Stalked' by James Lasdun
I'm not sure if it's possible to encapsulate anxiety, claustrophobia, omnipotence and information all on the cover of a book, but James Lasdun's Give Me Everything You Have certainly comes close. Exemplifying the impossibility of anonymity in the digital age to frightening effect, the design for Lasdun's new book perfectly bridges the divide between content and cover art.
'Girl Defective' by Simmone Howell
If gazing upon the cover art for Simmone Howell's Girl Defective doesn't make you want to go back in time and try out your teenage years as a spunky super-punk, try throwing on oversized glasses and looking again.
'Karate Chop' by Dorthe Nors
Somehow reminiscent of both Chanel perfume and a child's birthday invitation, the cover art for Dorthe Nors' Karate Chop wins my vote for most elegant and most endearing.
'Playing for the Commandant' by Suzy Zail
The design of Playing for the Commandant is so apropos and subtle, it's a worthwhile reminder of the casual slippage between pleasure and pain that all great literature embodies.
'The Martian' by Andy Weir
Andy Weir's The Martian is a smart, sassy, iconic new take on sci-fi that brings the atmosphere of the red planet down to earth. Even if the cover doesn't suggest all of that to you at once, I'd be willing to bet it will get you to page one.
'Horrorstör' by Grady Hendrix
When I first took up Grady Hendrix's Horrorstör I could not quite take in what I was seeing — the visage is so dead-on, the humor so dark, the wit so wonderfully articulated that it takes a few minutes to fully sink in. Wait for it.
'High and Dry' by Sarah Skilton
High and Dry practically screams pulp with cover art ripped from the bookshelves of a bygone era. Marrying narrative intimacy with a bold palate and iconic typography, there is nothing not to love about this design.
'Firecracker' by David Iserson
David Iserson's Firecracker bring's retro glamour and minimal magic to cover art both simple and suggestive.
'Dept. of Speculation' by Jenny Offill
The cover art for Jenny Offill's Dept. of Speculation is particularly alluring in its intricate depiction of complex and self-perpetuating systemic rigor. Enter at your own risk.
'Smart' by Kim Slater
Kim Slater's Smart reminds me of the very best title sequences from film and television. Artistic, narrative, and highly stylized, this cover art has it all.
'If You Find Me' by Emily Murdoch
Evoking a subtler, more mature Where's Waldo aesthetic, Emily Murdoch's If You Find Me conjures up no small measure of excitement and anxiety, rendering this delightfully delirious cover art is both nostalgic and new.
'Flings' by Justin Taylor
Like a love letter from a graphic designer, things on Justin Taylor's Flings get a little personal and a little distant at once.
'The Hoarders' by Scott Herring
Perhaps more than any other title on this list, Scott Herring's The Hoarders marries medium and message to tremendous effect. Bridging the gap between chaos and creativity, the cover art infuses the content with unexpected power.
'The Big Green Tent' by Ludmila Ulitskaya
There is something ominous and overpowering about the cover art for Ludmila Ulitskaya's The Big Green Tent.
'Leaving the Sea' by Ben Marcus
Like origami, the cover art for Leaving the Sea brings creative magic to life with simple construction and stunning effect. You'll reach out to touch the ridges, even though none of it is real.
'Silence Once Begun' by Jesse Ball
With raw power, the cover art crafted for Silence Once Begun speaks louder than words.
'All Our Names' by Dinaw Mengestu
There's something in the brutal, hollow expanse of the cover of All Our Names that marks it as an epic of unusual power and presence. Mengestu's prose, as well as the beautifully developed plot, more than lives up to the promise of the design.
'Can't and Won't' by Lydia Davis
Although the concept isn't altogether new or daringly different, I defy you to take a good look at the cover for Lydia Davis' Can't and Won't without turning to the first page. Sometimes classic hits things head on.
'Annihilation' by Jeff VanderMeer
Jeff VanderMeer's Annihilation marries the oh-so-appealing and the utterly appalling.
'Never Love a Gambler' by Keith Ridgway
The cover art for Keith Ridgway's Never Love a Gambler is so perfectly abstract that you can barely recognize it the first time around. After a second or a third glance, however, the stark brilliance of the somber cover explodes into view, bringing the pain and promise of the story's message to bare.
'Trace' by Forrest Gander
Like a two-dimensional version of a Quentin Tarantino movie, the cover art for Forrest Gander's Trace is dark, edgy, and so hip it practically bottles its own homebrewed beer.
'Citizen: An American Lyric' by Claudia Rankine
If there is a single item of clothing that evokes the horror and hostility pockmarking the current American psyche, it has to be the black hoodie. With pain and promise, Claudia Rankine's evocative cover art depicts this iconic sartorial element to tremendous effect.
'Into the War' by Italo Calvino
The cover art designed for Calvino's spare, stark essays on life, death, and love in wartime is as brilliant and barren as the masterful narrative gems authored by the Italian writer himself.
'Nobody is Ever Missing' by Catherine Lacey
Looking out over the retro-inspired landscape of Catherine Lacey's Nobody is Ever Missing evokes the very look and feel of drowning on a dark summer's night. Lacey's cover foretells the sumptuous narrative within, and offers up a visual landscape that is both lush and lurid.
'Infidelities' by Kirsty Gunn
High-concept minimal style meets well-curated conceptual madness on the cover designed for Kirsty Gunn's Infidelities. Evoking both the claustrophobic confusion of the best mysteries and the modern ambiguities of the contemporary novel, this design leaves nothing to be desired — and virtually everything to be discovered.