What Were Reactions to 100 Years of Beauty IRL?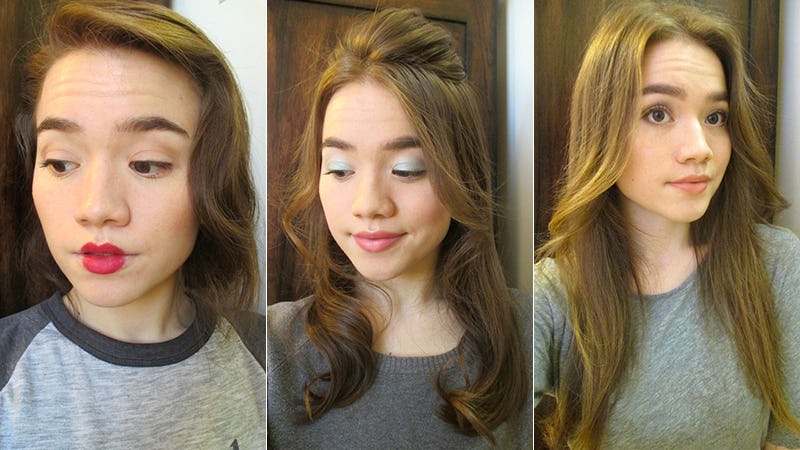 As a total beauty geek, I loved the "100 Years of Beauty in 1 Minute" video. (Although I also couldn't help wondering how much damage her hair suffered through all that styling...) So when my editor approached me about replicating the looks and recording people's responses to them, I was pumped. I love any excuse to experiment with makeup. And while this kind of experiment might not really work somewhere like New York, where people more regularly express themselves through fashion and beauty choices, I live in an area where everyone pretty much dresses the same (North Carolina, in case you were wondering).
But as rare as it is to see someone who prefers a distinct personal style, it's also rare to see someone comment on another person they find to be dressed or made up "out of the ordinary." So for this experiment, I had to mostly rely on the commentary of my family and friends while gauging the silent reactions from strangers.
To see if these retro interpretations of hair and makeup would be recognizable on their own, I paired every beauty look with my everyday clothes. And while I thought I would be able to play "Guess the Decade" with my friends and family, it was only the totally stereotypical beauty looks that were more accurately recognized. For the most part, a beauty look had to severely deviate from current beauty trends to even really go noticed as something belonging to another time instead of it simply being the crazy daughter/girlfriend/friend playing with her makeup again. However, the reactions to older beauty standards compared to today's gave me some insight as to why fashion and beauty trends are recycled.
The Inspiration
First, a confession: I am not, nor have I ever been, a professional hair or makeup artist. Although I tried my best to replicate the majority of the looks from this video, I did find some difficult to do. For these, I conducted a bit of research so as to portray looks that were still relevant to their respective decades, but somewhat easier to do with limited tools. Here's what I came up with, and the reactions I received from friends, family, and strangers:
1910s
The Hair: Tightly curled and pinned back
The Makeup: Pink lips and cheeks, naturally filled-in brows, lightly defined eyes
From friends and family:
I like your hair like that. -Mom
You look pretty. -Boyfriend
From strangers:
I like your hair. -Woman (late teens) at DSW
1920s/1930s
The Hair: Waved edges and pinned up into faux-bob
The Makeup: Pink, rounded lips; lightly defined eyes and eyebrows
From friends and family:
You look like Betty Boop. -Mom
You look very nice. Very Retro. -Dad
Wow, very cool. -Boyfriend
Hate the lip. Very distracting. -Female Friend
From strangers:
I got a couple of side-long glances from women and one set of furrowed brows from a man at Target. All appeared to be in their 20's.
1940s
The Hair: Victory rolled and pinned up
The Makeup: Matte, light-red lips; defined eyes and arched brows
From friends and family:
Your hair looks cool. -Dad
Are you going to a party tonight? -Mom
That's impressive. -Boyfriend
From strangers:
How did you do your hair? -Woman (around 20) at Ulta
I also caught a couple other women (around 30-40) in Ulta looking at my hair. Their expressions were not of judgement nor admiration, just curiosity.
1950s
The Hair: Voluminous curls, pinned into faux-bob
The Makeup: Red, glossy lips; rosy cheeks; defined eyes and eyebrows
From friends and family:
You look very pretty. -Boyfriend
From strangers: Nothing
1960s
The Hair: Middle part, curled toward face, mini Beehive
The Makeup: Pink lips and cheeks, mint lids, bold eyebrows
From friends and family:
Hey, that's a Beehive! -Dad
I liked it better from farther away. -Mom
Angelic Snooki? Please don't ever go out in public like that. -Female Friend
From strangers:
While on a walk with my dog, an older couple who appeared to be in their 60s looked at my hair and then smiled at me but didn't say anything.
1970s
The Hair: Middle part, flipped out ends
The Makeup: Peach lips; neutral cheeks; light, grey smokey eye; bold brows
From friends and family:
You look like Jane Fonda. -Dad
You look like a Wood Elf. -Boyfriend
Hair is about right [for the '70s]. Wispy and blahh. -Female friend
And when I asked for her opinion (she won't willingly negatively comment):
I don't like your hair. -Mom
From strangers: Nothing
1980s
The Hair: Voluminous side ponytail with crimping and small braids
The Makeup: Pink lips and cheeks, purple lids
From friends and family:
So you're 80's today, huh? -Boyfriend
I love the hair. Very eighties but I would so support this hair at the gym today. -Female Friend
Cute hair. -Dad
When I pressed him for the decade he thought the look belonged to (since both my boyfriend and friend immediately knew), he responded with:
I dunno, '60s? 3400s?
From strangers:
I received a couple of prolonged glances, but nobody said anything to me.
1990s
The Hair: Middle part, flipped in ends
The Makeup: Brown-toned lip, smudged brown eyes, and thin eyebrows
From friends and family:
Your part looks a little old-school. Still good though. -Boyfriend
From strangers: Nothing
Results and Conclusions
After taking each of these looks out for a spin, I found that there has to be a certain level of distinction for people to even notice, let alone say anything about them. Although beauty trends have clearly changed over the years, it seems as though the clothes might make a bit more of an impression than the hair and makeup. Even my father, who was born in 1945, generally did not recognize which time periods the looks were from when paired with my casual, everyday-type outfits. But even though most of these looks were not recognized as being on-trend for their respective decades, based on the reactions I received, I was able to compare these looks to current beauty trends.
Since my least-noticed looks were the 1950s and 1990s, I think this says that these beauty styles are the most similar to current trends. And honestly, with Taylor Swift's now-signature curly bob and red lip, and the brown-toned lipsticks making a comeback, this wasn't much of a surprise.
1980s was my most-recognized look, which I think speaks to the strength of the stereotypical 80's beauty look along with it still being a relatively recent retro look. Congratulations, 1980s, your big hair and bright eyes are still noticed!
My most-disliked look was the 1960s followed by the 1970s. Those poor mid-to-late century looks. I think with these, my friends and family at least found these looks to either be too much (1960s), or too lacking (1970s). My most-liked look, on the other hand, was the 1910s followed by the 1980s, 1940s, and 1920s/1930s. With the exception being the 1980s, these reactions led me to believe that people generally appreciate what's considered a more "classic" look.
Maybe this is because it reminds people of a time they wish they knew. Maybe they can simply appreciate that clearly more effort went into achieving those looks. Regardless, I think I understand now why the fashion and beauty industries tend to recycle looks: It's not necessarily because we can't come up with anything new, it's just that the oldies really are goodies.
Images: Miki Hayes