New Year's Eve in Four Charts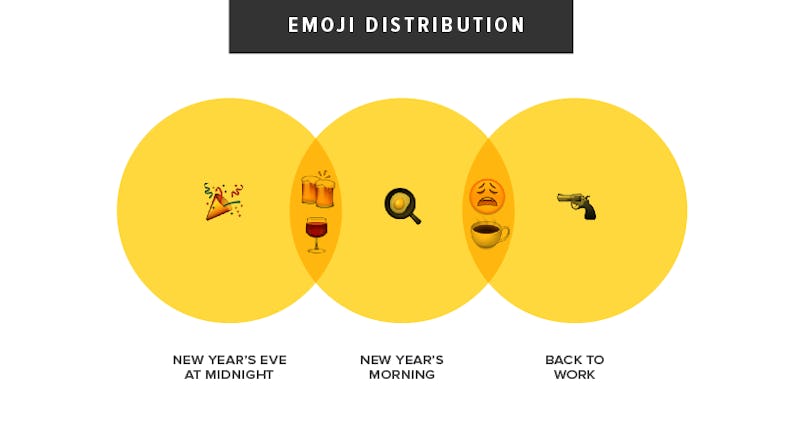 There's a chart for every occasion. The epic, booze-ridden, and occasionally questionable ways in which we celebrate New Year's are no exception — so it's a good thing an extremely talented designer and one of my favorite sites ever are on it like a sparkly dress on a late-night reveler at a fancy club, isn't it? These charts sum up New Year's Eve (and a lot of the aftermath) in the simplest, easiest to understand, and — most importantly — funniest way you'll ever see. Try not to laugh too hard at them; if you're nursing a hangover today, it might make your head spin a bit. But it's totally worth it, so at least there's that, right?
These magnificent pieces of comedy were created by writer and graphic designer Michelle Rial for The Bold Italic. Rial, you'll recall, runs the Twitter account @ThisAmerChart; the last time we checked in with her, she had cooked up a selection of charts every Serial devotee understood deep down in the bottom of their souls. This time, Rial has highlighted everything everyone both loves and hates about ringing in the New Year, from our transportation options (did everyone remember to familiarize themselves with how to avoid surge pricing before they popped open the champagne?) to who we text when midnight rolls around — and they are absolutely, 100 percent accurate. Happily, Rial and the Bold Italic team were nice enough to share them with us here at Bustle; check out four of my favorites below, and head back on over to the source to see the rest.
The Bold Italic, by the way, has an entire tag devoted solely to "Made Up Charts," which is quite possibly my favorite thing in the history of the universe. If you are, in fact, coping with the hangover to end all hangovers right now as a result of last night's shindig, you might find this one useful. Don't forget to hydrate!
The Texting Habits of New Year's Eve Partiers:
And of course, the content of all those messages will look something like this:
Our Festive Accessory Choices:
How exactly are we supposed to see through those things?
And Because I Can't Not Include This One:
All together, now:
Now if you'll excuse me, I have to go get started on my measurements for 2015 — particularly those involving cups of coffee. Happy New Year, everyone!
Images: Courtesy of Michelle Rial for The Bold Italic