Funniest. Engagement Photo. EVER.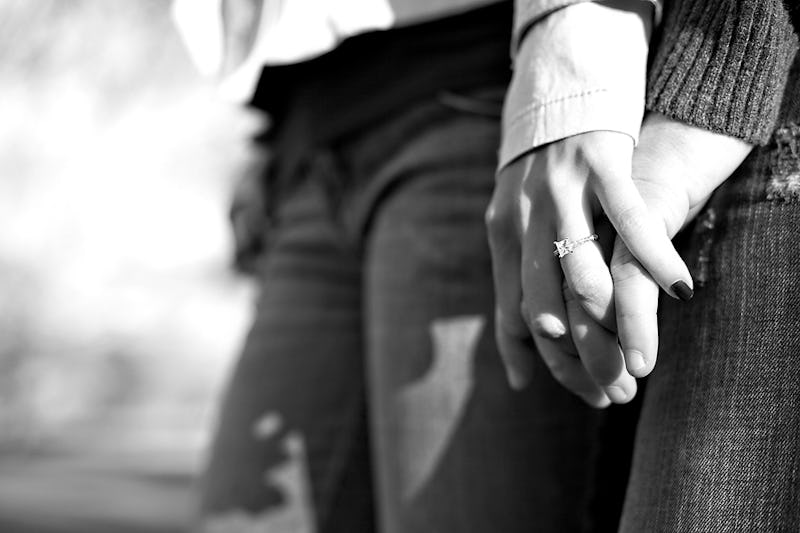 File this one under "best engagement photo ever": Like many of us probably did over the holidays, sisters Melanie, Melissa, Amy, and Lauren Finkelstein recently posed together for a photo during a family gathering. Since Melanie, who, at 26 is the youngest, had just gotten engaged, they all decided to show off their bling for the shot — except there was one catch: Lauren, the oldest, is the only one of the sisters who isn't either engaged or already married. But neither she nor her sisters let that stop her from participating — and the resulting photo is absolutely priceless. While Melanie, Melissa, and Amy flashed their rings and beamed for the camera, Lauren got busy pouring herself a glass of champagne, utterly unconcerned with this whole "marriage" thing everyone keeps going on about. Scroll down to see the pic, because seriously, you guys. The phrase "nailed it" was practically invented for it.
According to Arelene Nissin Lasson, who knows the family and wrote about the story behind the photo over at the Huffington Post, Lauren is a radio DJ in Houston; although Lasson didn't specify the station she works at, a quick Google search suggests that it's Mix 96.5. The sisters are all apparently super close and got a kick out of posing for this particular photo. And just to be clear, the shot isn't knocking marriage; nor is it suggesting that those who haven't or simply don't want to tie the knot can only cope with it by drinking. As Nasson put it, "It must also be noted that Lauren is completely happy, independent, and successful. So to me, this photo celebrates that very self-confident, content but single oldest sister, along with a wry nod to those inquiring minds who are in a hurry for her to get married." Ayyyyyy-men.
Naturally the pic has been going viral, so here — check it out:
Not going to lie: I'm kind of hoping photos like this one become the first big selfie trend of 2015. It looks like it might stand a chance of actually happening, too — I found a New Year's Eve photo on Reddit today that looks like it features some kindred spirits:
Because New Year's Eve kisses are overrated anyway, right?